Why the Countess of Wessex's latest royal trip abroad is a poignant visit for her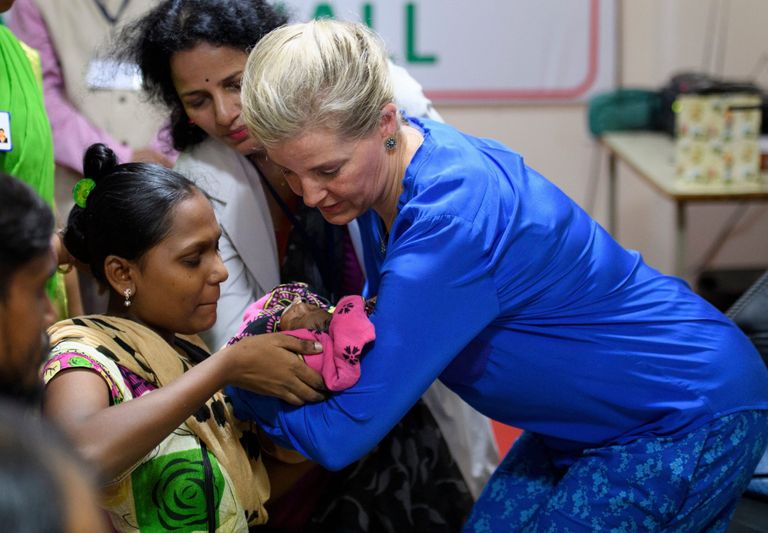 Sophie, Countess of Wessex, is currently in the middle of an official 5-day royal visit to India.
Prince Edward's wife has made the trip in order to see how the Queen's Diamond Jubilee Trust is making a difference to programmes tackling avoidable blindness in premature babies the country.
Although Sophie is only a day into the visit, it's already proved to be a particuarly emotional trip.
On day 1, she paid a visit to the Gandhi Medical College and Hospital in Hyderabad, where she learnt more about retinopathy of prematurity (ROP), the condition which affects many premature babies in India.
There, she met several babies and families affected by the condition, which can cause irreversible blindness.
Sophie appeared particularly touched whilst holding one tiny, adorable baby at Niloufer Hospital, who was born preterm.
At the hospital, screening procedures have been put in place, to ensure that babies are routinely tested for signs of the condition as early as possible.
The Countess even posted a rare, personal message on the Royal Family Twitter account, saying how 'thrilled' she was to see the amazing work being done.
She wrote, 'I was so thrilled to see the work supported by @qejubileetrust in action today screening & saving premature babies' sight from Retinopathy of Prematurity. Congratulations to @MoHFW_INDIA, @thePHFI & the Trust for creating this remarkable legacy for the people of India.
- Sophie'
It's likely been an emotional and touching visit for Sophie due to her own personal experiences with the subjects being addressed in India. Her own daughter, Lady Louise Windsor, was born premature on 8th November 2003, meaning she had to undergo an emergency caesarean section at Frimley Park Hospital.
Lady Louise was also born with a esotropia, when the eye turns inward - so it's clear that Sophie has personal experience of eye issues.
Sophie's visit to India will go on until the end of this week, during which she'll continue to see the impact of treatment on young babies.