Could a new brotherly feud be taking place in the Royal Family? The latest on Prince Andrew and King Charles
Prince Andrew and King Charles are said to be engaged in a difficult tug of war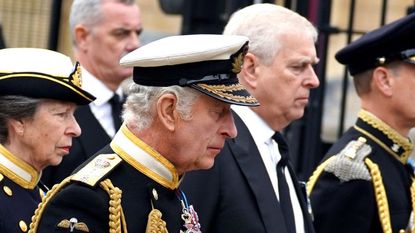 (Image credit: YUI MOK/POOL/AFP via Getty Images)
If the Prince Harry and Prince William sibling drama is starting to feel stale, there could be a new one emerging. Reports are suggesting that Prince Andrew and King Charles are locked in a heated dispute, with the King said to be powerless to evict his younger brother from the Royal Lodge in Windsor.
King Charles and his younger brother, Prince Andrew, are reportedly locked in a dispute over whether Andrew should continue to live at the Royal Lodge
It's claimed that Charles and the Palace want Andrew to move out of the Royal Lodge in Windsor to make room for the Prince and Princess of Wales
---
Happy families are all alike; every unhappy family is unhappy in its own way. The famous line from Leo Tolstoy's Anna Karenina rings true for anyone who has ever had a falling out or difficult relationship with someone in their family – and all the privileges and responsibilities of being royal doesn't make one immune.
Royal family members have always had their squabbles – from Princess Margaret and her mother to Princes Harry and William most recently.
And reports suggest that things could be turning sour between Prince Andrew and King Charles, and it could bleed out into other members of the family.
The brothers are said to be in a stand-off about Andrew living at the Royal Lodge in Windsor, with the King wanting Andrew out to make way for William and Kate Middleton.
However, he is thought to be "powerless" to actually evict him – and fears retribution from other family members if he tries to strongarm him.
A source close to Andrew, the Duke of York, revealed to The Times, "The lease is in the duke's name so no one can take that away from him. It has never been suggested that it could be taken away from him. It's a long lease with 80 to 90 years left on it."
"This is a lease between him and the Crown Estate. That's not a matter for the King. It's a matter for the chancellor of the exchequer. The only way you could get him to move out would be through an arrangement — he would have to agree."
It was suggested earlier this week that Andrew was in a "fragile" state amid reports senior royals would "shut off" the electric and utilities to boot him out of the lodge.
However, the source claimed there was "no foundation" to these, and they added that the King was unlikely to put pressure on Andrew because it would not make him a "very popular person within the family."
"There are other members of the family who would not want to see a member kicked out," they added.
It's possible they are referring to Andrew's daughters, Princess Beatrice and Eugenie.
Jack Slater is not the Last Action Hero, but that's what comes up first when you Google him. Preferring a much more sedentary life, Jack gets his thrills by covering news, entertainment, celebrity, film and culture for woman&home, and other digital publications.
Having written for various print and online publications—ranging from national syndicates to niche magazines—Jack has written about nearly everything there is to write about, covering LGBTQ+ news, celebrity features, TV and film scoops, reviewing the latest theatre shows lighting up London's West End and the most pressing of SEO based stories.