Carole Middleton shares her grandparenting tips for raising polite children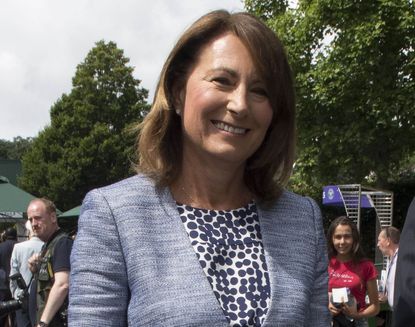 (Image credit: Murray Sanders/ANL/REX/Shutterst)
Speaking to The Telegraph about the 30th anniversary of her company Party Pieces, Carole revealed her essential tips for raising "polite" children - and now, grandchildren.
"This might surprise you, but I think one of the most important qualities of a good parent is discipline," she said.
"That doesn't mean you're strict, but routine is vital. Maybe structure is a nicer word.
"You can't suddenly start teaching them about politeness at 13. You have to do it from the start."
The 63-year-old revealed that she loves her role as 'Granny Middleton' to her four grandchildren (opens in new tab), and was actually inspired by her husband Michael's mother, Valerie Middleton.
"I had a wonderful role model in Mike's mother, who I tried to emulate," she said of her mother-in-law.
.
For Carole, children should get involved in housework when they're young, including "chopping and stirring" as soon as possible.
She is also a fan of old-fashioned games and letting children eat with the adults "as soon as they can sit up properly." She said, "As a family, we try to have as many meals together as possible because that's when you talk and have fun."
The Middleton matriarch also spoke about how she juggles being a working mother and grandmother to her daughter Catherine and Pippa's children.
"I love it. I'm definitely hands-on. I don't find it complicated. My biggest fear [as her offspring grew up] was that I'd lose my family, but we've stayed close.
"There are times when they say, "Can you do this, or that?" and I can't quite. But they like the fact that I work. I have two lovely sons-in-law," she said before adding, "And I hope I'll have a lovely daughter-in-law."
Opening up about her busy life as an entrepreneur - and grandma to the future King of England. Carole said, "I have two other children and grandchildren and my job, and I lead a lot of my life round here, where I've lived for years and people knew me before Catherine's…impact.
"It isn't normal maybe to go to Louis' christening or Catherine's wedding, but, in the end, they're all family events."