Camilla's go-to gifts for treating George, Charlotte and Louis revealed by Duchess herself might surprise you
Camilla opened up about her gifting habits as a grandma—but her presents aren't as lavish as you might expect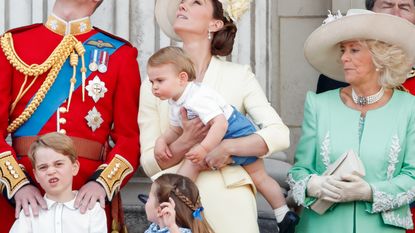 (Image credit: Photo by Max Mumby/Indigo/Getty Images))
The Duchess of Cornwall, Camilla Parker Bowles, recently revealed her go-to gifts when it comes to treating her grandchildren at Christmas, hinting at what Prince George, Princess Charlotte and Prince Louis got in their stockings from her and Prince Charles on December 25th.
Duchess Camilla recently chatted on BBC Radio 4 to reveal that she isn't lavish when it comes to gifts for the kids in her life, sharing that books are what she gives when it comes to presents for her grandchildren.
While Camilla is step-grandmother to Prince George, Princess Charlotte and Prince Louis, she also has five more grandkids from her son Tom and daughter Laura.
In other royal news, Kate Middleton once rolled her eyes at Meghan Markle's show Suits, according to a close friend.
---
Avid reader Camilla, who primarily lives at Clarence House in London, shared a snippet of her BBC Radio 4 interview on her Instagram page for her book club called The Reading Room.
Speaking to Lord Michael Dobbs, author of the House of Cards trilogy, in his guest edit of The Today Programme back in December, Camilla confessed that despite her and Prince Charles' luxe royal lifestyle, she keeps things simple when it comes to treating her many grandkids.
While Camilla of course shares a close bond with Charles' grandchildren, George, Charlotte and Louis, she has five of her own.
Her son Tom Parker Bowles has 13-year-old daughter Lola and 11-year-old son Freddy, while her daughter Laura Lopes is mom to 13-year-old daughter Eliza, who was a flower girl at Kate and William's wedding. Laura also has twin boys called Gus and Louis, aged 11.
Opening up about what she had treated the little ones in her life to at Christmas, Camilla revealed that, for her, it's all about giving the gift of reading instead of expensive toys, gadgets or clothes.
When asked if she handed out books at Christmas, she said, "I did and I certainly do to my grandchildren.
"I've got some who are keener readers than others and they love a good book."
Delving into more detail, Camilla added, "I have a granddaughter that's very into Philip Pullman and she's been through His Dark Materials so I think I got her La Belle Sauvage.
"The twin boys, one I got Dracula and the other I put onto Lord of the Rings…so those are the children's books."
We wonder which stories George, Charlotte and Louis are digging into post-Christmas, thanks to Camilla.
Fans of Camilla flooded the comment section of the Instagram post with praise for the future Queen Consort, applauding her for the rare interview.
"It's really nice hearing the Duchess doing interviews nowadays and coverage of her speeches. There's something rather lovely about them too. She's a little bit different and it's rather charming," one wrote.
"Of all the royals, it's the Duchess of Cornwall I'd most like to hang out with - this Reading Room is so cool," another agreed.