Prince Harry and Meghan send fans into frenzy with first mention of baby Sussex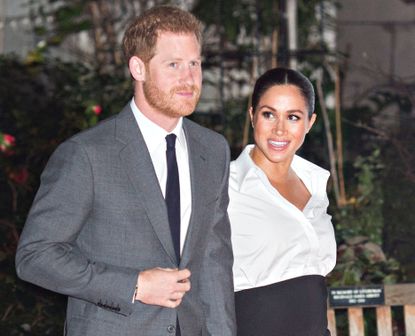 (Image credit: Rupert Hartley/REX/Shutterstock)
Prince Harry and Meghan Markle sparked fresh royal baby fever after they referenced their child on Monday.
The Duke and Duchess of Sussex sent fans into meltdown as they referred to their heir as 'Baby Sussex' for the first time in a touching Instagram post, in which they thanked royal fans for donating to their favourite charities instead of sending them gifts.
The post read, 'Their royal highnesses wanted you to know the impact of your support – the direct effect your donation, energy, and action made! YOU chose to be part of the collective good, and you have a made a real difference.
'Whether a $5 donation, £1000 contribution, offering to volunteer, or spreading the word – you've played your part. And on behalf of The Duke and Duchess (and Baby Sussex), we thank you so much.'
See the post HERE! (opens in new tab)
The reference to 'Baby Sussex' delighted royal fans on social media, with one commenting, 'I think this is a GREAT way to communicate. And mentioning Baby Sussex is the cherry on top!'
Another said, 'Like they literally know that we've nicknamed him/her Baby Sussex. My heart. '
A third added, '"On behalf of the Duke and Duchess (and Baby Sussex)" I am literally about to cry. Sweetest thing ever. '
But many fans admitted that when they received the notification of a new post on Harry and Meghan's Instagram account, they were hoping it was to announce the birth of the royal baby, which is due this month.
One person said, 'Who else saw the notification and rushed over to see if this was a royal birth announcement?'
Another person added, 'I nearly had a heart attack, I thought it was the baby announcement. My poor nerves can't handle this.'
And a third said, 'I thought it was baby news 😂. I took a seat before checking the post 😅.'
Let's hope we won't have to wait much longer until Baby Sussex is here…
Jenni McKnight is a beauty, lifestyle and entertainment journalist and a regular contributor to woman&home, having previously worked as Acting Senior Content Editor of our former sister site, CelebsNow. She has also written for HELLO! Magazine, GoodToKnow, the Daily Mirror and Yahoo!