November full moon 2021 and the partial lunar eclipse—what the event means for your zodiac sign
Astrologer Rebecca Gordon explains how this week's lunar eclipse and full moon will affect each zodiac sign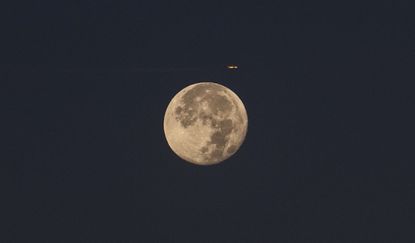 (Image credit: Anadolu Agency / Contributor)
November's full moon and the Beaver Moon lunar eclipse—the longest one of the century—are happening soon, on November 19.
Folks around the world are preparing their full moon rituals, but what is this month's lunar event all about and how might it affect you?
What is the Beaver moon lunar eclipse 2021?
Expected to last about 3 hours, 28 minutes and 23 seconds, this will likely be the longest lunar eclipse in 580 years. It is also the second eclipse of 2021 (the first one happened back in May).
According to Space.com (opens in new tab), it will "fall just shy of being" a total eclipse. In fact, "97.4% of the moon's diameter will become immersed in the Earth's dark umbral shadow at maximum eclipse, leaving just the southernmost limb ever-so-slightly beyond the outer edge of the umbra."
---
How can I see the November full moon eclipse?
As is usually the case with these celestial events, you're going to want to wake up really early in the morning for the best chance at seeing something happen. Find a spot that will give you access to open sky, away from city buildings.
This eclipse peaks around 4am when the moon is almost totally covered.
What does the November full moon 2021 mean for my zodiac sign?
"A lunar eclipse is essentially a full moon but it has ten times the power of it," explains astrologer Rebecca Gordon (opens in new tab).
"All experiences will be heightened and it'll essentially be a breaking up with your past. All of us will be departing a certain life trajectory that was not in line with where we were supposed to be going. The lunar eclipse creates a portal for cleansing, recycling, and releasing old patterns."
Aries
According to Rebecca, Aries will feel the courage and confidence to let go of something they thought they needed but actually don't. "They are going to be kicking and screaming about it but eventually they will realize they weren't happy to begin with," she says.
Taurus
This week's eclipse will be in the sign of the Taurus, so all those who fall under the sign should brace themselves for a very intense few days. "Taurus will almost be shedding a layer of skin to find a part of themselves they want to share with the world," reveals Rebecca. "They will allow themselves to be more seen in a healthy and vibrant relationship."
Gemini
"They really need a time out," Rebecca says about Gemini, advising to use the week to let go of old habits and patterns.
Cancer
Cancer will find the need to "clean house" in terms of their social life. According to the expert, "they will be getting a sense of the kind of people they want to be around." As a result, they will have more time to focus on the things and the people that they most care about.
Leo
This month's lunar eclipse for Leos will be about their professional careers. Rebecca specifically advises to "make a decision about what you don't want to do anymore." Don't be scared, though: you'll be able to make more space and reach new heights.
Virgo
"There are more eyes on you now, Virgo," Rebecca says directly. As a result, she suggests you refine your message and your purpose in all aspects of life.
Libra
It's all about the financial aspect of life for Libras. Rebecca advises to look out for potential investments. "You might even be receiving a lump sum of money," she says. "But it is a key moment to flip your financial scheme."
Scorpio
Marriage and business arrangements are at the forefront for Scorpios during this time. "Your partnerships—both business and romantic—cannot continue the way they have been," says Rebecca. "You have to let go of the way things have been and it might be the end of a relationship to some and the start of a new relationship within an existing one for others."
Sagittarius
"This will be about your daily health habits," notes the astrologer. "It's your time to make a commitment to release any unhealthy physical habits. This can be certain foods, drinks or smoking." Whatever your focus, use the celestial event to make a commitment to pristine health.
Capricorn
Love and children will be the main focus for Capricorn. "You might find out you're pregnant or even have your baby this week," says Rebecca. Or, perhaps, a potential partner may reveal themselves to you.
Aquarius
"Your home will be at the forefront," says Rebecca. "Create time as family members might need your help or home-related matters might be calling out to you."
Pisces
Beware, Pisces: you might be receiving an important message. "This is a very busy time for you," explains the astrologer. "There will be a contract that will have great impact on your future during the eclipse." Be careful, though, and take your time making a decision about said contract, says the expert. It's an important one, after all.
Anna Rahmanan is a New York-based writer and editor who covers culture, entertainment, food, fashion and travel news. Anna's words have appeared on Time Out New York, the Huffington Post, Fortune, Forbes, Us Weekly, Bon Appetit and Brooklyn Magazine, among other outlets.