You'll *never* guess what Hugh Grant's next movie role is...
We'll give you a hint: we might even hear him sing a very familiar tune...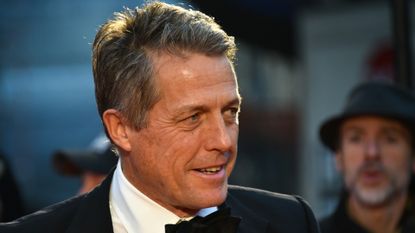 (Image credit: Getty)
Hugh Grant will be starring in the upcoming Willy Wonka film starring other A-listers like Timothee Chalamet - and you'll never guess who Hugh will be playing...
When you think of Hugh Grant, you likely think of classic movies like Notting Hill, Love Actually, and Four Weddings and a Funeral. What you probably would NEVER think of in relation to Hugh Grant is Willy Wonka (although, now that we're thinking about it, he does somewhat hold a resemblance to Gene Wilder).
A new Willy Wonka film is coming to theaters this year, aptly titled Wonka, starring Timothée Chalamet as Willy Wonka himself - a casting choice that left the internet divided last year. Although the general public has yet to see any sort of teaser trailer for this upcoming movie, which is set to hit theaters December 15, 2023, a new teaser trailer was released just this week at CinemaCon 2023 - and audiences were shocked to find Hugh Grant playing a pretty iconic character in it.
According to the clip that was shown at CinemaCon, Hugh will be appearing in the movie as an Oompa Loompa. Yes, you read that correctly. Hugh Grant - the man with the most charming combination of goofiness and stoicism - will be playing an Oompa Loompa.
Sources from Entertainment Weekly who were at CinemaCon revealed that, in the trailer, Wonka approaches Hugh (as an Oompa Loompa), and he begins singing a song that is "so ludicrously catchy that it may never leave your mind." He also apparently does a "little jig" - which we are truly dying to see. If we learned anything from his dance in Love Actually, which he has said in the past was "excruciating" for him to film, we're looking forward to this aforementioned "jig."
"I think it's the first time people saw Hugh Grant as the Oompa Loompa. It was a trip," Timothée reportedly said to the audience.
Although we don't have too much information about the upcoming Wonka movie, we do know that, unlike the original 1971 Willy Wonka & The Chocolate Factory movie and its 2005 remake, this story will primarily focus on Willy Wonka's journey to becoming a world-renowned chocolatier. We also now know that there will be several new musical numbers featured - primarily sung by Timothée. In fact, a few clips of him singing went viral last year, which left fans highly curious and anxiously anticipating more footage.
We don't know much about Hugh Grant's Oompa Loompa stint just yet, we do know that director Paul King said at CinemaCon that he will be "no taller than knee high" in the movie. We also know that they have a little cheeky dialogue, according to those who attended CinemaCon.
"You're the funny little man who's been following me," Wonka says.
"How dare you!" the Oompa Loompa (Hugh) fires back. "I will have you know that I am a perfectly respectable size for an Oompa Loompa."
Madeline Merinuk is woman&home's US lifestyle news writer. She covers celebrity, entertainment, fashion, and beauty news but is also obsessed with internet trends - you can find her reciting trending TikTok sounds out loud at any given time.
After winning multiple student journalism awards for her investigative work, she graduated from Hofstra University in 2021 with a B.A. in Journalism. After graduating, she worked at today.com, the digital site for the Today Show, where she wrote pop culture news and interviewed big-name personalities like Emily Ratajkowski, Haley Lu Richardson, Emma Corrin, and more.
Her personal interests, in no particular order, are: cheese, Joni Mitchell, reading, hot yoga, traveling, having multiple chapsticks in every handbag at all times, and dancing to ABBA songs as if she were in the Mamma Mia movies.