'Yellowstone' star Kevin Costner unboxes his Golden Globe from bed: 'It wasn't the same'
The Yellowstone star won a Golden Globe for his performance as John Dutton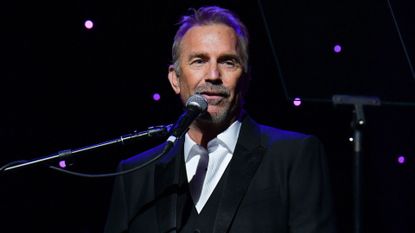 (Image credit: Getty Images)
Due to flooding in Southern California, Kevin Costner was unable to attend the Golden Globes - so he accepted his award from his bed instead.
These days, Kevin Costner is best known for his performance as John Dutton on Yellowstone - a role that recently won him a Golden Globe for best actor in a drama series. Fans are still waiting for the remainder of episodes in Yellowstone season 5, but Kevin's new Golden Globes Instagram acceptance video can hopefully hold them over until then.
At the 2023 Golden Globes, Regina Hall accepted the award on behalf of Kevin, giving a hilarious speech that poked good fun at the Costners for being trapped in Santa Barbara.
This week, Kevin finally received his Golden Globe statuette in the mail, and unboxed it live on Instagram for his fans to see, giving a delayed acceptance speech to his fans.
"Chris and I, we weren't able to make it to the Golden Globes because of the flooding," he says in the video. "We felt so horrible about that and there was just nothing we could do... we watched from home and it wasn't the same."
He notes in the video that he didn't want his absence to come off the wrong way. "I never like to be too cool for school. I wanted to be there," he says. Fans of Kevin have also recently been comforted by him addressing rumors that he could be leaving Yellowstone after Golden Globes win, saying that he's not going anywhere for now.
Luckily though, he still had the support of his family at home, despite not being able to be present at the ceremony in LA. "We watched the whole doggone thing and my kids heard our name be called, and we weren't at one of the greatest parties in the world," continued the actor. "We wanted to be, but we found ourself together as a family. My children heard my name called, and they stood up and they cheered."
In a truly loving act, Kevin's wife Chris realized that his "heart was a little bit low," he says, and she went to the store to pick up 30 balloons and decorated their house for the occasion.
Then, he finally unboxes his statuette, expressing his gratitude to his fans and supporters after his win (which marks his third Golden Globes win in his longstanding career.) "I wish I could have been there," he says as he opens the box from his bed.
"When you first come to Hollywood, you just want to get your first job," he says, reflecting on his career journey. "So it feels really good to have this."
The Yellowstone star is no stranger to getting candid on his social media - he recently shared an inspiring message for his 68th birthday to his Instagram, and he was even wearing his trademark John Dutton hat. He skipped the hat for his Golden Globes Instagram post, however - although we think it would have really added to the video.
"For everyone who supported me, for the Hollywood Foreign Press for thinking enough of what I did this year... thank you to everyone," he concludes the video, smiling and holding up his Golden Globe award.
Many fans and close friends sung their praises of Kevin in the comments, with some calling him a "National Treasure," and even begging him to make more episodes of the hit show. The official Yellowstone Instagram account even commented under the post, "So proud of you!!!"
Madeline Merinuk is woman&home's US lifestyle news writer. She covers celebrity, entertainment, fashion, and beauty news but is also obsessed with internet trends - you can find her reciting trending TikTok sounds out loud at any given time.
After winning multiple student journalism awards for her investigative work, she graduated from Hofstra University in 2021 with a B.A. in Journalism. After graduating, she worked at today.com, the digital site for the Today Show, where she wrote pop culture news and interviewed big-name personalities like Emily Ratajkowski, Haley Lu Richardson, Emma Corrin, and more.
Her personal interests, in no particular order, are: cheese, Joni Mitchell, reading, hot yoga, traveling, having multiple chapsticks in every handbag at all times, and dancing to ABBA songs as if she were in the Mamma Mia movies.