Why Strictly Come Dancing's AJ and Kai could be in trouble ahead of the Strictly final according to a body language expert
Strictly Come Dancing's AJ and Kai have been surrounded by romance rumors in recent weeks.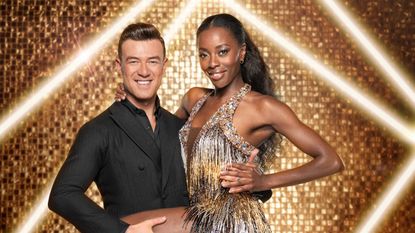 (Image credit: BBC)
Strictly Come Dancing's AJ and Kai are just weeks away from the Strictly final and it seems their body language ahead of their surprising score last week could indicate a "hiccup" between the couple, despite their "adoring" looks.
Strictly Come Dancing stars AJ Odudu and Kai Widdrington have been surrounded by romance rumors and have long been fan favourites, ever since Strictly Come Dancing 2021 started and the Strictly contestants first showed their dancing skills. Now the grand final is just weeks away, with the eagle-eyed Strictly Come Dancing 2021 judges ready and analysing each remaining celebrity's every move. And they're not the only ones who've been looking at the couples closely, with AJ and Kai showing some very intriguing signs during their latest Strictly appearance.
Looking into the body language displayed by AJ and Kai, Buzz Bingo (opens in new tab) and body language expert Judi James have collaborated to reveal the possible insights it can give fans into their performance and relationship. Judi suggested that AJ could've dropped "huge non-verbal hints" that appeared to give credence to the dating gossip.
She revealed, "Their single status meant there were no bitter partners in the background muttering about 'The Curse of Strictly' and the gorgeous AJ looked more than happy to drop huge non-verbal hints that seemed to endorse all that 'are they dating' speculation."
Commenting about their body language after this week's performance, Judi explained that Kai "looked at her adoringly" and that as well as "their 'near-kiss' at the end of a routine creating the usual 'fan frenzy', there were clues during their VTs and their balcony interviews that this might just be the real thing developing."
However, things might not be all plain-sailing for AJ and Kai, who received disappointing scores for their Paso Doble.
Judi believes there could've been a "hiccup" for the couple, shown in the way they held themselves during the VT shown ahead of their dance.
"The VT at AJ's mum's house showed the pair not only sitting apart on separate chairs but their body language made that gap look even more pronounced," the expert disclosed. "Neither leaned into the other, there was no touch and AJ kept her arms folded in a barrier ritual, glancing at him over her shoulder."
Judi added, "Authentic relationships can be as enhancing or as risky as any workplace romance. Did a hiccup scupper their scores this week?"
What does this mean for the couple ahead of the Strictly final?
Throughout the weeks since Strictly Come Dancing 2021 started, AJ's exuberance and dance skills have truly captured fans' imaginations. In the early weeks, she and Kai found themselves consistently at the top of the Strictly leaderboard, scoring an impressive 34 in week 1 with their lively Jive to DJ Fresh's Gold Dust. However, after a near perfect score of 39 in week 7 for their Charleston, things took a dramatic turn last weekend when the couple scored 28 for their passionate Paso Doble.
This still-impressive score left them at the bottom of the Strictly leaderboard and severely at risk of elimination, though they were eventually declared safe and were not the ones who left Strictly Come Dancing.
In light of Judi's analysis of AJ and Kai's body-language in the VT ahead of taking to the Strictly dance floor, it could perhaps be that the pressure of the competition and scrutiny of viewers over their relationship have had an effect on the duo.
Judi's speculation about a possible "hiccup" between the two of them contributing in some way to their scores this week could perhaps suggest that the balance between their personal and professional lives could possibly impact their performance in future weeks.
It's Week Seven hidden mic time! The #Strictly sounds you don't hear on Saturday night. 🔈 pic.twitter.com/x3MigA0VycNovember 9, 2021
See more
Whilst AJ is said to have dropped "huge non-verbal hints" about a romance and they seemed close on the dancefloor, this unfortunately didn't translate into the leaderboard topping scores fans are used to seeing from the couple.
Any further potential "hiccups" over the next few weeks could potentially make all the difference between securing a place in the Strictly Come Dancing final, or narrowly missing out. However, despite the lower score coming amid major relationship rumors, it could of course be that the Paso Doble just wasn't AJ's dance.
The judges have often stated over the series that some dances aren't for everyone. With only one other score below 30 to their name over the course of the show, AJ and Kai are expected to be back on form next week as they take on fan-favourite, Musicals Week.
Are AJ and Kai from Strictly Come Dancing dating?
Strictly Come Dancing stars AJ and Kai have not officially confirmed that they're dating, though that hasn't stopped excited fans from pondering whether the dance partners are now a couple. AJ and Kai have been seen to form a close relationship as they've progressed through the competition, with the professional dancer heard whispering, "I love you, I love you so much" after their American Smooth.
Both are understood to be single and according to the Daily Mail (opens in new tab), a source has even claimed the two are now together. The source alleged to the publication, "Kai thinks A. J. is sexy. They have this lovely romance going on, things have definitely changed in the last week or so and they are inseparable, not just as dance partners but away from that, too."
"It's nice to see a Strictly romance where there is no curse, just two people who have fallen head over heels for each other. Those involved in the show have been watching this closely over the weeks and have thought this was always on the cards. It's lovely," they added.
Kai says AJ is a "dream partner" for his first year as a #Strictly Pro ❤️#ItTakesTwo @AJOdudu @Kaiwidd @Rylan pic.twitter.com/LWSAhugxIzNovember 5, 2021
See more
However, Kai himself has spoken out to address his "I love you" comments and appeared to dispel romance rumors as he clarified that his emotion came after they'd had a "tough" week of training.
He explained on Strictly spin-off show, It Takes Two, "I think that was all down to just the tough, tough week that we had and the fact that we got to the end of the performance and it was flawless and you smashed it, and you did all the lifts brilliant, did all the technique perfect."
Regardless of whether or not the romance speculation is true, AJ and Kai have certainly captured the hearts of the nation. We look forward to seeing their Musical Week performance as the couple set their sights on the Strictly Come Dancing 2021 final!
Emma is a Senior Lifestyle Writer with six years of experience working in digital publishing. Her specialist areas including literature, the British Royal Family and knowing all there is to know about the latest TV shows on the BBC, ITV, Channel 4 and every streaming service out there. When she's not writing about the next unmissable show to add to your to-watch list or delving into royal protocol, you can find Emma cooking and watching yet more crime dramas.