Why did Endeavour's DS Jakes leave, why is actor Jack Lacksey back in season 9 and is his return ahead of the finale a bad omen?
Endeavour's DS Jakes left the drama in season 3 but now he's back ahead of the last ever episode - and it's set to be incredibly emotional!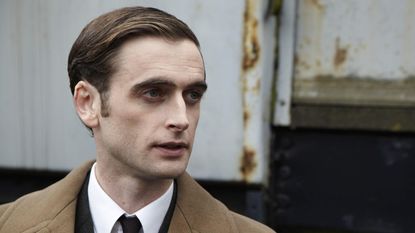 (Image credit: Collection Christophel © ITV / Mammoth Photo Patrick Redmond)
Endeavour's DS Jakes went from being jealous of Endeavour Morse to his well-respected friend and now he's returned ready for what promises to be an emotional finale.
Long-time fans of the hit Inspector Morse prequel were given a surprising glimpse of a very familiar face in the latest episode, Uniform. After years away from Oxford, Endeavour's DS Jakes (played by Jack Laskey) paid a surprise visit to his old colleague, Endeavour Morse, who's embroiled in a case that's cost the team everything they hold dear. It's clear someone doesn't want the truth to come out and will stop at nothing to keep it buried as the final episode draws nearer. And with Peter Jakes in Endeavour season 9, many people might be wondering what's sparked his return.
Here we reveal why Endeavour's DS Jakes left Oxford behind, all we know about what might've brought him back and where his story could lead in the final episode…
*Warning: Spoilers ahead*
Why did Endeavour's DS Jakes leave?
Whether it's the unthinkable idea of Nancy leaving Call the Midwife or the confirmed departure of Nicola Walker before Unforgotten season 5, the prospect of saying goodbye to a beloved main character isn't easy. Endeavour's DS Jakes was one of the first regular cast members to leave the show (later followed by DS George Fancy's tragic murder and the departure of WPC Trewlove). Played by Jack Laskey, DS Peter Jakes left Endeavour in episode 2 of season 3 to start a new life in America with his partner Hope, who was pregnant with their child.
The DS started out in Endeavour as being far from the titular character's biggest fan and resented DC (now DS) Endeavour Morse being DCI Fred Thursday's apparent favorite. From these early days Peter Jakes and Morse went on to forge a closer working relationship with mutual respect. Endeavour's DS Jakes' past was also explored in greater detail in season 2 where it emerged that he had suffered horrific abuse as a young boy during his time at Blenheim Vale Residential Home, giving fans a greater understanding and sympathy for this long-standing character.
After two full seasons, however, Endeavour season 3's episode, Arcadia, saw DS Jakes announce his decision to resign from the police and to move to the US with Hope. Morse even got an invite to his leaving drinks, with Peter Jakes telling him it was "mates only".
His friendship with Morse was all the more important in this episode when DS Jakes pulled rank on the junior officer and ordered him to leave whilst Jakes faced death to stay in the chalk tunnels under Oxford with kidnap victim Verity Richardson.
And it wasn't just viewers watching at home who were moved by this act of immense heroism. As Endeavour's DS Jakes prepared to bid a fond farewell to Oxford and his Cowley Police Station colleagues, Superintendent Bright told him he'd put him forward for the Queen's medal for his brave actions.
The delighted DS then caught sight of Endeavour Morse walking past the pub window and went outside to ask his old rival-turned-friend if he was going to join them. In typical Morse style, he told him he needed to work but shook Jakes' hand and asked about Hope.
"Make a go of it," Morse told him, as Jakes replied, "I mean to."
The pair were interrupted saying their very Jakes and Morse-esque goodbye by Jim Strange and Morse stole the opportunity to head away down the street as Jakes returned to the party. But whilst he might not be the most emotionally expressive in person, Morse's bond with Jakes came through even more in the closing stages when he was seen writing a note to Peter that Hope passed to her partner on the bus out of Oxford.
"Dear Peter, for the child - Morse," the letter read and enclosed were several Premium Savings Bonds to help Jakes and Hope provide for their baby.
We'll have the truth, whatever the cost.Thank you for joining us again this evening. Tune in to @ITV at 8pm next Sunday for the #Endeavour finale. pic.twitter.com/RtVpDOyae4March 5, 2023
See more
Thursday later told Morse that he'd miss Peter Jakes, to which Morse joked that the DS certainly kept him on his toes. Though considering all that Endeavour's DS Jakes had gone through, Morse added, "Any man finds a measure of happiness, got to be a good thing. The start he had, if anyone deserved it…"
The exact reason for DS Jakes' departure from Endeavour, whether it was the writers' or Jack Laskey's decision remains unconfirmed. However, fans might well have been left as delighted as they were surprised to see Peter on Morse's doorstep in Endeavour season 9.
Why is DS Peter Jakes back in Endeavour season 9?
Already set to be an incredibly emotional season given it's the show's final outing, Endeavour season 9 pulled out all the emotional stops ahead of the finale episode when DS Peter Jakes arrived back in Oxford. His return in season 9 episode 2, Uniform, comes seven literal years since Jack Laskey departed Endeavour and five chronological years in the ITV drama's timeline.
Given that Endeavour's DS Jakes - now simply Peter Jakes following his retirement - was reintroduced just moments before the credits his exact reason for coming back hasn't officially been confirmed. However, it seems pretty much certain that it's linked to the Blenheim Vale case.
This case affected Peter Jakes personally and he and so many others like him were abused by high-ranking members of society. In Endeavour season 9 bodies had been discovered buried at Blenheim Vale and Morse and Thursday had thrown themselves into investigating after the original case was hushed up and sealed. It would make sense that word had got to Jakes in the US and that he's come back from Wyoming to see justice finally served and possibly even help his former colleagues directly with their investigation.
Either way, Endeavour's DS Jakes' return has plunged him into danger and could signal things are about to get even more emotional in the finale.
What can we expect from DS Jakes in the Endeavour season 9 finale?
At this point Endeavour's DS Jakes' potential impact upon the finale remains a matter of speculation but given his likely reason for coming back to Oxford after all this time we might expect him to be heavily involved in Morse and Thursday's case. The pair have already been warned off pursuing it and even former detective, now private investigator Ronnie Box was threatened so much that he left for South Africa.
DCI Thursday's wife Win and children Joan and Sam's lives could also potentially be in grave danger as they could also become targets for those who want the investigation into the Blenheim Vale bodies to cease. It's clear DS Morse and DCI Thursday are being closely watched and now Jakes has turned up at Morse's house they'll likely know about him being back soon enough too.
But with Hope and their child across the Pond, Jakes might feel less at risk if he continues the investigation than Thursday with his Oxford-based family, for example. Whatever happens it seems that the Endeavour season 9 finale will see the truth and scale of the cover-up finally be exposed, one way or another.
Whether Peter Jakes will escape unscathed and return to the US having perhaps achieved some sort of closure is unclear. We already know that DCI Fred Thursday could be in jeopardy as he was never mentioned in Inspector Morse - the show for which Endeavour is a prequel.
As a result, the writers will have to come up with a very good reason why Morse never mentioned his former DCI as an adult and with the likeliest reason perhaps being tragic events, who knows if Jakes could fall victim.
If Thursday dies in the finale, it could be explained as being simply too painful for Morse to discuss him with DS Lewis in Inspector Morse. And if Thursday is killed off, who's to say Jakes will survive? Losing him too could compound this sense for Morse that the past is something he couldn't bear to mention in his later years. Alternatively, perhaps it could be Jakes who dies and this haunts Morse into adulthood or potentially leads to him and Thursday parting ways as colleagues.
Of course, fans will no doubt be hoping for a finale that avoids losing any main characters at all. Until season 9's finale we'll just have to wait and see - not to mention hope - that the journeys of Endeavour's DS Jakes, DS Morse, DCI Thursday and DS Strange will all have satisfying and not too tear-jerking ends.
The Endeavour season 9 finale will air in the UK at 8pm on ITV1 on March 12 and will be available to watch afterwards on ITVX. The final season is set to air on PBS for US viewers later this year.
Emma is a Senior Lifestyle Writer with six years of experience working in digital publishing. Her specialist areas including literature, the British Royal Family and knowing all there is to know about the latest TV shows on the BBC, ITV, Channel 4 and every streaming service out there. When she's not writing about the next unmissable show to add to your to-watch list or delving into royal protocol, you can find Emma cooking and watching yet more crime dramas.