Why Anna Chlumsky is sick of talking about My Girl—'it was 'some bulls***t I did when I was 10'
It has been revealed that Anna Chlumsky is tired of talking about My Girl and has opened up about this iconic role in a recent interview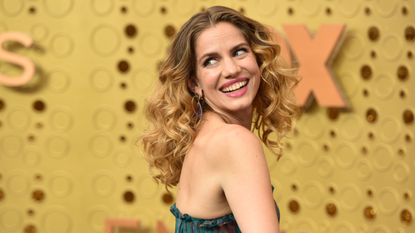 (Image credit: John Shearer / Contributor)
In a new interview, it was revealed that Anna Chlumsky is sick of My Girl and hates talking about the role that she played more than 30 years ago.
Although My Girl may be one of the best romance movies of all time and one of the best book-to-movie adaptations of the past three decades, the lead star from this classic film is tired of talking about her role—and honestly, we really don't blame her.
The actress opened up about the constant questions she gets regarding the beloved 1991 film which she starred in alongside Macaulay Culkin, Dan Aykroyd, and Jamie Lee Curtis. "You ever get sick of talking about that recital you did when you were 10?" she rhetorically asked her profiler for Elle (opens in new tab) magazine.
"Even though it's been 30 years, people still want to be like, 'Oh no, but I still own you.' It's really strange. I used to just think it was lazy but now I have to think that there's something more to it."
---
As harsh as her response might seem, we can't blame her. It's been three decades since Anna's iconic role (she was about 11 when she starred in the film) and her career has obviously progressed since then.
The actress is now starring in Inventing Anna—the new Netflix show by Shonda Rhimes exploring a dramatization of the life of Anna Sorokin, the now-convicted felon who defrauded friends, hotels, and businesses all around New York between 2013 and 2017.
Shonda Rhimes is the genius behind shows such as Bridgerton and Scandal, and seeing as part two of Grey's Anatomy season 18 is still a few weeks away, this seems like the next best show in the Shondaverse to sink your teeth into. In the limited series, Anna plays Vivian Kent, the journalist who mostly uncovers Sorokin's crimes.
In the profile for Elle, Anna discusses her artistic choices since My Girl, specifically revealing that, after she starred in My Girl 2 in 1994, she had a hard time landing any roles. She eventually enrolled in college and started working at a publishing company—until she met with a fortune-teller who joined the chorus of folks asking her if she, well, was the girl from My Girl.
"I'm like, Goddammit. Today?" says the actor. "And then she's, 'Wait. You're not done. You want to keep doing it."
In 2012, Anna found her next big part, playing Amy Brookheimer, politician Selina Meyer's (Julia Louis-Dreyfus) chief of staff, in the hilarious HBO comedy Veep.
"People started recognizing me on the street for Veep instead of for some bullshit I did when I was 10," Anna said. "It was the first time that I ever understood what it felt like to be happy to be asked about your job by a stranger."
Given the anticipation surrounding Inventing Anna, which premiers soon on Netflix, we have a feeling that Anna will soon be asked about yet another career choice of hers—one she didn't make when she was still a child.
Anna Rahmanan is a New York-based writer and editor who covers culture, entertainment, food, fashion and travel news. Anna's words have appeared on Time Out New York, the Huffington Post, Fortune, Forbes, Us Weekly, Bon Appetit and Brooklyn Magazine, among other outlets.