Who is Javi in Yellow Jackets and what happened to him?
The Showtime series has taken off in popularity, and it's leaving fans to ask some hard-hitting questions about the characters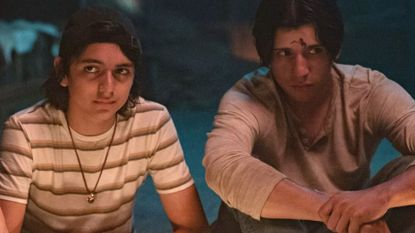 (Image credit: Kailey Schwerman/SHOWTIME)
Showtime's most popular series these days, Yellowjackets, just released new episodes to kick off its second season - but the premiere is leaving fans wondering about the fate of a certain character from last season.
In January 2022, the thrilling season 1 finale of Yellowjackets aired, leaving fans with a lot of questions that left fans minds racing for over a year. Did Lottie become the Antler Queen? Is the series based on a true story? And finally, did Javi die last season?
The new episodes for season 2 dropped on Friday, March 24, and fans are already hypothesizing about the fate of the characters who still remain, but that doesn't solve some of the queries that fans still have from last season.
Below, we unpack what happened to happened to Javi last season, and some of the things we predict could happen for season 2 beyond the first two episodes. Spoilers ahead, of course.
Who is Javi in Yellow Jackets?
Javi Martinez, played by Luciano Leroux, was the younger brother of Travis, one of the people who went missing last season. He was one of the only male characters to survive the plane crash last season, but after the second to last episode of last season, goes missing, yet to be seen since.
What happened to Javi in Yellow Jackets?
Yellow Jackets fans are wondering what happened to Javi in the show, after he disappeared.
That episode, titled "Doomcoming," features all of the teens getting together to throw a party - a party that basically is celebrating their impending death, seeing as they're trapped in the woods and have little to no chance of escape.
Accidentally, Misty ends up drugging the entire group with mushrooms, and the party descends into pure chaos, with the girls locking Jackie up, others howling at the moon... you get the picture.
With all of the craziness and danger happening in the woods while the teens are high, Shauna tells Javi to run and find safety, as their current state is not safe for someone young and precious like him.
That is the last we see of Javi, even since the first two episodes of season 2 have premiered.
With season 2 picking up about two months after the Emmy-nominated season 1 left off in the chronology of the show, Javi is still nowhere to be seen - but Natalie and Travis remain on a fervent hunt for him. Although Natalie is in full support of their search, she believes Javi to be dead, seeing as the group hadn't seen him for a whole two months since his initial disappearance. However, to spare Travis's feelings, she continues to help him look.
Lottie however, (who is hysterical, BTW), believes Javi to still be alive as well. "Your brother's alive. I know he is," Lottie says to Travis.
That's all we know about it so far - and with the trajectory of how the show has been progressing to far, we're not naive to believe that literally anything is possible in this thriller of a series. Plus, after Jackie's death last season, we're not counting out any possibilities.
If you want to catch up on the action, you can either stream the series on Paramount+, or tune into Showtime on Sunday nights at 9 to catch new episodes.
Madeline Merinuk is woman&home's US lifestyle news writer. She covers celebrity, entertainment, fashion, and beauty news but is also obsessed with internet trends - you can find her reciting trending TikTok sounds out loud at any given time.
After winning multiple student journalism awards for her investigative work, she graduated from Hofstra University in 2021 with a B.A. in Journalism. After graduating, she worked at today.com, the digital site for the Today Show, where she wrote pop culture news and interviewed big-name personalities like Emily Ratajkowski, Haley Lu Richardson, Emma Corrin, and more.
Her personal interests, in no particular order, are: cheese, Joni Mitchell, reading, hot yoga, traveling, having multiple chapsticks in every handbag at all times, and dancing to ABBA songs as if she were in the Mamma Mia movies.