Is Yellowjackets based on a book or is the intense Showtime thriller a true story?
If you're wondering if Yellowjackets is based on a book then you're probably not alone as season 2 took a horrifying turn…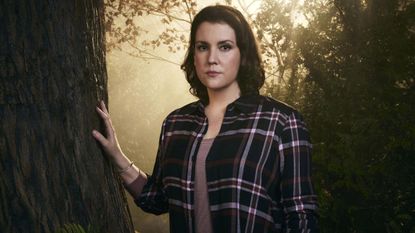 (Image credit: eative Engine Entertainment / Album/Alamy)
"Is Yellowjackets based on a book?" might be the question on your mind now that season 2 has returned with even more intense scenes - not to mention a particularly shocking moment…
As one of the best Emmy nominated shows of 2022, even if you've not yet dived into the survivalist drama, you've probably heard of Yellowjackets. Like in The Strays on Netflix and how we learnt what Tully did to Kate in Firefly Lane, multiple time periods are key to the Showtime series. Yellowjackets follows a group of New Jersey high school girls soccer players who are traveling to a tournament in Seattle in 1996 but end up crashing into a remote area of Canada. Contrasted with this is their lives in 2021 which are still packed full of drama after the survivors made it through almost two years of being stranded.
But is Yellowjackets based on a book or is it a true story? We reveal the heart-breaking inspiration behind this intense drama as season 2 continues…
*Warning: Spoilers ahead!*
Is Yellowjackets based on a book?
Unlike plenty of other shows we can't stop raving about, from Daisy Jones & The Six to Funny Woman, Yellowjackets isn't directly based on a book, but it does have some similarities with William Golding's Lord of the Flies. This is something that Yellowjackets creator Ashley Lyle has been open about in the past as she reflected upon how the Nobel-Prize winner sparked the gem of the Yellowjackets idea.
Speaking on The Hollywood Reporter's TV's Top 5 podcast alongside co-creator and husband Bart Nickerson, Ashley discussed how Yellowjackets also examines "social hierarchies" in a similar way.
She explained, "Lord of the Flies is about how socialization falls away and how society is a façade. We thought, who is more socialized than women? As girls, you learn early on how to make people like you and what the social hierarchies are."
According to her, the idea of focusing on the girls' high school soccer team instead of a group of boys as in Lord of the Flies adds a different layer to Yellowjackets.
"It's a more interesting way of having things fall away," Ashley added. "The mask is even thicker. It's a more layered amount of preconceived notions of how to behave and act."
So whilst Yellowjackets isn't based on Lord of the Flies itself, the themes within the much-loved novel clearly spoke to Ashley and Bart. But this William Golding book isn't the only inspiration that could be seen to have shaped Yellowjacket's intense storyline…
Is Yellowjackets a true story?
Just as the answer to whether Yellowjackets is based on a book is a partial yes, it's also somewhat inspired by a terrifying true story. Alongside the Lord of the Flies-esque plot, Yellowjackets also has several parallels to a very real tragedy of the Uruguayan Air Force Flight 571 disaster. The plane's passengers included a Christian rugby team, their friends and relatives and it disappeared on its way from Uruguay to Chile's capital Santiago in October 1972. It was later discovered to have crashed into the Andes mountain range amid poor weather conditions.
Twelve people are understood to have been killed in the crash, whilst 34 initially survived. It was 72 days spent enduring the remote wilderness' freezing temperatures before they were found and by this point several more passengers had lost their lives. By the time help came, the remaining survivors had reportedly resorted to cannibalism to save their lives and only 16 of those who had originally boarded the plane were rescued.
Several of the heart-breaking details of this tragedy can be seen to have been mirrored in Yellowjackets. The hit Showtime show also sees a talented sports team stranded in an inhospitable environment, although it hasn't yet clarified exactly what caused the New Jersey girl's soccer team's plane to crash whilst journeying over northern Canada.
The flashforward in Yellowjackets season 1's premiere showed that some of the group were forced to turn to cannibalism during their time in the wilderness, with others believing it of them in 2021. And in the Yellowjackets season 2 premiere episode we saw it directly on screen starting with a small moment. After Jackie died in Yellowjackets after freezing to death, her ear broke off and Shauna (who'd been sleeping with Jackie's boyfriend Jeff, sparking the argument that led to her sleeping outside) ate it.
This could be what ultimately kickstarted a mindset amongst the group that led to them trapping the girl in the first ever episode, though fans will have to wait and see. Meanwhile, whilst the real-life survivors of the 1970s disaster were stranded for 72 days, in Yellowjackets the time period is far more extended and it's revealed that they were missing in the woods for nineteen months.
Yellowjackets season 2 continues on Sundays at 9 ET on Showtime.
Emma is a Senior Lifestyle Writer with six years of experience working in digital publishing. Her specialist areas including literature, the British Royal Family and knowing all there is to know about the latest TV shows on the BBC, ITV, Channel 4 and every streaming service out there. When she's not writing about the next unmissable show to add to your to-watch list or delving into royal protocol, you can find Emma cooking and watching yet more crime dramas.