The Strays on Netflix: what is the thriller about and is it a true story?
New thriller The Strays on Netflix is inspired by a true story that will send chills down your spine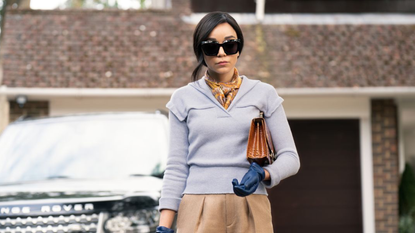 (Image credit: Netflix)
The Strays on Netflix is a new thriller that just dropped on the streaming platform and has already got everyone talking.
Written and directed by Nathaniel Martello-White, the British film is being compared to the likes of Get Out and Funny Games - but what is the gripping production all about?
WHAT IS THE STRAYS ON NETFLIX ABOUT?
The protagonist on The Strays is Neve Williams, a biracial woman who lives a peaceful life alongside her husband and two children while working at a private school in Castle Combe, a suburb of London.
"When she finds a strange man and woman appear strangely at odd moments, she starts to doubt her sanity," reads an official synopsis. "She turns to her family and friends for assistance but they refuse to believe her."
Fair warning: the horror movie will leave you perplexed and shocked by the end, forcing you to wonder what, exactly, a "perfect life" should look like.
WHO IS IN THE CAST OF THE STRAYS ON NETFLIX?
British actress Ashley Madekwe, previously seen in Revenge and Secret Diary of a Call Girl, stars as the protagonist, Neve.
Justin Salinger takes on the role of Ian Williams, Neve's husband, while Samuel Small plays their son Sebastian alongside Maria Almeida's Mary, the couple's daughter.
The two "terrifying" strangers are played by Jorden Myrie and Bukky Bakray. The former is Marvin, a newly hired janitor at the school that Neve works at who befriends Sebastian, and the latter is Abigail, who starts working for Ian and becomes friends with Mary.
IS THE STRAYS ON NETFLIX BASED ON A TRUE STORY?
Although The Strays on Netflix is not based on a true story, Nathaniel did admit to Radio Times (opens in new tab) that his directorial debut was inspired by a story that he once heard from his own mother.
"[It] was about a woman who essentially was denying the fact that she had two Black children," he revealed to the outlet. "[She also] had two children, who were very fair-skinned and almost white-passing, and this woman was biracial. And I was just really struck by the kind of complexities of that, like, what would make somebody feel like they had to erase their past and deny it?"
Interestingly enough, Nathaniel's mother is also biracial, an aspect of her life that she'd been discussing with her son.
"[My mom] was sort of talking to me about her experiences as a biracial woman and kind of traversing different cultures and classes and sometimes being perceived as almost white and kind of how people would treat her," the director said to the outlet. "And then the odd sort of slip, and then there's a microaggression or something, which actually is quite offensive, or quite shocking."
In the interview, Nathaniel also revealed that he came up with the general concept for his first feature film the same year he saw Get Out, which was 2017.
"I sort of came away from that experience being like, it had to be something really personal that sort of explored race in a really complex way," he said, referring to his participation in the London Film Festival as part of the BFI Network, a program that supports emerging filmmakers. "But also have a genre element to it that kind of made it more universal and far-reaching."
HOW TO WATCH THE STRAYS ON NETFLIX
The Strays is currently streaming on Netflix, so anyone with a subscription to the service can access the movie and watch it at any time.
Anna Rahmanan is a New York-based writer and editor who covers culture, entertainment, food, fashion and travel news. Anna's words have appeared on Time Out New York, the Huffington Post, Fortune, Forbes, Us Weekly, Bon Appetit and Brooklyn Magazine, among other outlets.