How did Jackie die in Yellowjackets?
As fans get excited about the premiere of Yellowjackets season 2, they can't stop thinking about how this important character died during season 1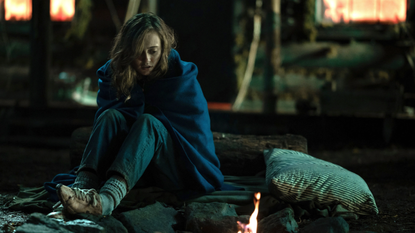 (Image credit: Showtime)
Season 2 of Yellowjackets is scheduled to premiere on Showtime on March 26, with a third season already greenlit.
As fans catch up on old episodes of the Christina Ricci (opens in new tab)-starring series to refresh their memory before new ones hit the air, one question reigns supreme: how did Jackie die in Yellowjackets?
WHAT IS YELLOWJACKETS ABOUT?
An ensemble series that's been compared to both Lost and the famous book Lord of the Flies, Yellowjackets is set in two different time frames: 1996, when a New Jersey high school female soccer team travels to Seattle for a tournament, and 2021, the era that the characters currently live in.
The premise is chillingly straightforward: while flying over Canada, the plane carrying the team crashes. Although some players die, others survive in the wilderness for nearly two years but resort to violence and cannibalism to stay alive.
WHO STARS IN YELLOWJACKETS?
The ensemble cast of Yellowjackets consists of two sets of actors: those who take on the role of the girls in 1996 and those who play their current-day counterparts as adults.
Ella Purnell plays Jackie Taylor, the captain of the soccer team with plans to attend Rutgers University post-high school. Although Jackie survives the crash, she has a very hard time adapting to life in the wilderness and ends up doubting her relationship with her former best friend Shauna Shipman, a role taken on by Melanie Lynskey as an adult and Sopie Nélisse as a teenager.
As audience members quickly realize, although claiming to be Jackie's best friend, Shauna was actually having an affair with her boyfriend, Jeff, before the crash. Shauna and Jeff are actually married in the current-day portion of the series, despite the former's dissatisfaction with her life.
Christina Ricci plays an adult Misty Quigley to Sammi Hanratty's teenage version, the team's equipment manager and a victim of bullying. Things change as she proves to be skilled at survival-adjacent tasks in the wilderness and becomes a care facility nurse when older.
The cast is rounded out by a number of other figures, including Steven Krueger as assistant coach Ben Scott; Tawny Cypress and Jasmine Savoy Brown as ruthless player Taissa Turner; Warren Kole as Jeff; Juliette Lewis and Sophie Thatcher as "burnout" Natalie Scatorccio.
HOW DID JACKIE DIE IN YELLOWJACKETS?
Season 1 of Yellowjackets ended with a proverbial bang as one of the main characters was surprisingly killed off. Although expected to lead the survivors of the plane crash, Jackie could not seem to adapt to her new life, where manual labor and survival skills were treasured most. As fans noticed throughout the episodes, Jackie truly thought they were all going to get rescued and be able to return to their regular lives.
In the season 1 finale, Shauna and Jackie get into the fight that fans were waiting to happen all throughout as the latter discovers her former friend was sleeping with her boyfriend. The two get into a heated argument as the rest of the characters take Shauna's side and basically kick Jackie out of their cabin.
Jackie, forced to sleep outside for the night and never having learned basic survival skills (she tries to start a fire and, once unable to, simply covers herself with a blanket and dozes off), freezes to death.
The next morning, Shauna rushes out of the cabin screaming and immediately spots her former friend's frozen body.
Anna Rahmanan is a New York-based writer and editor who covers culture, entertainment, food, fashion and travel news. Anna's words have appeared on Time Out New York, the Huffington Post, Fortune, Forbes, Us Weekly, Bon Appetit and Brooklyn Magazine, among other outlets.