What happened to Thomas in Silent Witness, how did he die and who does Nikki want to replace him in the new season?
The exit storyline for Lyell Center boss Thomas in Silent Witness was one of the most heartbreaking moments in the show's history...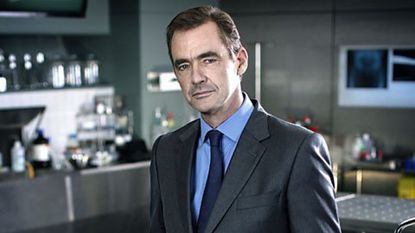 (Image credit: BBC)
Few could forget Thomas in Silent Witness and now years after his death, Nikki has made an offer that could see his role taken on by someone else.
After the twists and turns of the overarching storyline of the 25th anniversary season, including who Tom Faulker was in Silent Witness, fans were likely equally excited to see the return of the two-part episodes with the latest series. But there have been changes in Silent Witness season 26 with the introduction of new colleagues for pathologist Dr Nikki Alexander and forensic scientist Jack Hodgson. They're treading the path taken by many fan-favorite characters who came before them. This includes Thomas in Silent Witness, who bowed out in dramatic style in season 23. And it seems that Nikki has her own ideas about who should replace him.
Here we reveal what happened to Thomas in Silent Witness, how he died and who Nikki wants to be the new Lyell Center boss in the new season…
*Warning: Spoilers ahead!*
What happened to Thomas in Silent Witness and how did he die?
Dr Thomas Chamberlain joined the Lyell Center team in the opening episode of season 17 entitled Commodity. Initially, Nikki isn't convinced by their new boss and is resentful of Thomas introducing himself as the one "replacing" the late Professor Leo Dalton, to which she replied crisply, "No you're not. You're taking over from him."
Things aren't helped when Thomas arranges for the disposal of her former mentor and boss' old chair. Admittedly, it's seen better days, but it still reminds her of Leo.
Leo was killed in Afghanistan when a bomb went off in the season 16 finale and he sacrificed his own life to walk with the man who the device was strapped to as far away from other people as possible. Nikki and Jack watched helplessly as he did this and having worked with him longer, she struggled most to deal with Thomas coming in. Over the course of Commodity, Thomas proves his skills and eventually wins Nikki over as a worthy successor to Leo. It might've helped that he rescued Leo's chair and brought it back to her...
Over the course of multiple seasons Thomas became a close friend to Nikki, forensic scientist Jack Hodgson and forensic examiner Clarissa Mullery. Fans also got to learn more about his family life and saw him reconnecting with his daughter Rosie. But it all ended in tragedy and the last time we saw Thomas in Silent Witness was the emotional season 23 finale, The Greater Good.
With Jack in hospital near death after being affected by a mystery nerve agent, Thomas donned a protective suit and went on to find out what the agent by testing some of it. Only Clarissa arrived outside the sealed room with results to tell him that the agent was designed to make its way through the filtration system in the suit.
That meant the suit was useless and Thomas died alone in the lab, telling a frantic Nikki and Clarissa to make sure the hospital was told of the discovery. They watched as he passed away, having found the information that was needed to save Jack.
This was also the last we saw of Clarissa in Silent Witness and she, Nikki and Jack met up in the park to watch a video of Thomas flying a kite with Rosie in happier times before the credits started to roll. This immensely sad end for Thomas in Silent Witness will forever be remembered by long-time fans and he was mentioned in the subsequent series as his colleagues continued to process his death.
Why did Richard Lintern leave as Thomas in Silent Witness?
Whilst other main Silent Witness cast members like Liz Carr who played Clarissa, have explained their reasons for leaving the BBC drama, it's still not known exactly why Richard Lintern departed as Thomas in Silent Witness. No reason was reportedly given for him leaving by the actor or show. There's also uncertainty over whether Thomas was killed off because Richard wanted to leave, or whether Richard left because Thomas' dramatic death was written to add extra pathos to the finale. Either way, he made his mark on the popular drama as the talented and loyal Dr Thomas Chamberlain.
Who's replacing Thomas in Silent Witness season 26?
Following Thomas' death, Nikki took on some of Thomas' lecture work in season 24, leading to her having a brief fling with infatuated student Ollie that nearly prevented Nikki and Jack's now blossoming relationship from developing at all when the hurt scientist found out. But there hasn't technically been a new boss for the team since Thomas - or not one that was introduced to viewers anyway. Now someone else finally looks set to step into Thomas' shoes in the latest season.
During the opening episode of the new series of Silent Witness entitled The Penitent Part 2, Nikki was temporarily missing (presumed dead by some, hoped dead by others) after a van she was traveling in was blown up. However, in her absence a post mortem needed to be done on the driver who'd been shot first, so in came Dr Gabriel Folukoya played by new regular cast member Aki Omoshaybi.
He carried it out expertly and in the closing stages of the episode when justice prevailed and Nikki was back safely living her life, she paid Gabriel a visit. Commenting on how expensive his sofa was, Nikki explained that she'd come to offer him a job - though it wouldn't pay as well as Gabriel was used to. She urged him to work with them, to which he asked if she meant he'd be working "for" her.
"No," Nikki clarified. "I mean, come and be our boss."
He wasn't sure, saying, "You should do that job. You're by far the most qualified."
She protested that she "can't do" any of the budgets, politics and funding rounds expected to be carried out by the person in charge of the center. Nor, it seems, does she want to.
"I know you think it's indulgent, but I need to be free to do my work," Nikki explained. "To put everything I am into it."
The pathologists discussed things further, with Nikki praising Gabriel for how he'd immediately sussed during his earlier post mortem that the van bombing was an inside job. As things were left, Gabriel is still thinking about the offer, but considering Aki is a regular cast member for Silent Witness season 26 it looks like he'll soon be accepting and taking Thomas' role as Nikki's boss.
Of course, he could be joining in a different capacity but given Nikki had offered him that job specifically it would be a surprise. Opening up to the BBC before the drama returned, Aki explained that Gabriel is used to being less "hands on" than Nikki and Jack, but hinted he's about to learn the value of their way of working too.
"He keeps people at arm's length until he knows he can trust them. As a data expert, he doesn't speculate much, he's very fact-based. But as Gabriel starts to work with Nikki and Jack, he realizes they are more hands-on. He sees there are two ways of working and they complement each other," the actor explained.
Silent Witness season 26 continues on Mondays and Tuesdays at 9pm on BBC One with episodes released each week on BBC iPlayer.
Sign up to our free daily email for the latest royal and entertainment news, interesting opinion, expert advice on styling and beauty trends, and no-nonsense guides to the health and wellness questions you want answered.
Emma is a Royal Editor with seven years of experience working in digital publishing. Her specialist areas including literature, the British Royal Family and knowing all there is to know about the latest TV shows on the BBC, ITV, Channel 4 and every streaming service out there. When she's not writing about the next unmissable show to add to your to-watch list or delving into royal protocol, you can find Emma cooking and watching yet more crime dramas.