Who is H in Line of Duty? All the possible theories as series 6 continues
It's the question on every Line of Duty fan's lips: who is H? Here are the key suspects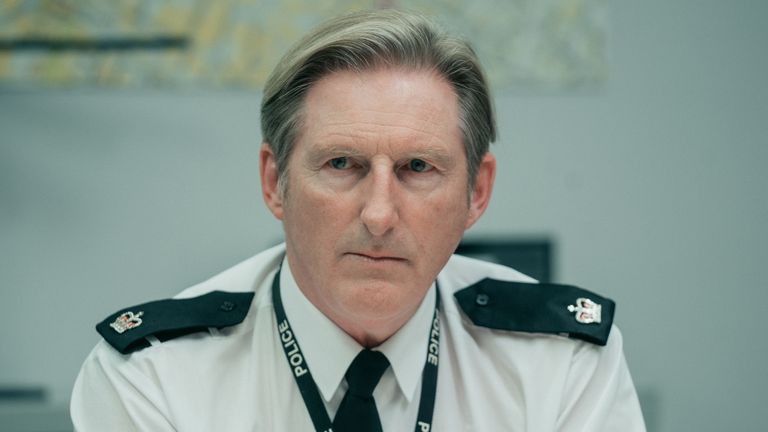 (Image credit: BBC )
Line of Duty Season 6 is well underway, but the show's big mystery is still at the forefront of our minds: who is H, the last remaining high-ranking officer with links to organised crime?
Following pandemic-related filming delays, the hit police drama finally returned to our screens in March – and Line of Duty theories are already a-swirling on social media.
This series AC-12 team is investigating the head of Murder Investigation DCI Joanne Davidson (Kelly Macdonald), as well as the unsolved murder of high profile journalist Gail Vella (Andi Osho).
But will we get any closer to unravelling the show's biggest mystery? Here are all of the key suspects for H's identity as the sixth series continues.
Who is H in Line of Duty?
Up until the fifth series finale viewers had been under the impression the H was one senior police officer, with the letter indicating his or her last name began with the letter H. This is based on Dot Cottan's dying declaration from series three.
However, Steve Arnott and Kate Fleming, two of the show's main protagonists played by Martin Compston and Vicky McClure, noticed that Dot's fingers tapped four times in – four dots, the letter H in Morse code. The two deduced that Dot was indicating that H is actually four high-ranking police officers.
So far the team has identified three corrupt senior members of the police: Dot himself, ACC Derek Hilton and legal counsel Gill Biggeloe, meaning just one remains. Here are the suspects to keep an eye on during the sixth seres...
Superintendent Ted Hastings
Maybe we're being optimistic, but we're really hoping that dear Ted won't turn out to have been working with the OCG (organized crime group) all along. Although he cleared his name at the end of series five, not all of his suspicious behaviour that viewers saw was explained, and we have a feeling there will be lasting repercussions for Ted this season.
DI Kate Fleming
It would be pretty gutting to have one of the main three characters turn out to be in cahoots with the OCG, but many viewers are convinced this will be the show's biggest twist to date as Kate's time on the show has been suspiciously clean. We've seen both Ted and Steve get into hot water during the show's running, so will Kate be the one to have some drama this series?
It certainly looks that way, as at some point before the sixth season she left AC-12 and transferred to the Murder Investigation Team. Is there more to her new job than meets the eye?
DCI Joanne Davidson
The main antagonist for the show's sixth season, DCI Joanne Davidson (Kelly MacDonald) is the head of the Murder Investigation Team and Kate Fleming's new boss. Davidson was tipped as this season's key corrupt officer from the get-go, but only time will tell if she's H.
By the end of the second episode of series 6, we know that Davidson is involved with the OCG in some capacity when Ryan Pilkington drops her off to collect a new burner phone. In episode 3, we also see her using the same instant messaging service the OCG used to communicate last season, after appearing to set up Superintendent Ian Buckells
Davidson has also lied about her romantic relationship with PC Farida Jatri for the entire duration of the season so far. Clearly she's not trustworthy, but how deep does her corruption go? That remains to be seen.
PCC Rohan Sindwhani
We didn't see too much of PCC Rohan Sindwhani (Ace Bhatti) in the show's fifth series, but season 6 already implies he's suspicous. The statement on there being no institutional corruption in the force at the end of the fifth series? Not very convincing.
In episode 3, we see further unaired footage of Gail Vella interviewing Sindwhani about police corruption and abuse – an interview he ultimately walks out of. Something to hide? It's certainly starting to look that way.
Acting DI Steve Arnott
Steve seems like the least likely of the three protagonists, considering that he joined AC-12 to get away from corrupt police officers. But perhaps that would make this twist all the more juicy. In Jed Mercurio's world, pretty much anything is possible.
Superintendent Ian Buckells
Buckells has previously appeared in the first and fourth seasons of Line of Duty, rumbling Kate's undercover identity in the latter, and has since been promoted to Superintendent. At the end of episode 3, he was brought in for questioning at AC-12. (Side note: will he be questioned by Ted, who is no longer one rank superior?)
Although Davidson is clearly setting him up, nobody can deny that Jed Mercurio is putting a lot of emphasis on a love of golf with Buckells' office decor choices. The character is billed to feature in most episodes of the sixth series, so could he be unveiled as the fourth member of the H squad? Only time will tell.
Chief Constable Philip Osborne
Remember this guy? Osborne (Owen Teale) was the head of Counter Terrorism and Steve's former boss, before he joined AC-12. You'll remember him pressuring Steve to falsify a statement regarding the death of Karim Ali, who was mistakenly killed in the show's very first episode. At some point before season 6 he was promoted to Chief Constable of Central Police – something that Hastings describes as an "outrage".
This series viewers have seen footage of some of Gail Vella's coverage of cases that we've seen play out during the Line of Duty timeline – including the trial of Patrick Fairbank and PCC Sindwhani's statement on the findings of Operation Pear Tree. However, she is also shown covering the inquest into Ali's death as well as confronting Osborne, suggesting both are somehow part of the bigger Line of Duty picture. We know Osborne has previous for corruption, so could he be in with the OCG? It would make sense...
DCC Andrea Wise
Andrea Wise is Central Police's current Deputy Chief Constable, having been promoted after Mike Dryden's demise in Season 2 – so she definitely fits the "high ranking" bill. At the start of Season 6 we briefly see Wise when she bars Superintendent Ted Hastings from a meeting at Headquarters. Although it's not surprising that Ted's actions from the last series have cost him at work, if Wise is H it's very convenient for her to have a reason to keep Ted out of important internal meetings.
DCS Patricia Carmichael
We first saw DCS Carmichael (Anna Maxwell Martin) at the end of series five as she headed up AC-3's investigation into Superintendent Hastings. She was pretty hell bent on charging Ted, so was this all an attempt to deflect attention away from herself? As a high-ranking officer, it's definitely plausible. It's not yet clear if Carmichael will make a return in Line of Duty Season 6, but we have a feeling Season 5 wasn't the last we'll see of her.
A character we're yet to meet
Yes, we know, this isn't the most satisfying of Line of Duty theories when trying to work out, "who is H?". But there's every chance that Jed Mercurio is yet to introduce the final H officer, or that they're a character who's been briefly mentioned but never actually seen on screen.
Only time will tell when it comes to solving the show's biggest mystery once and for all. Roll on season six!