Could Tommy Hunter in Line of Duty change everything in the search for H?
Tommy Hunter in Line of Duty may have more surprises in store...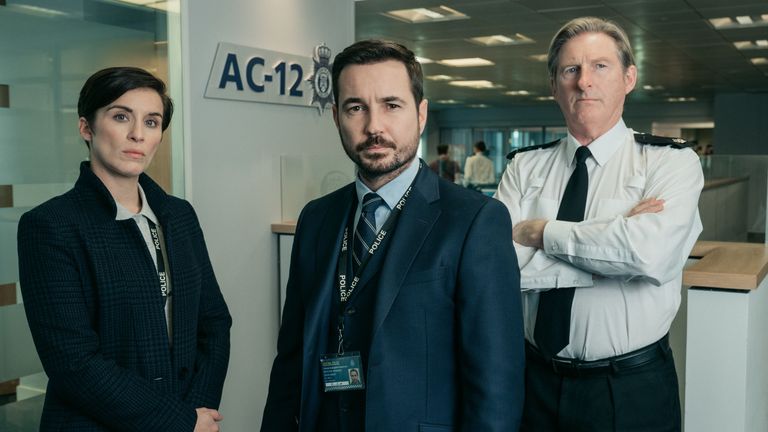 (Image credit: BBC)
Tommy Hunter in Line of Duty is already one of the hit drama's most notorious characters, but it seems that he may be about to change everything for the AC-12 team as their quest to uncover H's identity steps up a gear.
Despite the best efforts of our favorite detectives, they are currently no closer to answering the series' biggest burning question, who is H?. If you're not yet up to speed, be sure to check out our guide to how to watch Line of Duty wherever you are in the world.
With so many suspicious colleagues surrounding them, they're spoilt for choice in the potential corrupt officer department. Though the team has now uncovered some shocking new evidence that could take things in a very unexpected direction in the Line of Duty Season 6 finale.
And it all comes down to Tommy Hunter, who was the Organized Crime Group's original leader and the one who groomed DI Dot Cottan to become their go-between. The recent drama has been enough to see many of the classic Ted Hastings sayings come to the fore and a shocking Tommy reveal made in the latest episode will likely lead to a fair few more being uttered in the series finale. Now we can't help wondering—how might Tommy Hunter affect the search for H?
Warning: Line of Duty spoilers ahead!
Why was Tommy Hunter killed?
As most fans know, scenes with Tommy Hunter in Line of Duty were undoubtedly gripping, but his time on the show came to an end when he was killed in season 2. This came after the OCG leader agreed to turn informant for the police, only to be ambushed while being moved in witness protection.
Though shot during the ambush, Tommy managed to escape, but was placed in intensive care where he died after air was injected into his IV line. The ambush itself became one of Line of Duty season 2's major plotlines and it emerged that far from going straight, Tommy was still carrying out criminal activity whilst in witness protection.
In a final twist, it was actually Dot Cottan who arranged to have him and the police who traveled with him killed.
Could Tommy Hunter still be alive?
However unlikely it may seem, there will no doubt be some fans out there eager to see the infamous Tommy Hunter return to Line of Duty.
After all, there's nothing like a twist to round of a season finale, especially as we're not yet sure they'll be a Line of Duty season 7!
Wouldn't be surprised to see this guy turning up again. #LineOfDuty going full circle back to season 1 it seems #TommyHunter pic.twitter.com/POu38zoZkYApril 4, 2021
See more
Nothing has currently been said about a return, though, and given Tommy's reputation, we'd be surprised if the AC-12 team didn't confirm at the time that the crime boss really was dead.
That doesn't mean that Tommy Hunter can't be affecting the search for H, though, as he's not the only Hunter out there...
What is the link between Tommy Hunter and Jo Davidson?
After a recent episode ended with the discovery that acting DSU Jo Davidson's DNA had a link with someone on the police database, it was then finally revealed Tommy Hunter is her secret relative.
Though this is already pretty sinister on it's own, things got even darker last week when the team discovered that not only was Tommy Hunter her uncle, but her father as well - something Jo herself wasn't aware of.
When we last saw Jo, she had been taken into police custody for her crimes, having been manipulated to carry out the OCG's bidding throughout the years.
It's clear that Jo knows more than she's saying, but how much more?
Who is Tommy Hunter's son?
Tommy Hunter's son Darren may not have actually appeared in Line of Duty, but his name has cropped up in season 6. He was a suspect in the horrific killing of Lawrence Christopher, which murdered journalist Gail Vella had been looking into. It's thought that corrupt officers helped protect Tommy's son from being prosecuted, likely due to his father's position.
Many fans suspect that the Lawrence Christopher case will hold the key to uncovering something pretty dramatic in the Line of Duty season 6 finale. That could be H's identity, though if not that, then another equally huge development in the case.
Tommy Hunter may have died in Line of Duty, but his family and his legacy could still be manipulating things in his place. We can't wait to tune in this weekend to find out!
How to watch Line of Duty from anywhere in the world
However, if you're living in any other country in the world, where you can't watch Line of Duty we have an easy way for you to tune in.
Simply sign up to a VPN service, which is a piece of software that will change the location of your device, and allow you to watch Line of Duty from anywhere in the world.
The software is straightforward to use and install. All you have to is follow these three steps:
Download and install the VPN following ExpressVPN's easy-to-follow instructions (ExpressVPN comes with a 30-day money back guarantee and if you click here you can get 49% off and 3 months free, too.)
Once you've installed your VPN, open the app and select your server location as anywhere in the UK.
With your VPN installed and server location set to the UK, you can now go to bbc.co.uk/iplayer to watch Line of Duty.
After installing the VPN on your device, head to bbc.co.uk/iplayer to catch up on Line of Duty. There's no need to pay anything extra - you can simply sit back and tune in!
Emma is Senior Lifestyle Writer for Goodto.com, womanandhome.com and Myimperfectlife.com and she loves sharing the latest lifestyle, royal, celebrity and entertainment news. Before joining Future, previously TI Media, Emma was a Freelance Editor and before that a Publisher for an independent digital publisher. When she's not writing about the next big lifestyle trend, she enjoys cooking, long walks and watching as many crime dramas as she can!