Who is H in Line of Duty? All the suspects ahead of the series 6 finale
As the BBC releases a new teaser for the final episode of series six, will we finally find out who is H in Line of Duty?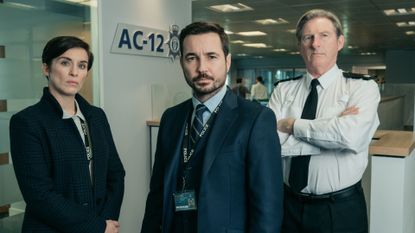 (Image credit: BBC)
woman&home newsletter
Sign up to our free daily email for the latest royal and entertainment news, interesting opinion, expert advice on styling and beauty trends, and no-nonsense guides to the health and wellness questions you want answered.
Thank you for signing up to Woman & Home. You will receive a verification email shortly.
There was a problem. Please refresh the page and try again.
Ask any fan of the show and they'll tell you the show's biggest mystery is, who is H in Line of Duty? As Ted Hastings would say, it's all coming together now, fellas.
In the current series, the AC-12 team is investigating the high-profile murder of journalist Gail Vella, played by Andi Osho. Like the anti-corruption team, she was looking into links between organized crime and the police before her untimely death—suggesting the clandestine network of corrupt officers could have played a role in her murder.
As the current season of Line of Duty draws to a close, time is also running out for the team to find the Fourth Man or Woman running the OCG from the top of the police force.
But judging by the new trailer the BBC has released for the Line of Duty Season 6 finale, below, viewers may be on the cusp of finally learning H's identity. (Warning: spoilers for series 6 lie ahead!)
Who is H in Line of Duty?
Up until the fifth series finale, viewers had been under the impression the H was just one senior police officer, with the letter indicating his or her last name began with the letter H. This is based on Dot Cottan's dying declaration from series three.
However, Steve Arnott and Kate Fleming, two of the show's main protagonists played by Martin Compston and Vicky McClure, noticed that Dot's fingers tapped four times; four dots, the letter H in Morse code. The two deduced that Dot was indicating that H actually represents four high-ranking officials.
So far the team has identified three corrupt senior members of the police: Dot himself, ACC Derek Hilton and legal counsel Gill Biggeloe, meaning the identity of the fourth man or woman is still to be discovered. Here are the key suspects, including bookies' odds from OLBG.
Chief Constable Philip Osborne
Long-term fans of Line of Duty will know that Osborne, played by Owen Teale, is the former head of Counter-Terrorism and was Steve's boss before he joined AC-12. You'll remember him pressuring Steve to lie about the death of Karim Ali, who was mistakenly killed in the show's first ever episode. At some point before season 6, he was promoted to Chief Constable of Central Police—which Hastings describes as an "outrage".
Earlier in series 6, DCC Wise told Ted of Osborne's plans to cut the Anti-Corruption budget by 90% and merge AC-3, AC-9, and AC-12, strongly suggesting that he take early retirement to avoid being dismissed. If Osborne is H, it would be all the more reason for him to get rid of AC-12 and shut down the team's investigation into the OCG.
In this series we've seen footage of Gail Vella covering cases we've seen play out in the Line of Duty timeline—including the trial of Patrick Fairbank and PCC Sindwhani's statement on the findings of Operation Pear Tree. However, she is also shown covering the inquest into Ali's death as well as confronting Osborne, suggesting both are somehow part of the bigger Line of Duty picture. We know Osborne has previous for corruption, so could he be running the OCG? It would make a lot of sense.
Bookies' odds: 4/1
DCS Patricia Carmichael
We first saw DCS Carmichael (Anna Maxwell Martin) at the end of series five as she headed up AC-3's investigation into Superintendent Hastings. She was pretty hell bent on charging Ted, so was this all an attempt to deflect attention away from herself? As a high-ranking officer, it's definitely plausible and Carmichael is the bookies' favorite.
The ever-infuriating Carmichael recently made a return in episode five of the show's sixth season, immediately raising viewers' suspicions when she called off surveillance on Jo Davidson, Ryan Pilkington and Terry Boyle, putting Kate in serious danger in the process.
In the following episode, during the team's interview of Davidson, she shut down pretty much every question relating to H, Chief Constable Osborne or Marcus Thurwell. So, is she H? Is she working with Osborne and covering for the fact that he is H? Or does she simply want to crack the case on her own and bask in the glory? We shouldn't have to wait too much longer to find out.
Eagle-eyed Twitter users have come up without a couple of Line of Duty theories that suggest Carmichael is bent, or even H. At one point during Davidson's interview, Carmichael taps her pen four times on the table, after which Davidson responds with "no comment". Viewers are all too aware that four dots in Morse code represents the letter H after Dot Cottan gave four taps in his dying declaration. Is a signal that Patricia Carmichael is H, just her usual passive-aggressive behavior?
Skip back a couple of episodes and during Gail Vella's interview with the now-deceased Jimmy Lakewell, he advised looking "beyond the race claim". Take the letters in "race claim" out of "Carmichael" and what are you left with? H. Too niche, or wild enough that it just might be true in Jed Mercurio land?
Bookies' odds: 2/1
DCI Marcus Thurwell
Marcus Thurwell was the SIO* on the Lawrence Christopher murder case, hindering the investigation so that none of the attackers were arrested until weeks later. By this point, they had all changed their appearances and could no longer be formally identified, so the case was thrown out. One of the attackers was Tommy Hunter's son, Darren, with both Buckells and Osborne having worked on the case under Thurwell.
When the Spanish authorities raided his home at the end of episode six, they found two bodies that appeared to be Thurwell and his wife. If Thurwell had been dead for as long as the flies in his villa suggested, it couldn't have been him communicating with Davidson "from Spain" just days earlier.
Twitter users were quick to point out that the Spanish armed officer who looked straight down the camera looked a lot like Thurwell—until we see DNA results and a post mortem on-screen, we can't be 100% Thurwell is actually dead.
Fans are also convinced that James Nesbitt is far too big an actor to be cast only to appear in photographs. But perhaps this is the ultimate red herring, designed to throw us off the scent of the real Fourth Man or Woman.
Bookies' odds: 11/1
*Senior Investigating Officer—see our guide to Line of Duty acronyms for a refresher on all the police jargon.
Superintendent Ted Hastings
Is Hastings H? Maybe we're being optimistic, but we're really hoping our Ted won't turn out to have been working with the OCG all along. A fan-favorite character (Ted Hastings sayings in Line of Duty are nothing short of legendary), this would be a real blow to die-hard viewers.
Although he cleared his name at the end of series five, not all of his suspicious behavior was explained away; why did he really dispose of his laptop? And why was he seen using the same messenger service as the OCG? Steve has since rumbled some of Ted's other dodgy like tipping off Lee Banks that there was a rat in the OCG—John Corbett, who was killed off as a result—and passing the missing £50,000 to his widowed wife, Steph.
Despite some red flags, it does seem that Ted is genuinely desperate to solve the case once and for all before his imminent retirement. Plus he appears to lead the operation to identify H/The Fourth Man in the final episode. So we are staying optimistic for now.
Bookies odds: 8/1
DI Kate Fleming
It would be pretty gutting to have one of the main three characters turn out to be in cahoots with the OCG, but many viewers are convinced that the ultimate twist would be for Kate Fleming, played by Vicky McClure, to have been bent from the get-go.
Since Line of Duty Season 1, Kate has worked on several undercover operations investigating DCI Tony Gates, DI Lindsay Denton (both now deceased), and former DCI Roz Huntley. Is there a chance she's the ultimate double agent and has been working for the OCG this whole time?
Fans have raised several theories about Kate this If Kate is innocent, why was she so hell-bent on helping Jo Davidson run from the police in Episode 6? Did she genuinely believe that Jo would share important evidence on Gail Vella's murder, or is there more to this than meets the eye?
In the final episode's trailer, it appears that DI Fleming plays a key part in uncovering the Fourth Man or Woman alongside Steve Arnott, which could indicate she is not H. But with this show, you never know what could have played out off-screen...
Bookies odds: 20/1
DCI Joanne Davidson
The main antagonist for the show's sixth season is DCI Joanne Davidson (Kelly MacDonald), who is the head of the Murder Investigation Team and Kate Fleming's new boss. Davidson was tipped as this season's key corrupt officer from the get-go, so naturally, we've all been a bit suspicious of her since episode one.
While we now know that Davidson has indeed been doing the OCG's bidding as DNA results revealed she is both the niece and daughter of notorious character Tommy Hunter. The former OCG boss forced Jo to join the police and she has been working for the corrupt group ever since.
We've also seen Jo communicating with someone (purportedly the Fourth Man or Woman) via instant messenger in Season 6. It's clear she is taking the orders rather than dishing them out, so it's unlikely she'll turn out to be H—although you never can be sure with Jed Mercurio.
In the teaser for the Season 6 finale, Davidson is seen being escorted out of prison in handcuffs before travelling in an armoured van with Jenny Leland, one of the dodgy prison officers who attacked Linsday Denton and Farida Jatri along with Amanda Merchant. Echoing Jimmy Lakewell's fate, this begs the question, will Jo Davidson survive the finale?
Bookies odds: 14/1
Superintendent Ian Buckells
Buckells has previously appeared in the first and fourth seasons of Line of Duty, rumbling Kate's undercover identity in the latter, and has since been promoted to Superintendent. He was arrested and questioned by AC-12 after they found Operation Lighthouse documents in his car.
Although it quickly transpired that Davidson was setting him up, nobody can deny that Jed Mercurio has put a lot of emphasis on Buckells being a golf fan, what with his office décor and collection of golf clubs.
But Davidson noted Buckells was very easy to frame in her interview and he looked genuinely terrified when Jimmy Lakewell was killed in front of him. He's also been in prison for the past few episodes, so it feels unlikely he'll turn out to be the final H.
That said, the fact that he recommended Davidson—a relative of former OCG boss Tommy Hunter—as SIO on Gail Vella's murder, and his involvement in the Lawrence Christopher case both look rather suspect.
Let's not forget Buckells was also on the scene back in Season 1, when Tony Gates apprehended Hunter, and was the person who let Dot Cottan speak to the OCG boss. He popped up again in Season 4 amongst the Roz Huntley, Tim Ifield and Hana Reznikova drama.
Is he simply always in the wrong place at the wrong time, or is there more to it? He might seem too simple and lazy to be a criminal mastermind, but maybe it's the ultimate façade? Whether he's the Fourth Man, or a bent copper at all, remains to be seen.
Bookies' odds: 16/1
DCC Andrea Wise
DCC Andrea Wise is Central Police's current Deputy Chief Constable, having been promoted after Mike Dryden's demise in Season 2—so she definitely fits the "high ranking" bill. At the start of Season 6 we briefly see Wise when she bars Superintendent Ted Hastings from a meeting at Headquarters.
While it's not surprising that Ted's actions from the last series have cost him at work, if Wise is H it would be very convenient for her to have a reason to keep Ted out of important internal meetings.
We've not seen much of Wise since she informed Ted of the plans to significantly cut the anti-corruption budget and merge AC-3, AC-9 and AC-12, later revealed to be Chief Constable Osborne's decision. Could she be in cahoots with the OCG?
Bookies' odds: 14/1
PCC Rohan Sindwhani
We didn't see too much of PCC Rohan Sindwhani (Ace Bhatti) in the show's fifth series, but season 6 has definitely implied that he's a suspicious character. The statement on there being no institutional corruption in the force at the end of the fifth series? Not very convincing.
In episode 3, we see further unaired footage of Gail Vella interviewing Sindwhani about police corruption and abuse, an interview he ultimately walks out of. While this was definitely suspicious, Sindwhani later reveals to Ted that he is resigning after fighting Osborne against the plans to scale back AC-12, saying, "it's down to you now Ted. In whatever time you've got left".
Unless there's a hidden meaning here, this implies that Sindwhani suspects Osborne and is very much on the side of AC-12, so perhaps he isn't H after all? We'll (hopefully) soon see.
Bookies' odds: N/A
Acting DI Steve Arnott
Steve seems like the least likely of the three protagonists to be working with the OCG, considering that he joined AC-12 to expose corruption like the lies told by Osborne over Karim Ali's death.
But perhaps that would make him somehow being the Fourth Man all the more juicy a twist. In Jed Mercurio's world, pretty much anything is possible, but we have a feeling this wouldn't fit the story well enough.
Bookies' odds: N/A
Line of Duty Season 6 concludes on Sunday, May 2 at 9pm on BBC One
Sign up to our free daily email for the latest royal and entertainment news, interesting opinion, expert advice on styling and beauty trends, and no-nonsense guides to the health and wellness questions you want answered.
Lucy is a UK-based beauty journalist who has written for the likes of Marie Claire, Cosmopolitan, OK!, Women's Health and more, as well as contributing to woman&home. Her work covers everything from expert skin and haircare tips to the latest product launches and the show-stopping beauty looks spotted backstage at London Fashion Week. During her career she's interviewed some seriously famous faces, from Little Mix to Drag Race royalty The Vivienne, as well as chatting to the industry's leading hairdressers, dermatologists and make-up artists.