All the best Ted Hastings sayings in Line of Duty, from bent coppers to the wee donkey
Because we didn't float up the Lagan in a bubble, you know!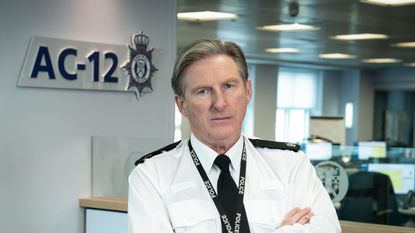 (Image credit: BBC )
As 11 million BBC viewers know all too well, Ted Hastings' sayings in Line of Duty are nothing short of iconic.
It's a sure bet that Ted will have at least one hilarious (and slightly old hat) saying per episode, whether he's catching a sprat instead of a mackerel or pointing out someone has cooked their goose. These are often referred to as "Tedisms" by fans, and are as iconic as the many Line of Duty acronyms.
As we nervously wait to find out whether Line of Duty Season 7 is happening and ask ourselves Who is H?, there's really no better time to revisit our favourite gaffer's most iconic sayings. We've rounded up the best Ted Hastings quotes below.
**Warning: spoilers up to the most recent episode of Line of Duty Season 6 ahead**
The best Ted Hastings sayings in Line of Duty
---
1. "Mother of God!"
Yep, we're kicking off with an oldie but a goodie. When Ted Hastings drops this absolute clanger, often softly whispered to himself, you know something serious has happened. From AC-12's discovery of several dead bodies over the years to the recent revelation that DCI Jo Davidson is a blood relative of Tommy Hunter, a "Mother of God" from Ted is just about as shocked a reaction as you'll get in the show.
2. "Now we're sucking diesel"
Another classic Tedism, this saying essentially means that things are starting to go very well, usually in the context of an AC-12 investigation. See also "Now we're cooking with gas!" (For the tape, we don't recommend anybody actually tries sucking diesel).
3. "Jesus, Mary and Joseph and the wee donkey"
A recent addition to the list of the best Ted Hastings quotes, but it's so iconic that it had to feature. During her interview in Series 6 Episode 6, DCI Jo Davidson spent the first 10 minutes of her epic 29-minute interview answering questions with "no comment". For your viewing pleasure we've included the exact Jesus, Mary and Joseph and the wee baby donkey video clip below.
4. "I'm interested in one thing and one thing only, and that's bent coppers"
There are several variations of Ted's bent copper sayings—referring to the many corrupt officers the team has rumbled during the show's run—from, "It's called nicking bent coppers" to "If I see a bent copper, I'll go after him". But the above line is probably the closest to "The name's Bond. James Bond" in terms of quotability. Probably.
5. "I didn't float up the Lagan in a bubble"
A much more inventive way of saying "I wasn't born yesterday" but far less frequently used. To refresh your memory, Ted dropped this corker when speaking to Alison Powell of Operation Pear Tree about her undercover operative, who was later revealed to be John Corbett.
Fun fact: show creator Jed Mercurio once revealed that the inclusion of the saying was a result of a bet that he couldn't include a Belfast saying in an episode. Challenge accepted (and completed).
---
More from woman&home:
• Line of Duty Season 6 finale: all the burning questions we need answering
• Unforgotten Series 4 cast: what to expect from the new series of the ITV drama
• Why did Nicola Walker leave Unforgotten after "brutal" episode?
---
6. "Unless you've got any more egg-sucking tips for your granny"
As you can probably sense, Superintendent Hastings was less than impressed when he dropped the full line "Go back to the coal face, the pair of you, unless you've got more egg-sucking tips for your granny!" back in Series Four. Ouch. What a burn.
7. "Suddenly we're leaking like a colander!"
Another of Ted Hastings' best lines from the fourth series, the gaffer gave DC Jamie Desford this dressing down following an AC-12 privacy breach. "For years the security in this department has been watertight, fella. Absolutely watertight. Then you come along, suddenly we are leaking like a colander!"
8. "Superintendent Hastings... Like the battle"
And finally, it wouldn't be a Ted Hastings one-liner round-up without the iconic way he introduces himself and/or ensures his surname is spelt correctly. Superintendent Hastings, like the battle.
Oh, Ted, we're going to miss seeing you on our screens every week. *Sobs*.
Line of Duty Series 6 concludes on Sunday 2nd May at 9pm on BBC One
Lucy is a UK-based beauty journalist who has written for the likes of Marie Claire, Cosmopolitan, OK!, Women's Health and more, as well as contributing to woman&home. Her work covers everything from expert skin and haircare tips to the latest product launches and the show-stopping beauty looks spotted backstage at London Fashion Week. During her career she's interviewed some seriously famous faces, from Little Mix to Drag Race royalty The Vivienne, as well as chatting to the industry's leading hairdressers, dermatologists and make-up artists.