The tampon tax is finally set to be scrapped - but what does this mean for you?
Put simply, the 'Tampon Tax' is all the revenue earned from the VAT charge applied to the sale of sanitary products.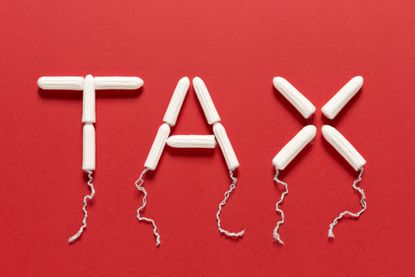 The standard VAT rate is currently 20%, and this rate applies to most goods and services. But, there are also some things that are charged at a reduced rate of 5% - which currently includes sanitary protection products.
Some things are exempt from VAT altogether such as postage stamps, cycle helmets, or financial and property transactions. And it now looks as if sanitary products are set to join the list, too.
Campaigners have been questioning why are we still paying any VAT at all on sanitary products for decades. Why something so many women rely on every single month to allow them to carry on living their lives as normal.
Tampons and other 'sanitary protection products' are currently classed as 'luxury', 'non-essential' products, and the government have stated that EU rules stop them from lowering the VAT any further than 5% or scrapping the tax entirely.
At the moment, Austalia is leading the way - beginning 2019 by officially scrapping the tampon tax for residents.
But what about the UK?
Back in 2015, 320,000 people have signed a petition on Change.org to scrap the Tampon Tax (opens in new tab), and in March 2016, Parliament accepted an amendment proposed by Labour MP Paula Sherriff that would end Tampon Tax once and for all in the UK.
However, although former Prime Minister David Cameron petitioned European ministers to change the rules regarding the 'Tampon Tax', progress has been slow.
In 2016, former Prime Minister Cameron announced that, "Britain will be able to have a zero rate for sanitary products, meaning the end of the Tampon Tax."
But former Chancellor George Osbourne later confessed that he couldn't lower the VAT rate due to the rules of the EU. However, with Brexit looming - that may be about to change.
And there's no question that it needs to change soon. Recently, government MPs have begun to address the issue of 'period poverty', the instance where some women simply cannot afford sanitary products, jeopardising their health and cleanliness.
In June last yearMP Danielle Rowley revealed that having periods can cost women hundreds of pounds every year. She said, ""We know the average cost of a period in the UK over a year is £500 – many women can't afford this."
Equalities minister Victoria Atkins responded at the time, stating that the VAT would be removed when - and if - Britain finally leave the EU. However, this of course still remains to be seen.
In August 2017, Tesco became the very first UK supermarket to swallow the 5% Tampon Tax VAT themselves, which meant customers did not have to pay the extra for sanitary products.
At the time, Michelle McEttrick, Tesco's group brand director, said, "For many of our customers, tampons, panty liners and sanitary towels are essential products.
"However, the cost of buying them every month can add up, and, for many women and girls, it can be a real struggle on top of other essential items."
Waitrose the Co-op also now pay the Tampon Tax on behalf of their customers, meaning that sanitary products are available women for a cheaper price in their stores as they will have the 5% VAT charged covered.
And in the middle of last year,Minister for Sport and Civil Society Tracey Crouch announced a £15 million Tampon Tax Fund, with money being ploughed into tackling period poverty, and some more to be given to causes benefitting vulnerable women and young girls, such as domestic abuse and rape charities.
In Scotland, sanitary products are now freely available in schools, universities and colleges. And in Wales, the government are tackling the issue of period poverty with a 1 million fund.
But it's fair to say that plenty of young people and women are still very much struggling with the issue in England. In fact,Teenage activist Amika George has started the powerful #FreePeriods legal campaign in an effort to get the government to provide free access to sanitary products in schools and colleges across the UK - you can donate here.
And with plenty of places still charging the VAT, the Tampon Tax has not yet been fully abolished - begging the question, when will the law change?