VIDEO: 5 Things Maxine Jones Would Tell Her Younger Self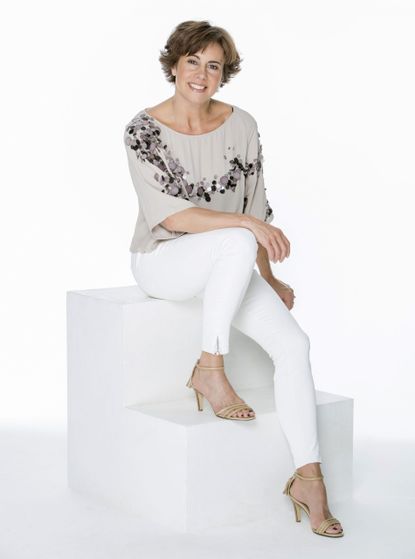 Maxine Jones, 46, lives in London with her husband, CJ, an IT security salesman, and has two stepchildren. She became a Zumba teacher in 2011 after 20 years in banking, and shared her top three moves to get fit in 1 minute in an exclusive video with us here (opens in new tab).
Maxine shared with us how a chance fitness class with a friend sparked a brand new passion - and a career...
I first discovered Zumba when a friend invited me to a class. I've always been into fitness, but I'd never heard of Zumba so thought I'd give it a go. About 60 women turned up and they literally danced like they didn't care, which was totally exhilarating. That class made me come alive. I felt so empowered, surrounded by a feeling of positive energy, family and sisterhood. I left on a tremendous high feeling ten feet tall and invincible. I had also had a great workout and decided to find my own class.
I couldn't wait to get home to google it - that's when I bought a Zumba DVD. After doing the workout in my living room, a message at the end of the DVD popped up, about an instructor training course, and I decided to do it. It was a lightbulb moment - I wanted to make a switch from my career in banking. Becoming a Zumba teacher was something I could do that felt right for me. I found a class in Bristol and did the course. I also did an "exercise to music" qualification so that I could work in gyms if my own lessons didn't work out.
My decision to retrain as a Zumba teacher coincided with leaving my banking job. I've always been a conscientious worker. I worked ten or 11 hours a day, starting at 7am - and my boss was always happy. But then things changed. I found all sorts of jobs coming into my remit. It ended up being an awful year, but it opened the way to leaving banking and creating a new life. It was such a relief walking away, I can't begin to tell you. I could have got another job in banking and thought about sending out my CV but something had changed within me. I'd been in the job for so long it felt frightening to consider something else but I had to accept that banking wasn't what I wanted to do. I thought, "There's got to be more to life than this."
I worried about how I'd support myself as a Zumba teacher but I was determined to make it work. Being a saver, I had some money to fall back on and my husband helped me too. Friends were with me all the way - they constantly told me that I was doing the right thing and encouraged me to follow my dreams. And I instinctively knew that if your heart is in it, which mine was, and if you grab something with both hands, which I did, then it would be a success. Looking back, I was chancing my arm!
There have been times when I've wondered if I'm crazy. I've had classes with shockingly low numbers and felt like I was earning pocket money. Then CJ was made redundant three years ago, which was scary. Two months down the line I was thinking about getting another banking job - then thankfully he was offered another job at what felt like the 11th hour, so I kept plugging away, and everything slowly turned around. But class numbers still wax and wane - there can be 100 people or 20. It's taken five years, but I'm back on track financially, earning on a par with what I made in banking and I'm very proud of myself. Doing what I want to be doing means that life is so much happier. It's the best decision I have ever made.
For classes with Maxine, visit maxamazin.com
The DVDLorraine: Living to the Max with Maxine Jones (opens in new tab) is out now (£13, Amazon)
Abigail Malbon is a journalist who has written for the likes of CN Traveller, Evening Standard, Red and Cosmopolitan. She likes pina coladas and exploring new places.