Vatican Girl true story: What happened to Emanuela Orlandi and was she ever found as the Netflix series explores this traumatic story?
The Vatican Girl true story is truly heartbreaking and the new Netflix series explores the many shocking theories surrounding the events of 1983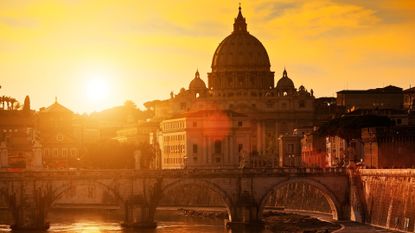 (Image credit: Sylvain Sonnet via Getty)
The Vatican Girl true story is every bit as disturbing as the new Netflix docuseries suggests as it introduces viewers to the theories surrounding what really happened to Emanuela Orlandi.
Whilst true crimes dramas like The Staircase and The Watcher have been keeping thriller fans gripped this year, 2022 has also seen the release of some seriously disturbing true-crime documentaries. From the horrifying true story behind The Girl In The Picture to Sins of Our Mother, viewers have learnt more about high-profile cases and now Netflix's latest, Vatican Girl, has landed. Across four-episodes, it follows the disappearance of Emanuela Orlandi and is directed by Emmy Award winner Mark Lewis, who also directed the nightmarish documentary, Don't F*** With Cats.
But what is the Netflix's Vatican Girl true story and what happened to Emanuela Orlandi? We reveal what you need to know about the case and theories that inspired this haunting series…
*Warning: Spoilers ahead*
What is Netflix's Vatican Girl about and is it a true story?
Netflix's Vatican Girl delves into the disappearance of 15-year-old Emanuela Orlandi in Rome in 1983 and includes interviews with the Orlandi family, including her mother Maria and a reported childhood friend. Although the docuseries presents a variety of theories and rumors surrounding the case that haven't been proven, the primary focus of Emanuela Orlandi going missing is a tragic true story.
The teenager lived in Vatican City and when she was reported missing, the case soon achieved attention around the world. She was the daughter of a Vatican office clerk, according to The Telegraph (opens in new tab), she went missing whilst on her way home from a flute lesson in the Italian capital.
That lesson was the last time Emanuela Orlandi was seen and director Mark Lewis expressed his hope to Variety (opens in new tab) that viewers watching Vatican Girl will respond emotionally to what the Orlandi family have gone through and that it will start conversations about this case.
"I hope that an audience will respond on an emotional level to the Orlandi family. The other thing I'm hoping audiences get from the series is a better understanding of the Vatican," he said. "While it is the smallest country in the world, it's so much more than that. It's a kind of absolute monarchy."
Mark continued, "Ultimately though, I hope audiences respond in a way that gives this case momentum and gets the conversation about this case going again."
What happened to Emanuela Orlandi?
Sadly, despite many years having passed since she first went missing it's not known exactly what happened to Emanuela Orlandi the day she went missing. Following Emanuela's disappearance a variety of theories have emerged about what truly happened to her in 1983, with some ranging from implicating the Italian Mafia to secret services.
Though Vatican Girl also focuses upon the unproven theory that the Vatican itself was somehow involved in Emanuela's disappearance. The Vatican are understood to have strenuously denied accusations of covering up what happened to the teenager.
Meanwhile, The Telegraph reports that the docuseries sees an anonymous woman who was a childhood friend of Emanuela's, make the shocking claim that the 15-year-old told her she had a "secret to confess" around a week before she went missing.
The woman alleged that Emanuela supposedly admitted that she'd been "bothered" by "someone very close" to the Pope during a walk in the Vatican grounds. The friend is said to have confirmed that the harassment was sexual and also claimed that Emanuela had been "scared" and "ashamed" to tell anyone else.
Asked if she was afraid of the consequences of sharing the new revelations for the first time, the woman supposedly said, "I have always been afraid. It's a terrible world."
Meanwhile, Vatican Girl's director Mark Lewis told the publication that he believes she "didn't feel comfortable coming forward before" due to her own faith and because he thinks she "feels the weight of the Church".
It's even also been alleged that a gang could have used this information at the time to hold over the Vatican. Opening up, investigative journalist Emiliano Fittipaldi who worked on the case, is said to have stated, "If it was a question of money, it would have been better to kidnap a cardinal or a prominent prelate. Why kidnap this girl and not a cardinal? The only explanation for me is that she had a great secret that could have created an enormous scandal."
This theory has seen mentions of Dan Brown's best selling conspiracy thriller, The Da Vinci Code, associated with the Netflix series already. Other theories that have emerged over the years include that Emanuela's disappearance was a Mafia kidnapping, was a kidnapping by Soviet agents to persuade Pope John Paul II to change his political mindset, or that she was being held for ransom to secure the release of Mehmet Ali Ağca who'd shot the Pope in 1981.
Was Emanuela Orlandi ever found?
Unlike fellow docuseries I Just Killed My Dad and The Most Hated Man on the Internet where the truth eventually emerged from the shadows, the immense tragedy of Vatican Girl is that Emanuela Orlandi was never found. To this day, she remains missing and her family and friends have no idea what truly happened to her, despite the many theories surrounding the 15-year-old's disappearance.
As reported by The Telegraph (opens in new tab), in 2019 two tombs inside a Vatican burial site were exhumed following an anonymous tip-off, though a body was never found.
Emanuela's family, including her brother Pietro, remain committed to finding out what happened to their beloved daughter and sister, with her mother Maria reportedly sharing in the final episode of Vatican Girl that she's been "waiting for her".
"I can't wait to hug her again. Now or when I die, we will meet again," she said.
Whilst The Telegraph also reports that the family's lawyer, Laura Sgrò claimed, "I am absolutely certain that the Vatican knows what happened to Emanuela. It is time for the Vatican to come clean on exactly what happened and give her family closure. There's no time to lose."
Ultimately, the Vatican Girl true story remains cloaked in mystery, with so many questions needing to be answered when it comes to what happened to Emanuela Orlandi and whether she's still alive. All that's known for sure is that the 15-year-old went missing after her flute session in Rome and that her nearest and dearest are still desperate to know the truth.
All episodes of Vatican Girl are available to watch on Netflix now.
Emma is a Senior Lifestyle Writer with six years of experience working in digital publishing. Her specialist areas including literature, the British Royal Family and knowing all there is to know about the latest TV shows on the BBC, ITV, Channel 4 and every streaming service out there. When she's not writing about the next unmissable show to add to your to-watch list or delving into royal protocol, you can find Emma cooking and watching yet more crime dramas.