'Power To The People': Why BAFTAs Triumph Three Billboards Is 'More Timely Than We Could Have Ever Imagined'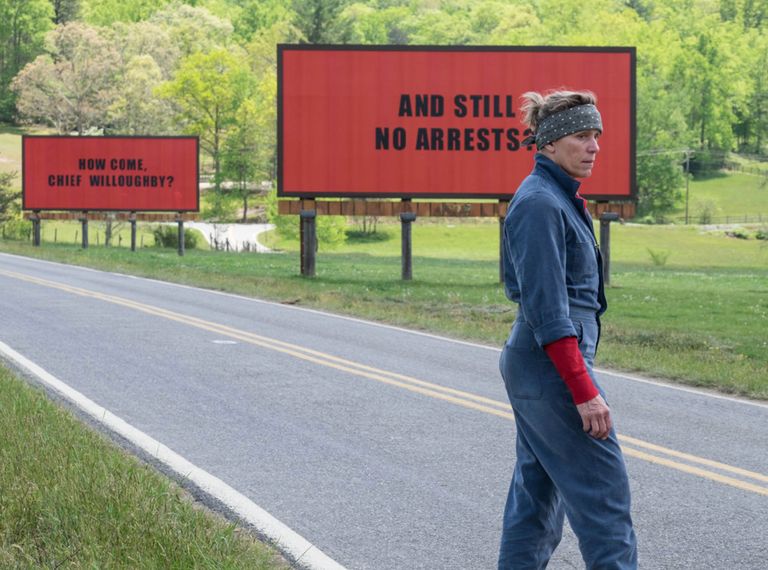 At last night's BAFTA awards ceremony, Three Billboards Outside Ebbing, Missouri, emerged as the film of the moment, winning five prestigious gongs.
The film, starring Woody Harrelson and Frances McDormand, tells the story of a grieving mother, Mildred. Her daughter was raped and murdered - and she's ready to fight tooth and nail for justice. Frustrated with the lack of movement in the case, Mildred rents three billboards outside of the town, criticising the police for how they've conducted the investigation so far.
The emotional movie, directed by British-born Martin McDonagh, has won huge success since its US release in November 2017 - and not just at last night's BAFTAs. Three Billboards received an incredible seven Oscar nominations and, at the Golden Globes and SAG Awards, it won four and three awards respectively.
So what's the secret to its success? As well as boasting some incredible performances, the film is also extremely relevant in today's turbulent social and political climate. Director and writer Martin McDonagh, and producer Graham Broadbent, declared the film is more timely than ever, with a nod to the Time's Up movement.
In his speech, Martin said, "Our film is a hopeful one in lots of ways but it's also an angry one. As we've seen this year, sometimes anger is the only way to get people to listen and to change."
He continued, saying, "I think what we're most proud of about this film, especially in this Time's Up year, is that it's a film about a woman who refuses to take any s*** any more, played by a woman [Frances McDormand] who always refuses to take any s***."
Producer Graham agreed, saying the film is "the story of a woman taking on the establishment and status quo. It seems more timely now than we could ever have imagined".
The Time's Up movement has seen celebrities the world over show their support for women who have been abused, hurt or harrassed. And while it was arguably kicked off in light of the recent Weinstein scandal, it's come to reflect support for women across the world - who have been abused by those in positions of power in any way.
MORE: BAFTAs Host Joanna Lumley Rejects Times Up All-Black Dress Code
Three Billboard's lead, Frances McDormand, was also in attendence on the big night. She scooped the gong for Best Actress, for her role as bereaved Mildred.
However, the celebrated actress chose not to follow the Times Up dress code at the event, despite making clearthat she still stands by the important movement.
Instead, she wore a colourful, pink and orange patterned gown. But she did explain the reason she chose to refrain from black.She confessed, "I have a little problem with compliance. But I want you to know that I stand in full solidarity with my sisters tonight in black."
As well as shining a spotlight on the topic of injustice, the film has also inspired waves of activism across the worlds.
Campaigners vying for justice for the Grenfell Tower tragedy echoed the billboards in a recent move, to get people discussing the fire again. Activist group Justice For Grenfell paraded three billboards around Central London recently. They read, '71 Dead' 'And still no arrests' 'How come?'
In Miami, activists did the same in response to the horrific Florida shooting at a Parkland school recently.The billboards were aimed at the US senator for Florida, Marco Rubio.
They read "Slaughtered in school' 'And still no gun control?' 'How come, Marco Rubio?'