This is Kelly Clarkson's favorite The Voice rehearsal after nine seasons on the show - and a mere listen will prove why
During this week's episode of The Voice, coach Kelly Clarkson admits new rehearsal session is her favorite yet on the show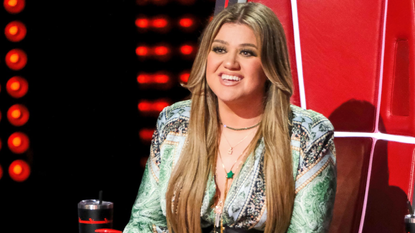 (Image credit: ABC)
Kelly Clarkson has been a beloved coach on The Voice for nine seasons already, which is the exact amount of time it took her to live through her favorite rehearsal on the show to date.
Kelly, who recently blasted her ex with song cover as she revealed details of upcoming album and show, made the declaration while listening to her own team's country and pop contestants Holly Brand and Katie Beth Forakis, whom, on Monday, sang Lady Like by Ingrid Andress together during the battle episode.
"I love this song," Kelly said on the episode. "I love the idea of powerful women just singing a powerful message. I think it's undeniably cool."
Kelly, whose recent divorce settlement made headlines for months, understandably had a hard time picking between her two team members following the singing round - they were both stellar on stage and impressed all other coaches as well, including the always-hilarious Blake Shelton.
"Your tone is the craziest thing," Blake said to Katie. "The volume never changes, but it seems the notes go anywhere you want them to go. […] I've never heard anything quite like that before."
The nine-time winning coach's words clearly didn't really affect Kelly's decision, who eventually selected Holly as the singer deserving to proceed to the next round of the competition. The 40-year-old music superstar dubbed Holly a "country girl who can tackle any genre."
Whether or not fans agreed with Kelly's decision or not is moot as all coaches had already utilized their passes and Katie officially went home.
Overall, though, we've all got to have faith in the mother of two's musical judgement - she's a multi Grammy award winner, after all, constantly demonstrating how talented she is through her new albums, performances and covers of classic songs. Fans love her for a reason.
Just a few months ago, for example, the superstar vocalist covered the George Michael classic Careless Whisper on her NBC daytime talk show and people are obviously still talking about the magnificent performance.
To the delight of the song's fans, Kelly stayed pretty true to the original - albeit choosing to sing to an acoustic guitar over Michael's recognizable sax sounds. She performed alongside her band, Y'all.
And who can forget her legendary' tribute to Dolly Parton with magical ACMs performance dubbed 'best of the night' at last year's show?
Opting for a glamorous black dress, Kelly sang her heart out and left the audience in no doubt about who the performance was dedicated to as she called, "Give it up for Dolly Parton!" as she left the stage.
That is all to say: we stand behind all decisions that Kelly makes on The Voice and beyond and can't wait to hear her next great performance!
Anna Rahmanan is a New York-based writer and editor who covers culture, entertainment, food, fashion and travel news. Anna's words have appeared on Time Out New York, the Huffington Post, Fortune, Forbes, Us Weekly, Bon Appetit and Brooklyn Magazine, among other outlets.