Kelly Clarkson's divorce settlement—huge payout to Brandon Blackstock revealed after 2 year battle
After a 2-year-long battle, Kelly Clarkson and Brandon Blackstock's divorce settlement is finalized. Here are the details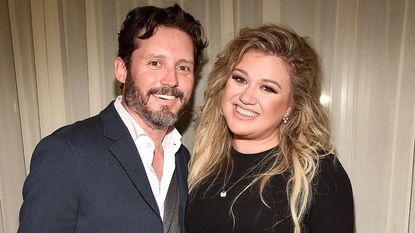 (Image credit: Kevin Mazur/Getty Images for Atlantic Records)
Following two years of tensions and legal battles, Kelly Clarkson and Brandon Blackstock's divorce settlement has been finalized and the details have been made public.
Kelly filed for divorce from Brandon citing "irreconcilable differences" after seven years of marriage back in 2020. The couple shares two kids: River, 7, and Remington, 5. In November of 2020, the former couple agreed on a custody arrangement but the financial details of their separation took a long time to hammer out. Conversations seemed to, at times, turn tense and Kelly was even heard making veiled digs at ex Brandon throughout the past few years.
According to reports, the couple's ranch in Montana was the most contested portion of their shared assets. Kelly reportedly wanted to sell the property while Brandon testified that he wanted to become a full-time rancher and therefore needed it for business.
Us Weekly (opens in new tab) was able to obtain the court documents detailing the pair's finalized divorced settlement. Per said documents, Kelly has agreed to pay $45,601 a month in child support until River and Remington "reach the age of eighteen," become self-supporting or graduate high school. She will also retain primary custody of the kids, who will be allowed to stay with Brandon for one weekend each month in Montana or Los Angeles. If their father moves to a different state, the custody agreement will be re-visited.
Kelly has also agreed to pay a one-time, tax-free fee of $1,326,161 in spousal support, in addition to monthly payments in the amount of $115,000 through January 2024.
As for the much talked about ranch in Montana: Brandon will be allowed to live there until June 2022 but he will have to pay approximately $12,000 a month plus the price of utilities while residing on the premises. If he goes through with his cattle business, he will be responsible to cover all related costs as well.
Once Brandon finds a new home, he'll have ten days to move all of his belongings off the ranch and will then need permission to visit the property again.
Needless to say, Kelly will therefore maintain ownership of the contested Montana property. According to the documents, she will also continue owning the couple's house in California, where she currently lives with her children.
Divorces can clearly get messy and it seems like being a celebrity won't protect you from the usual chaos involved in splitting assets. But now that the details are finalized, we hope for both Kelly and Brandon to be able to move on peacefully with their respective lives.
Anna Rahmanan is a New York-based writer and editor who covers culture, entertainment, food, fashion and travel news. Anna's words have appeared on Time Out New York, the Huffington Post, Fortune, Forbes, Us Weekly, Bon Appetit and Brooklyn Magazine, among other outlets.