10 Things Only Die-Hard Cold Feet Fans Will Know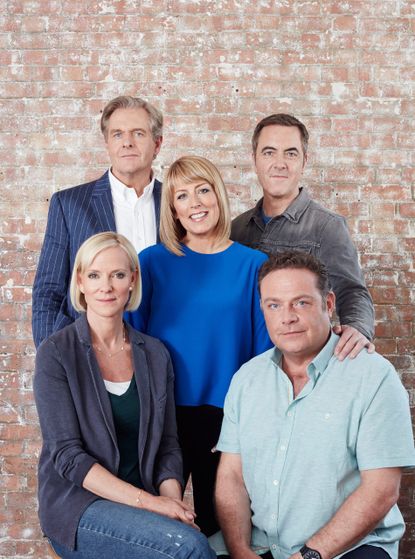 woman&home newsletter
Sign up to our free daily email for the latest royal and entertainment news, interesting opinion, expert advice on styling and beauty trends, and no-nonsense guides to the health and wellness questions you want answered.
Thank you for signing up to . You will receive a verification email shortly.
There was a problem. Please refresh the page and try again.
Cold Feet returned to our screens for the first time in 13 years this year and it's already been renewed for a seventh series. We left our favourite Manchester friends Adam, Karen, David, Pete, Jenny and new character Tina at Adam's 49th birthday party, along with their teenage children, and let's not forget that kiss between Tina and Adam.
If you're as big a fan of the show as us, then you might be intrigued to know these facts about the show...
1. Cold Feet initially took a while to reach full series
The pilot was filmed in 1996 around Greater Manchester and was one of four one-off comedy premieres made for ITV. It didn't do that well in the ratings to begin with, in part because the pilot was shown at a later time than advertised in March 1997. However, after winning an award at the Montreux Television Festival in 1997, ITV repeated the show and it was commissioned for a full series, which began in November 1998.
2. Originally the show was only meant to feature Adam and Rachel
Creator Mike Bullen was told that one of the requirements for the show going to a series was a bigger number of potential storylines and he was asked to expand the roles of the supporting characters (and Adam and Rachel's friends) David and Karen and Pete and Jenny. Mike added to their storylines for the show and it became the format we now know well.
3. The characters were based on Mike Bullen and his friends
Not only was Pete's depression storyline in this series based on creator Mike Bullen's real-life struggle with the illness, he also based Adam's womanising ways on himself in his twenties. And other characters in the show were also based on people Mike Bullen knew. The character of Pete, Adam's best friend, was modelled on Mike's childhood friend, who he also went to university with and Rachel was based on a combination of Mike's ex-girlfriends and his fantasy girlfriend.
4. Adam's backstory is a bit confusing
Just how long have Pete and Adam been friends or where did Adam grow up? That's one which has baffled us too. Mike has since admitted that Cold Feet was 'full of gaffes' and that Adam's backstory was never fully planned. In series one it was revealed that Adam and Pete had known each other since their school days in Manchester and his accent was explained in series three by saying he spent his summer holidays in Northern Ireland. And James Nesbitt, who plays Adam, was keen to play a Northern Irish character so read for the part in his natural accent.
5. The show wasn't originally meant to be set in Manchester
Wondering why the show is set in Manchester? Essentially it was because it was cheaper to film in and a more relatable city than London. The first draft of the pilot episode was set in London, but was moved to Manchester as production company Granada already had studios there. Mike Bullen also thought this would make the series more accessible to viewers.
6. Both Fay Ripley and Hermione Norris wanted the part of Rachel
Hermione Norris originally auditioned for the role of Rachel but was cast as Karen as the role was more suited to her. Fay Ripley also thought she was auditioning for Rachel but she was picked to play the more down-to-earth character of Jenny. This meant that Fay had to learn the Mancunian accent for the part and picked it up by listening to how the locals talked. She's clearly done a good job! In the end, the role of Rachel went to Helen Baxendale, who was the better known actress at the time.
7. The first mention of a reunion was earlier than we think
Rumours of a reunion began as far back as 2003, the year the show initially ended. Executive producer Andy Harries first mentioned bringing the show back in a 2003 documentary, when he said, 'By killing a character, you are truly saying "This series is over"... until of course in 10 years time when money is running a bit short for us, we bring it back.' He added to that in an interview with The Daily Telegraph the same year by saying that ITV would 'probably' bring Cold Feet back 10 years after it ended and, in 2010, he said that discussions about the series return were 'ongoing', but that it probably wasn't going to happen in the near future.
8. Both David and Karen's characters changed from the pilot
David's character was apparently very two-dimensional in the pilot and was there to be booed at right at the beginning, said Robert Bathurst in an interview at the time.
'The only character note was how much he earns a year,' he said. 'I really don't think that sort of character could sustain more than a brief cameo appearance and if you were going to develop into a series, he had to find some more flesh on the character; there had to be chinks of humanity to discover in this creature, and Mike Bullen succeeded in developing it.'
David's character wasn't the only one to change. Karen's character was deemed too posh and she was written to be more sympathetic over the run of the series.
9. Not everyone has appeared in the full run of the show
Fay Ripley's character Jenny originally left the show in series four, when Jenny and Pete's marriage broke up and she moved to New York but the actress (and Jenny) returned for the last episode of series five. Fay later said she returned because she was pregnant and wanted to document the last stages of her pregnancy on film.
And of course, Rachel, who was killed off in the last series, didn't return for the second run. Mike said, in an interview, that he wanted to bring the original six characters back, despite Rachel being dead.
'So even the third version of the first script for this series still had Helen as Rachel in it, in the way we did in the last episode of the last series. That she appeared in Adam's mind', he said earlier this year. 'I sent that script to Helen to say, "Do you want to do it?". She was very sweet about the script but she said, no, it wasn't for her. And I'm pleased she did because it was the right decision both for her and the show.'
10. Cold Feet was so popular that ITV were still looking for a replacement years later
In its first run of episodes, Cold Feet won over 20 major awards including Best TV Comedy Drama, Best Drama Series and Most Popular Comedy Programme. It was also remade for American and European audiences and other programmes were said to be copycats of the show. But nothing quite lived up to the original and, in 2007, four years after the show originally ended, ITV were still looking for something to replace it. When Michael Grade became chairman of ITV that same year, he announced that he wanted ITV to broadcast long-running series like Cold Feet.
Cold Feet Series 6 is distributed by ITV Studios Global Entertainment and is available to buy now from Amazon.co.uk (opens in new tab) and iTunes (opens in new tab).