Is Theresa May's Hermès Scarf A Subtle Nod To Brexit?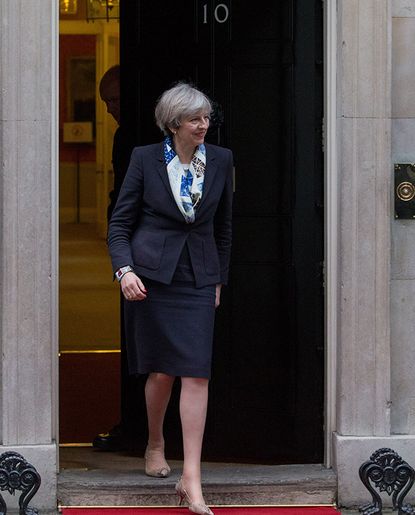 (Image credit: Rex)
When Theresa May rocked up to Prime Minister's Questions this week in a chic Hermès scarf tucked under her navy suit, there were a few commentators who couldn't help but speculate as to its significance. Was her French scarf a way to soften her hard Brexit approach, they asked?
As our PM navigates a tricky path to trigger Article 50 later this month, officially beginning the UK's controversial exit from the EU, her iconic French accessory didn't seem such a flippant choice.
Could there be a political message behind the scarf, The Telegraph asked? It's certainly not the first time she's opted for a splash of Parisian chic: in 2013 she was given a £280 Hermes scarf by then French interior minister Manuel Valls. According to the broadsheet (opens in new tab), May liked it so much she opted to pay for the scarf so she could keep it.
For a Hermès scarf similar to May's: Carré en Boucles, 100% silk twill, £295.00, BUY NOW (opens in new tab) from Hermès online.
And who could forget May's state visit to the White House in January 2017 - accessorised with a flash of red-and-blue Hermès - to meet America's new president, Donald Trump?
Designer scarf fandom aside, does this really suggest May's in the mood for diplomatic flattery with her European Union pals? The jury may be out, but one thing's for sure: the House of Lords are ready to lock horns over Brexit - with or without her designer silk.
The Westminster peers have already thrown a spanner in the works, much to May's consternation. Yesterday the House of Lords voted to amend the Article 50 Bill in favour of guaranteeing the rights of EU citizens who currently live in the UK. To add insult to injury, seven Conservative peers backed the amendment sparking Downing Street to accuse the House of "posturing" and "playing with fire."
Theresa May now faces a further battle in Parliament when the Bill returns to the Commons for further debate. Only time will tell if May manages to trigger Article 50 on March 15, as per her plan...