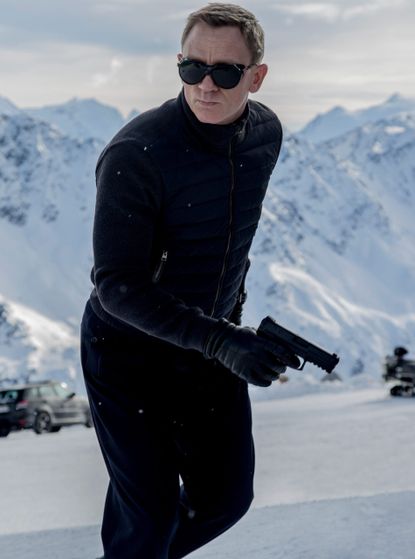 woman&home newsletter
Sign up to our free daily email for the latest royal and entertainment news, interesting opinion, expert advice on styling and beauty trends, and no-nonsense guides to the health and wellness questions you want answered.
Thank you for signing up to . You will receive a verification email shortly.
There was a problem. Please refresh the page and try again.
It's been a long wait, but the new Bond film, Spectre, is finally released on 26th October. Rumours are rife that this will be the best Bond film yet - and although it's the cast we see on the big screen, there's far more that goes into creating such a highly-anticipated film.
We spoke to the women who help create the movie magic - behind the scenes. From hair and make-up to stunts, these women help bring the Bond movies to life. Hear their stories, and discover a backstage secret or two...
The make-up designer
Naomi Donne lives with her daughter, 12, in London. She has worked as a make-up designer on Licence to Kill, Quantum of Solace, Skyfall and Spectre.
When I got the call to do my first Bond film over 20 years ago, it seemed inconceivable it had happened to me. I was working on the TV series The Comic Strip Presents when I read that Timothy Dalton, who I'd worked with briefly after training at the BBC, had landed the role of Bond. As a joke, I said, "Wouldn't it be funny if Tim rang for me to do his make-up on it?" They called me that night.
A lot of people imagine the Bond set to be glame - but it's far from it! We began shooting Spectre in bitter cold conditions in the Austrian Alps and finished with an action sequence in 51-degree hear in the Moroccan desert. I just though, "When else am I going to be watching Daniel Craig leap around in the sand?" He seemed to plough through everything unaffected.
The make-up trailer should be a place of solace, where actors can prepare themselves for the day ahead, so I change the music according to who's in the chair. For Ralph Fiennes, who plays M, I'd put on some classical music, while for villain Christoph Waltz, it would be jazz. New Bond girl Léa Seydoux loved Michael Jackson and disco music.
In the early days, we'd all go out for dinner when we were on location and I'd think, "Gosh, I'm having dinner with Daniel Craig!" But you quickly see that he's just a normal, lovely man. He hangs out with everyone and we usually have a good chat about our kids.
I made up Judi Dench during Skyfall, and she's the loveliest, funniest, kindest person. We spent a lot of time giggling away on set, eyeing up men and chatting about them. She's incredibly generous too and she bought my daughter a hamster, a goldfish and an aquarium!
For Spectre's opening sequence in Mexico City, we had to recreate the Day of the Dead festival, turning 1,500 extras into skeletons with airbrushed body make-up. While I was on set at Pinewood Studios, I had 125 make-up artists doing prep in Mexico - they spent six weeks making up 40 people a day. When I arrived, we had 250 make-up stations - and got through 1,500 extras under in three hours! Watching the scene play out, I burst into tears because it looked beyond my wildest dreams.
Monica Bellucci, who plays Bond girl Lucia Sciarra, brought her own make-up team along, so I was thrilled when they said to me, "How do you want her to look?" She's one of those people who walks into a room and everything just stops - she has an incredible charisma. She has flawless skin, so I kept her very natural, except for a few key moments, such as when she's in her evening dress.
The one red lipstick that will always stand out is Ruby Roo by MAC. We used it on the opening Bond girl, Stephanie Sigman. For Léa, I also used a deeper red, L120 by Ellis Faas. Monica's favourite product was Sothys compressed powder.
My daughter is an extra in Spectre's opening sequence.When we did Skyfall, we all felt we were making a great film, but I think Sam [Mendes, the director] has totally surpassed it with Spectre.
The hair designer
Zoe Tahir, 41, lives with her husband, Toby, and their two children, aged six and eight, in Norfolk. She has worked as a hair designer on Quantum of Solace, Skyfall and Spectre.
I became a film hairdresser by accident. I was working in a salon in the West End when a client asked if I wanted to wash hair, make tea and sweep the floor on a movie her friend was doing - it was Kenneth Branagh's Hamlet.
The longest I've spent on a hairstyle is on Léa Seydoux when she's at her most glamorous in Spectre- it took around two hours. My favourite look is Bérénice [Marlohe] - Severine in Skyfall - when she meets James Bond for the first time in the casino. Her hair was set up in curls, and for months afterwards, everyone had their long hair rolled up into bobs, trying to emulate it. It's those moments that make me incredibly proud.
My secret weapon is a range of hair products called Unite. They saw me through a lot of Spectre, especially during those really challenging moments. When we were filming in Morocco, we found ourselves in the middle of a sandstorm for the best part of a day. Luckily it turns out a sandstorm adds to the sexy Bond look - a bit of wind, a bit of rain and a sandstorm is fine by me these days!
The stunt woman
British-born Nicola Berwick, 36, lives with her partner and two daughters, aged three and seven, in California. She has worked as a stuntwoman/fight choreographer on Die Another Day, Casino Royal, Skyfall and Spectre.
I've always loved to perform - I started learning martial arts aged six and went on to do shows around the world. I joined England's stunt register, which meant doing six qualifications in everything from swimming to gymnastics, plus completing 60 days in front of the camera, before I did my first stint as a fight double on Mortal Kombat: Annihilation. I doubled Rachel Weisz in The Mummy Returns.
The scariest stunt I've ever done was on Casino Royale, when I was doubling for Eva Green. I had to lie in the road when an Aston Martin swerved and then rolled over seven times. With that film, everything was riding on the fact that it was a new Bond with Daniel Craig, and I felt incredibly proud that we pulled it off.
Daniel loves to do his own stuff - he has a lot of fun with the cars! He's very easy-going when the cameras aren't rolling - you often hear him joking, and he comes up with new ideas every time.
On Spectre, I worked very closely with Léa Seydoux, teaching her to react to being hit, gunshots and being able to throw punches. When I hear people say, "Ah, I've just seen the new Bond trailer!" it feels amazing to be able to say, "I worked on that!" I don't think it will every get old.
Spectre
is out on 26 October. Read our interview with Bond Girl Monica Bellucci here.
Natalie Whittle is a British journalist specialising in celebrity content in the women's lifestyle sector. She previously held the role of Celebrity Director at Woman & Home and has also worked at Prima, Red & Good Housekeeping.