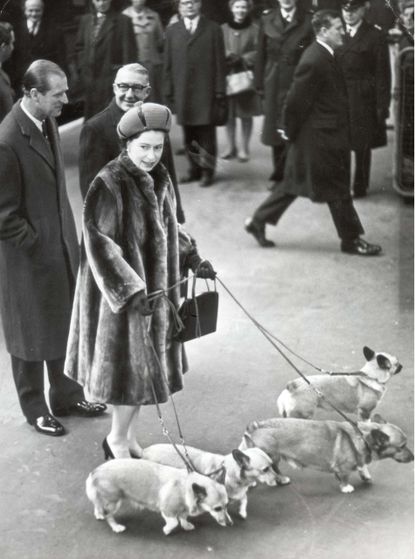 (Image credit: Rex Features (Shutterstock))
From scones to rabbit, find out what the Royal corgis really eat...
Ever since the Queen received Susan, a Pembroke corgi for her 18th birthday, she has long been devoted to her dogs and has gone on to own more than 30 of the breed, all of which are descended from her beloved Susan.
It therefore comes as no suprise that the Royal corgis enjoy an opulent lifestyle. In a recent interview Royal dog trainer and animal psychologist Dr. Roger Mugford revealed that the corgis each have an "individually designed menu." They are apparently fed dinners of steak and rabbit, prepared by none other than the palace chef. Their food also includes"array of homeopathic and herbal remedies" which keeps the the Queen's canine friends in tip top condition. Natrually they are fed in order of seniority, one by one.
The dog expert has worked with the Queen's collection of Corgis and Dorgis on a number of occasions, and even managed to rid them of their tendancy to bite the Royal staff.
Despite their mischievous tendancies, the little dogs are treated much like royalty themselves as Dr Mugford also revealed that their food is served "by a butler in an eclectic collection of battered silver and porcelain dishes." It has previously been said that they even enjoy scones crumbled up into their bowls for a treat.
There are currently just two Royal corgis, Holly and Willow as well as two other Dorgis (a cross between a corgi and a dachshund), Candy and Vulcan.
The Queen And Her Corgis
The Queen is an authoritative dog owner and will sometimes feed the corgis herself. On watching the Queen tend to them, the Royal dog trainer Dr. Mugford stated that "the Queen got the corgis to sit in a semi-circle around her, and then fed them one by one, in order of seniority." He mentioned that they were very obedient as "the others just sat and patiently waited their turn."
The Queen And Her Corgis
The corgis have often accompanied the Queen both on and off-duty, and have been known to fly with her on a number of occasions. The Queen has always been passionate about animal welfare and apparently "took a very dim view of President Lyndon B Johnson picking his dogs up by their ears." Click on as we look back on the Queen's life in pictures.
Princess Elizabeth and Prince Philip on their honeymoon in 1947
In 1939 a 13-year-old Princess Elizabeth met Prince Philip at the Royal Naval College in Dartmouth. He was an 18-year-old cadet in training and she attended the school. During the war that ensued a few years later, Philip served with the Royal Navy but the two kept in touch by letter and the occasional visit. In spring 1946 he returned to England and that summer, he proposed. The two were married in November 1947 and this year will mark their 68th wedding anniversary.
Queen Elizabeth II at Windsor Castle in 1953
Queen Elizabeth II with a young Prince Charles and Princess Anne at Windsor castle in 1953
Braemar, Scotland, 1962
Prince Philip, Queen Elizabeth II and Princess Anne at Braemar, Scotland, for the Highland Games
The Queen's birthday 1965
To celebrate her birthday in 1965, the Queen visited The Comedy Theatre, London to see ''son Of Oblomov''. Her Majesty is followed by a young Princess Anne
The Queen with Prince Andrew, 1967
Prince Andrew as a boy with Queen Elizabeth II, 1967
Queen Elizabeth II, Prince Philip and their four children
In the grounds of Frogmore, Windsor in 1985
Queen Elizabeth II's 60th birthday
The Queen celebrated her 60th birthday in 1986 at Buckinhgam Palace
The Queen's 80th birthday party
Queen Elizabeth II's 80th birthday party was held at The Ritz Hotel, London, Britain in 2006
The Queen at Princess Anne's 60th brithday
Queen Elizabeth looking elegant as she boards the Hebridean Princess in 2010 to celebrate Princess Anne's 60th Birthday, Stornoway Ferryport, Scotland
Queen Elizabeth at Glamis Castle in 1937, aged 11
This Saturday marks Queen Elizabeth's 89th official birthday. Born on 21 April 1926, sovereign's birthdays are often held on another day in the summer as there it is more likely to be good weather for the Trooping of the Colour parade. This year, the traditional Birthday Parade will be in full swing at Horse Guards Parade, Whitehall with the Royal Family and thousands of members of the public watching. We wonder if her first granddaughter Princess Charlotte will be in attendance..? Along with the celebrations will be a new list of names receiving birthday Honours. Those rumoured to be honoured this year are Imitation Game and Sherlock Holmes actor Benedict Cumberbatch, who is said to be receiving a CBE, and Lenny Henry, who may recieve a knighthood for his services to charity. Christened Elizabeth Alexandra Mary on 21 April 1926 in the private chapel at Buckingham Palace. It is said that she spent most of her early life enjoying a quiet childhood with her parents and little sister Princess Margaret. She became Queen Elizabeth II when her father died in 1952, at the age of 25. Flick through to see the most stylish snaps of the Queen through the years...