The one wellness product Christina Aguilera can't live without is under $7
Christina Aguilera reveals that she sometimes travels with 50 pounds worth of Epsom salts with her!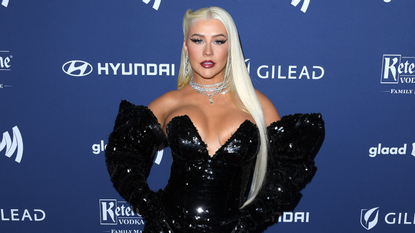 (Image credit: Steve Granitz / Contributor)
We're a bit surprised to hear about Christina Aguilera's go-to wellness product - but we're also all for it.
In a new interview with People, Christina, whose distinctive voice joined the chorus to Free Britney a while back, opened up about her relationship to all things beauty, from her self-care routine to the methods she employs to maintain her iconic platinum blonde hair intact.
Among the many revelations that she made on the record, though, a relatively innocent one is what we may end up adopting as our own go-to relaxation process as well.
Specifically, when asked about the various ways she likes to pamper herself, the 42-year-old vocal superstar mentioned "Epsom salts in different scents" as part of her bubble bath routine.
According to the outlet, Christina rotates picks based on her mood and sometimes even carries up to 50 pounds worth of the stuff with her!
Considering the relative affordability of Epsom salts, we can't help but indulge in the practice ourselves!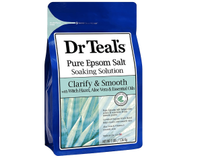 Pure Epsom salt soaking solution ($6.79) | Dr. Teal's
Boasting aloe vera and certified organic witch hazel, which help clarify and nourish the skin, this pure epsom salta will ease aches and soreness from muscle pains while also refreshing your skin's appearance.
Speaking of relaxation, Christina, who famously took over for JLo during those iconic 2003 VMAs, also mentioned going makeup-free when hanging out at home with her kids: 15-year-old son Max and 8-year-old daughter Summer.
"I'm bun up, makeup off, moisturized, gel-eye pads, spritz of face mist and I'm freaking good," the singer said to the outlet. "Playing Nintendo Switch and cuddling on my couch - I'm so happy."
Christina does, however, also sing the praises of anti-wrinkle injection Xeomin to secure that natural look she's got going on.
"Xeomin felt like the safest way to go because it doesn't have any extra ingredients," the artist, who is actually Xeomin's latest collaborative partner, said to People. "It's reassurance that no matter how tired I may be, I have backup."
Despite her use of the injection, though, Christina is quick to note that she'll try her best to stay away from face-altering procedures.
"We like expression, especially in my line of work. I don't want to have a frozen face," she noted. "Whether it's being on-camera or performing onstage, I have to stay authentic to my emotion."
As for her legendary platinum blonde hair, Christina admits it takes a lot of effort to properly maintain it!
"I'm [...] pretty religious about dyeing my hair," she says honestly. "Any time I hit up my hairdresser, she's like, 'Really? Your roots are barely showing.'"
We've all been there, right?
All that is to say: Christina is very well-aware of the affects of aging but chooses to be positive about it all - an outlook that hasn't always been modus operandi for her.
"I've seen myself go through different stages of my life and complain about certain things. As I've gotten older, I look back, and I'm like, 'God, every stage is a new era," she said in her latest interview. "'m really into feeling more self-assured as you get older. That's the thing to truly embrace. It's harmful when [aging] becomes an obsession."
Anna Rahmanan is a New York-based writer and editor who covers culture, entertainment, food, fashion and travel news. Anna's words have appeared on Time Out New York, the Huffington Post, Fortune, Forbes, Us Weekly, Bon Appetit and Brooklyn Magazine, among other outlets.