Christina Aguilera's distinctive voice joins the chorus to Free Britney
Christina Aguilera is the latest celebrity to join in the demand to #FreeBritney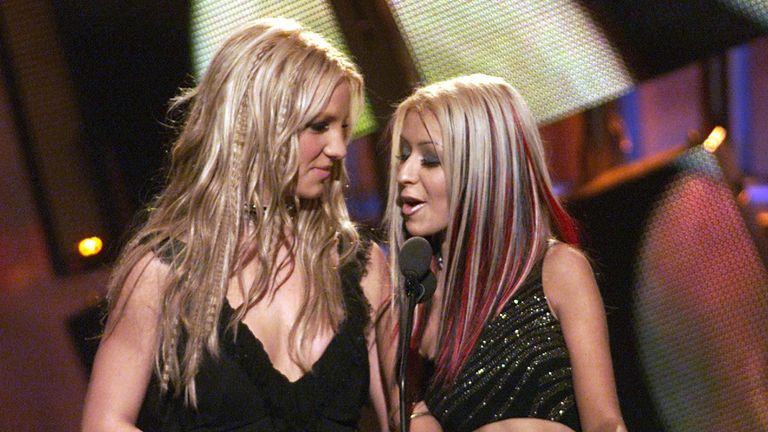 (Image credit: Frank Micelotta Archive/Hutton Archive/Getty Images)
Christina Aguilera has publicly come out in support of her pop princess peer, Britney Spears, as the drama around Spears' controversial conservatorship continues to escalate.
Celeb reactions to Britney Spears hearing initially flooded Twitter and now the Fighter singer has joined the long list of stars who have spoken out in favor of Britney in a series of tweets.
Unreserved in her solidarity with Spears, Christina started off her messages with a touching photo of the pair together when they were younger.
These past few days I've been thinking about Britney and everything she is going through. It is unacceptable that any woman, or human, wanting to be in control of their own destiny might not be allowed to live life as they wish. pic.twitter.com/NRhNwcJaD3June 29, 2021
See more
The Dirrrty singer has known Britney Spears since they were children, having both appeared as Mouseketeers on Disney's Mickey Mouse Club. The show brought together talented youths and set them on their path for stardom, with other members including Justin Timberlake and Ryan Gosling.
In her tweets, Christina wrote about how she has been "thinking about Britney and everything she is going through."
Pulling no punches, she went on to say that "to be silenced, ignored, bullied or denied support by those 'close' to you is the most depleting, devastating and demeaning thing imaginable."
Christina is alluding to Britney's father, Jamie Spears, and other family members and members of her management who Britney says forced her into an 'abusive' conservatorship that is denying her having more children.
The conviction and desperation of this plea for freedom leads me to believe that this person I once knew has been living without compassion or decency from those in control.June 29, 2021
See more
Addressing the judge on June 24, Britney described herself as being "traumatised" by the conservatorship she has been under for 13 years, adding that "I would honestly like to sue my family, to be totally honest with you."
In her 24-minute statement to the court, she alleged her family has exploited her conservatorship and the powers they could exert over her, which include a forced IUD.
Britney's testimonial indicated that she has no choice over whether she tries for another baby. She said, "I'm not able to get married or have a baby, I have a (IUD) inside of myself right now so I don't get pregnant. I wanted to take the (IUD) out so I could start trying to have another baby."
Addressing this in her rousing tweets, Christina wrote, "Every woman must have the right to her own body, her own reproductive system, her own privacy, her own space, her own healing and her own happiness."
She ended her passionate posts with a declaration of love and sisterhood, writing, "To a woman who has worked under conditions and pressure unimaginable to most, I promise you she deserves all of the freedom possible to live her happiest life."
"My heart goes out to Britney. She deserves all the TRUE love and support in the world."