The new host of Jeopardy! for $400, please. Who is Mike Richards?
Jeopardy! has a new likely host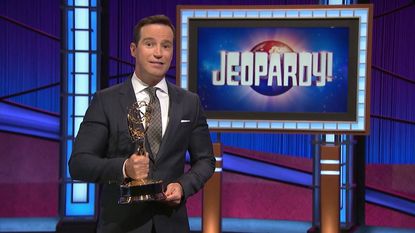 (Image credit: Getty)
It was difficult to find a replacement for Alex Trebek, who hosted Jeopardy for 36 years and became synonymous with the show and beloved for his straight-faced, sometimes cutting delivery and banter with contestants. But Sony Pictures Television may have finally found their man to replace him. Mike Richards, the show's current executive producer, is in advanced negotiations for the job.
After Trebek's death last year, the show tried 16 guest hosts, including former contestant Ken Kennings, CNN's Dr. Sanjay Gupta and Fox Sports' Joe Buck. Richards guest hosted from 22 February to 5 March, and now is in talks to take over and kick off Season 38 on 13 September.
He wasn't the most famous man in the running. Green Bay Packers quarterback Aaron Rodgers and actor LeVar Burton vied for the role, as well as actor and neuroscientist Mayim Bialik, and former contestant Buzzy Cohen.
Richards is likely to get the role because he worked on the show for years and has plenty of insider knowledge of how Jeopardy! functions. Sony felt he would understand and present what Trebek would have wanted, and knew he would be devoted to the show. He's also won Emmys for his work with the network, which is hard to beat.
Sony Pictures Television owns the Game Show Network, and Richards has hosted "Divided" and "The Pyramid." Earlier in his career, he hosted "High School Reunion" on the WB network and "Beauty and the Geek" on the CW. He worked on "The Price Is Right" as a co-executive producer in 2008, and also on "Let's Make a Deal." His first role with Sony was as executive producer of the celebrity edition of "Who Wants to Be a Millionaire."
A Sony spokesperson told Variety that discussions were ongoing and that there was no certainty the two sides would close a deal. Other candidates remain in the mix, but Richards is the front-runner. It will be tough for any future host to replace Trebek. Still, viewers might recall that Trebek was not a household name when he took the role in 1984.
Rebecca Holland is a travel and food writer based in Chicago. She has written for the Guardian, New York Times, Architectural Digest, Food & Wine, Wine Enthusiast and more. She is currently a graduate student at Northwestern's Medill School of Journalism. When not working, you can find her eating her way through Chicago's neighborhoods, or in non-pandemic times, traveling around the world.