The Last Kingdom movie: When is it released, what is it based on and why is it called Seven Kings Must die? Trailer details explained
The Last Kingdom movie will see a prophecy take center stage as rivals battle for the throne and Uhtred's story is set to reach an intense end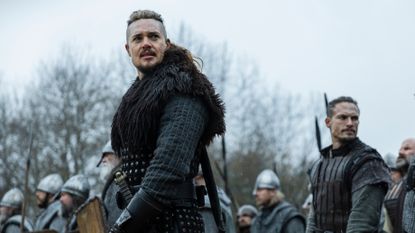 (Image credit: Courtesy of Netflix © 2023)
The Last Kingdom movie, Seven Kings Must Die, is set to see a violent battle for the throne as it rounds off the dramatic story of Uhtred of Bebbanburg that started eight years ago.
Following Anglo-Saxon Uhtred who was raised by Danes and has more than proved his warrior credentials by now, The Last Kingdom has had viewers transfixed with its blend of historical fact and emotional fiction since 2015. Starting in the year 866 it covers a turbulent time with its very own style and now The Last Kingdom movie trailer has been released. Titled The Last Kingdom: Seven Kings Must Die and acting as a sequel to the final season of the show it seems that the intensity isn't letting up as Uhtred's story reaches its end.
Here we reveal when The Last Kingdom movie is coming out, what it's based on and how it got its mysterious title, Seven Kings Must Die…
*Warning: Spoilers ahead*
When is The Last Kingdom movie coming out?
After potentially waiting for an entire year since The Last Kingdom season 5 landed on Netflix, fans have finally had the news they've been waiting for. The Last Kingdom movie - titled Seven Kings Must Die - is set to land on the streaming platform on April 14, 2023. This means that viewers now only have to wait a few more weeks to see Uhtred of Bebbanburg's story draw to what promises to be a seriously epic conclusion.
Is The Last Kingdom movie Seven Kings Must Die based on The Saxon Stories?
Just like British crime drama Vera's The Darkest Evening and The Pale Blue Eye ending, The Last Kingdom is also based on a book series. In this case, it's based on The Saxon Stories, now known as The Last Kingdom series by bestselling author Bernard Cromwell and it's believed that the movie is based on the book series as well. The Last Kingdom season 5 released in 2022 reportedly got up to adapting Warriors of the Storm and The Flame Bearer.
Bernard has written a further three novels in the book series which provide material that could have been used as inspiration for The Last Kingdom movie. The trailer for Seven Kings Must Die begins with the announcement of the death of King Edward - a plot point that happens in the Sword of Kings novel. This might suggest that key historical plot points and perhaps Uhtred's reaction and fictional impact upon them are inspired by the books.
The Last Kingdom movie cast: Which characters have returned?
The Last Kingdom movie returning cast:
Alexander Dreymon as Uhtred of Bebbanburg
Harry Gilby as Æthelstan
Mark Rowley as Finan
Arnas Fedaravicius as Sihtric
Rod Hallet as Constantin
Ross Anderson as Domnal
James Northcote as Aldhelm
Cavan Clerkin as Father Pyrlig
Ewan Horrocks as Ælfweard of Wessex
There might well have been speculation over which The Last Kingdom cast members would be back for Seven Kings Must Die after season 5, but plenty of familiar faces are returning as per IMDB (opens in new tab). We've also seen several of them in the trailer and it might come as no surprise to anyone that Alexander Dreymon in particular is back. He's played lead character Uhtred of Bebbanburg since season 1 and will continue to be a major character in The Last Kingdom movie.
He's joined once again by Mark Rowley as warrior Finan, Amas Fedaravicius as ally Sihtric, Rod Hallet as King Constantin of Alba (Scotland), Harry Gilby as future King Æthelstan and Ewan Horrocks as disputed King of Wessex, Ælfweard. Cavan Clerkin will also be back as priest Father Pyrlig, as will Ross Anderson as Constantin's nephew Domnal and James Northcote as Aldhelm.
How many seasons of The Last Kingdom are there?
For long-time fans the return of the Netflix hit in 2022 was incredibly bittersweet as it had already been confirmed that it would be the show's last, meaning The Last Kingdom has 5 seasons. Thankfully, our spirits were lifted when news broke of The Last Kingdom movie, having been totally transported back to the world of Uhtred of Bebbanburg. And whilst some might have been a little confused about the decision to only have The Last Kingdom seasons 1-5, apparently this was always the intention, according to lead star Alexander Dreymon.
As reported by the RadioTimes.com (opens in new tab) back in March 2022, he explained that the end of the hit Netflix drama came as no surprise to pretty much everyone involved in the show due to the general narrative of the Bernard Cromwell adaptation.
"We had always planned for it to be five seasons only so it came as a surprise to no one really. When we started off there were only 10 books and so that was the arc that we had planned out... I'm quite happy with the way that it went," he declared.
How to watch The Last Kingdom whilst you wait for Seven Kings Must Die
Anyone eagerly anticipating The Last Kingdom movie might also be looking forward to re-watching their favorite romantic, dramatic and downright dark moments from seasons 1-5 of the show (if they haven't already!). For viewers wondering how to watch The Last Kingdom ahead of Seven Kings Must Die, the place to head is Netflix. Although the historical drama originally aired on BBC Two it moved to the streaming giant from season 3 and here it has remained.
Why is The Last Kingdom movie called Seven Kings Must Die?
If you've found yourself referring to the upcoming film simply as The Last Kingdom movie you're probably not alone, but the actual title is The Last Kingdom: Seven Kings Must Die - for a very good reason. In the trailer which dropped on March 9, the mystery behind the seven kings theme is explained as being down to a prophecy which concerns the future of Britain.
"Do you know the prophecy?" someone unseen asks Uhtred, who looks wary. "Seven kings die. All of Britain will unite."
This is set up in The Last Kingdom movie trailer to be the principal focus of the new film and so it makes sense that its title reflects this. At the beginning of the trailer it's announced that King Edward has died (King Edward the Elder) and that Æthelstan (one of his sons) won't necessarily be King, setting the stage for uncertainty over rightful rulership.
Historically Æthelstan did become King of the Anglo-Saxons and King of the English, but it seems that Seven Kings Must Die will explore the circumstances surrounding King Edward's death and determine his successor.
Emma is a Senior Lifestyle Writer with six years of experience working in digital publishing. Her specialist areas including literature, the British Royal Family and knowing all there is to know about the latest TV shows on the BBC, ITV, Channel 4 and every streaming service out there. When she's not writing about the next unmissable show to add to your to-watch list or delving into royal protocol, you can find Emma cooking and watching yet more crime dramas.