The Pale Blue Eye ending explained and how do the historical mystery's final moments compare to the book?
We reveal the details from The Pale Blue Eye ending that are most similar to Louis Bayard's book - and which took a very different path...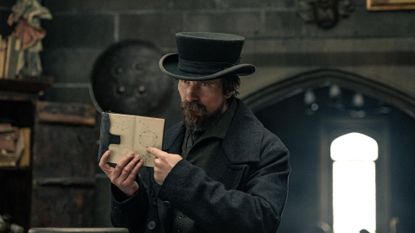 (Image credit: Cr. Scott Garfield/Netflix © 2022)
woman&home newsletter
Sign up to our free daily email for the latest royal and entertainment news, interesting opinion, expert advice on styling and beauty trends, and no-nonsense guides to the health and wellness questions you want answered.
Thank you for signing up to . You will receive a verification email shortly.
There was a problem. Please refresh the page and try again.
The Pale Blue Eye ending solves the thriller's central mystery but there are some elements of the Netflix movie's chilling conclusion which differ from the book it's based on.
Set in 19th century New York, The Pale Blue Eye on Netflix is a historical mystery that features a fictional version of Gothic writing legend Edgar Allan Poe. Played in the film by Harry Melling, Poe teams up with detective Augustus Landor, played by Christian Bale, when cadets at the local barracks are found brutally murdered. The pair are quickly on the case to get to the truth in this eerie thriller based on the 2003 book of the same name by Louis Bayard.
But just like many of the best book-to-movie adaptations, The Pale Blue Eye ending has deviated slightly from the source material's own conclusion. Here we explain Netflix's The Pale Blue Eye ending and reveal how it differs from the book…
*Warning: Spoilers ahead!*
Netflix's The Pale Blue Eye ending explained
If you saw The Pale Blue Eye ending coming then you're likely a long-time armchair detective as the final reveal has all the hallmarks of a truly shocking twist worthy of the likes of Agatha Christie. All movie long viewers have watched detective Augustus Landor put together the pieces of who killed several cadets. But in the ending all you thought you knew is flipped on its head as Landor himself is revealed to be the killer. Yep, that's right - the detective was investigating his own crimes!
The crimes in question are a series of murders at a military academy in West Point, New York in 1830. He is assisted by Edgar Allan Poe, the famous American poet and writer, who was a cadet at this time and with whom he forms a firm friendship. Christian Bale delivers a powerful performance as Landor as Harry Potter star Harry Melling's Poe reveals he knows his friend is responsible.
The motive was revenge as Landor's daughter Mattie had been brutally assaulted by three young cadets. It was these men that an enraged Landor set his sights on killing after she threw herself from a cliff and he began by writing a note to lure one to his doom. Barmaid and Landor's confidante Patsy had heard the whole story about Mattie's attack from Landor and had kept his secret until she felt it was doing more harm than good to Landor himself to keep silent.
The crime got complicated when Cadet Artemus Marquis and his sister set out the same night to find a dead body and take the heart out for a ritual that they believed could help ease Lea's seizures. They unknowingly picked Landor's first victim and incriminated themselves, giving Landor a pattern to follow with the other murders and scapegoats to frame.
After previously entrancing Poe, Lea attempted to get him in a position where they could take his heart. Before they can do it, though, the Marquis siblings were killed by falling beams in their house and Landor rescued Poe. This gives Landor even more scope to say it was them as they're no longer alive to contradict his conclusion.
In The Pale Blue Eye ending Poe tells Landor that the truth "came to [him] while [he] slept" and he presents a scrap of the note that was found in Leroy Fry's hand that lured him out to his death.
Poe then holds up a piece of Landor's unusual handwriting which looks to be a perfect match - the evidence that he's the killer. Poe says that Landor could've secured a confession from the men responsible for attacking Mattie. In response, Landor states simply, "I didn't want them to confess. I wanted them to die."
He leaves his fate in Poe's hands and his friend burns the evidence, essentially giving Landor his freedom, before leaving him. Landor is last seen walking up to the clifftop where his daughter died holding a ribbon that once belonged to her and which he's held on to. He releases it from his grasp as he says softly, "Rest now, my love".
How does it compare to The Pale Blue Eye book ending?
There are plenty of similarities - including the culprit behind the crimes - between The Palace Blue Eye ending in the movie and book. But just like Netflix's Pieces of Her ending and the Agatha Christie's Death on the Nile plot in the movie vs book, The Pale Blue Eye Netflix adaptation does make a few changes.
Two specifically come up in the ending, though first Poe reveals his deductions to Landor using a lot of the same dialogue featured in Louis Bayard's The Pale Blue Eye book. Heart-broken by what he's discovered, Poe asks why Landor never told him about what happened to Mattie and admits he might have comforted the detective.
"I don't think I *can* be comforted," Landor replies simply, as Poe begins to lay out how he began "examining all [his] assumptions" about the case.
Just like the end of Netflix's The Pale Blue Eye ending, in the book ending Poe makes it clear he knows Landor did it and expresses disgust that he could let other people be branded murderers in his place. He also describes himself as Landor's "prize fool", horrified he was taken in by him.
Landor clears up a few minor details about the crimes for Poe over a drink and it's soon after this that the biggest change between The Pale Blue Eye ending in the book and show emerges. Although Landor states boldly the same line we heard in the movie, "I didn't want them to confess. I wanted them to die", he tells Poe he can have his own revenge on him for his betrayal.
Landor hands Poe an old flintlock gun "like the gift it was" and essentially asks him to shoot him in retribution for his crimes. The detective doesn't want to endure the painful, drawn-out death he's too often seen when someone is executed using gallows.
This is different from the Netflix movie ending where Poe burns the note that incriminates Landor to protect him, but the murdering detective doesn't ask for this one final act from him. Poe refuses his request in The Pale Blue Eye book and walks away, leaving Landor to face justice or to consider trying to escape.
The final chapter is written from Landor's perspective addressing the reader directly and he reveals that Poe deliberately disobeyed orders to get a court martial and dismissed from active service, before setting off to Paris to try and get appointed to the Polish army. We also never see this development at the end of the movie, with Poe last seen leaving Landor.
In the epilogue Landor takes the same path that he once took with Mattie along the side of the Hudson River and urges his daughter to say she'll be waiting for him, adding, "Tell me it will be all right. Tell me."
And with that marks not only the end of The Pale Blue Eyes book but the second main difference in the conclusion of the story. This suggestion that Landor is going to throw himself into the river isn't made so clear-cut in the movie and instead Landor just releases the ribbon that once belonged to Mattie into the breeze seemingly to allow her to rest in peace. It's not known what his own ultimate fate will be and unlike the book, the movie leaves it that way.
The Pale Blue Eye is available to watch now on Netflix.
Emma is a Senior Lifestyle Writer with six years of experience working in digital publishing. Her specialist areas including literature, the British Royal Family and knowing all there is to know about the latest TV shows on the BBC, ITV, Channel 4 and every streaming service out there. When she's not writing about the next unmissable show to add to your to-watch list or delving into royal protocol, you can find Emma cooking and watching yet more crime dramas.