The English TV series: What is it about, who's joined Emily Blunt in the cast and when is this spellbinding BBC Western set?
The English TV series takes us back in time with its intense tale of revenge, love and power on the cusp of the frontier's closure...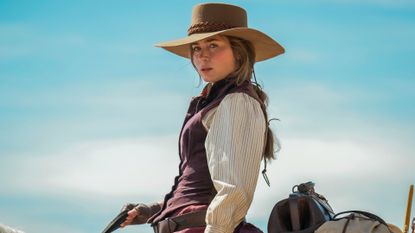 (Image credit: 2022 The English © Drama Republic/BBC/Amazon Studios)
The English TV series is a Western like you've never seen before as a shared past is unraveled and an unlikely pairing set off on a dangerous journey after being stripped of their identities.
With all the harrowing emotion and action of the Crossfire ending and a historical setting sure to excite Outlander fans, The English TV series brings to life an epic Western tale of high stakes and a quest for revenge. Starring Emily Blunt and Chaske Spencer as Lady Cornelia Locke and Eli Whipp, they become an unlikely pairing as they team up to achieve their own destinies. Written and directed by Hugo Blick, this BBC/Amazon show looks set to deliver some seriously unforgettable scenes.
Here we reveal what The English TV series is about, when and where it's set, who's in the cast and - of course - how you can watch this intense new show where you are…
*Warning: Spoilers ahead!*
What is The English TV series about?
Anyone who can't wait to dive back in when hit neo-western drama Yellowstone season 5 lands might well find themselves entranced, not to mention drawn back in time, by The English TV series. Whilst Yellowstone is set in present-day, The English is a historical drama described as an "epic chase Western" and follows the journey of English aristocrat Lady Cornelia Locke and Pawnee ex-cavalry scout Eli Whipp as their paths cross in 19th century America.
But whilst they might tread the same path, they have very different goals in mind… Lady Cornelia (played by Hollywood icon Emily Blunt) seeks revenge for her son's death whilst Eli (played by Twilight star Chaske Spencer) is driven by a desire to go home and achieve peace, according to his actor.
Coincidentally both are heading to the new town of Hoxem in Wyoming and along the way things get downright dangerous as they cross a violent landscape and face down terrifying obstacles in pursuit of their destinies. According to the BBC's own description of The English TV series, it's only here that it emerges that these destinies are shockingly intertwined.
After an investigation into a series of disturbing unsolved murders by the local Hoxem sheriff Robert Marshall (Stephen Rea) and local widow Martha Myers (Valerie Pachner) that "the full extent of their intertwined history will be truly understood".
Discussing what the genre means to him, The English TV series' writer and director Hugo Blick told the BBC that Westerns often "speak directly to our souls".
"At its best the Western allows us to escape the reality of who we are and how we live today. Something about its huge landscapes, mythic heroes and villains, the epic violence and love they pursue, can speak directly to our souls," he explained.
Hugo continued, "For me the most interesting Westerns tend to explore the themes of personal loss and consequent restoration of justice. Perhaps what's unusual about The English is who it chooses for its heroes, a Native American man and an Englishwoman, and the precise kind of justice they're both looking to restore."
An action-packed Western drama this might be, but The English also weaves together the eternally compelling themes of revenge and identity into an immensely powerful tale of reclamation and love.
Where and when is The English set?
Set just a few decades after the new Florence Pugh historical mystery The Wonder and well after the dates of each of the seasons of Outlander, the storyline of The English TV series takes place in 1890. The BBC/Amazon Prime Western is set in the American West though Lady Cornelia and Eli's destination - the town of Hoxem, Wyoming - is fictional. Writer and Director Hugo Blick has told the BBC that The English is set on the "cusp of the frontier's closure".
Who's in The English cast?
The English cast list:
Emily Blunt as Lady Cornelia Locke
Chaske Spencer as Eli Whipp
Tom Hughes as Thomas Trafford
Rafe Spall as David Melmont
Stephen Rea as Sheriff Robert Marshall
Valerie Pachner as Martha Myers
The English TV series cast is led by Emily Blunt, known for everything from The Devil Wears Prada to Mary Poppins, as Lady Cornelia Locke alongside Chaske Spencer, star of the Twilight series and Banshee, as Eli Whipp. Emily was also executive producer of The English and she described the show to the BBC as "Alice in wild west Wonderland".
She also explained that, for her, "revenge and identity" are the main themes as she compared what Cornelia and Eli are both seeking to find throughout The English TV series.
Emily said, "I think revenge and identity are, at its core, the main themes. You've got Cornelia's character, who is seeking a blood revenge, and if she's able to carry that out then she sees a reclaiming of who she is. And you've got Eli Whipp, who's just seeking a land claim. It sounds simple, but that is his way of reclaiming his identity after leaving the U.S. army and all the atonement of guilt he has to go through."
"But tonally, the story is told in this very intimate way that's funny, violent, but also epic," the star added. "We haven't seen that for a while, something so epic and so beautiful with something that has modern intimacy to it."
Meanwhile, Chaske Spencer got candid with the BBC about the "chemistry" between Eli and Cornelia, likening their "sad backgrounds" despite their "separate" journeys.
The actor shared, "While they're going on this journey, they have self-discoveries as well. The country is built on blood. Watching these two characters go through this adventure through the wild west, they develop a relationship of trust, of respect, of love, and I hope the audience will see that."
Asked if there was anything that surprised him about the time period, Chaske disclosed that he'd learnt so much about how "proud" the Pawnee scouts were.
"What surprised me about what I found in the scripts is the Pawnee scouts, and how proud they were," the star explained, before adding, "I was exploring that aspect of the character and trying to find a correlation where I can relate to that. They had a long history of being very proud of their country and I wanted to make sure that I honoured that in the character and for the Pawnee tribe."
He also reflected upon how his personal experience "played a lot into this character". Chaske shared, "As a Native American man, and an actor and artist, it's pretty rare to be a lead in a project like this. I have to say I had amazing support from Hugo, Emily, the crew – it made me feel comfortable to take risks in this character."
Chaske and Emily are joined in The English TV series cast by Life of Pi star Rafe Spall as David Melmont - the ultimate Western "Bad Guy" and described his character in three words as "Heart of darkness".
He commits an appalling atrocity and is a man accompanying an English aristocrat to America and Cornelia's one-time beau Thomas Trafford is played by Tom Hughes. Irish Sheriff Robert Marshall is played by Stephen Rea and Valerie Pachner stars as Martha Myers. Other cast members include Toby Jones as Sebold Cusk and Ciarán Hinds as Richard M Watts.
The English release date and how to watch
We can't wait to be taken back in time by the brilliant performances of Emily Blunt and Chaske Spencer in The English TV series and the drama premiered on BBC Two in the UK on Thursday November 10 at 9pm. All episodes are also available on BBC iPlayer so viewers can re-watch their favorite moments to their heart's content.
And there's equally brilliant news for US-based Western-enthusiasts as The English will be released on Prime Video on November 11. This is also the case for anyone who's looking to see what The English is all about and who lives in Canada, Australia or New Zealand.
If you've yet to check out the many Amazon Prime benefits this might just be the time to check out the 30-day Amazon Prime free trial. An annual Amazon Prime membership is $139, while a monthly Amazon Prime membership is $14.99 a month.
How many episodes of The English are there?
Mirroring fellow BBC series Shetland season 7, The English TV series is six episodes long. Each instalment is 50 minutes long, allowing plenty of time for this epic new Western to explore the emotional depths of what are surely set to be some of your new favorite characters, Lady Cornelia and Eli Whipp.
The English airs on Thursdays at 9pm on BBC Two, with all episodes available to watch via BBC iPlayer and Prime Video.
Sign up to our free daily email for the latest royal and entertainment news, interesting opinion, expert advice on styling and beauty trends, and no-nonsense guides to the health and wellness questions you want answered.
Emma is a Royal Editor with seven years of experience working in digital publishing. Her specialist areas including literature, the British Royal Family and knowing all there is to know about the latest TV shows on the BBC, ITV, Channel 4 and every streaming service out there. When she's not writing about the next unmissable show to add to your to-watch list or delving into royal protocol, you can find Emma cooking and watching yet more crime dramas.