The Crossfire ending explained and why the final episode of the BBC drama suggests there won't be a season 2
The Crossfire ending was every bit as evocative and heartbreaking as fans might've imagined as Jo continued to try and rescue those around her…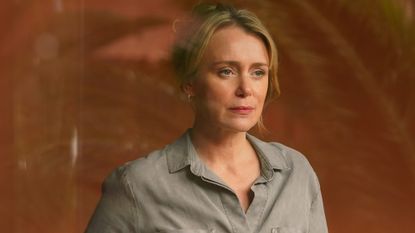 (Image credit: BBC / Dancing Ledge Productions)
woman&home newsletter
Sign up to our free daily email for the latest royal and entertainment news, interesting opinion, expert advice on styling and beauty trends, and no-nonsense guides to the health and wellness questions you want answered.
Thank you for signing up to Woman & Home. You will receive a verification email shortly.
There was a problem. Please refresh the page and try again.
The Crossfire ending brought this intense BBC drama to a close with plenty of poignant moments, powerful reflections and wonderful cast performances.
After three emotional episodes of Crossfire the Keeley Hawes lead drama has finally drawn to an emotional conclusion. Throughout the series, many people might well have been wondering whether Crossfire is based on a true story or not as it tells the tale of Jo (Keeley Hawes) who goes away on vacation with her family and their friends only to face the living nightmare of life and death that unfolds when gunmen take control of the resort. As a former police officer Jo leaps into action to help people get to safety, but with her own loved ones' fates at risk the tension going into the Crossfire ending was seriously high.
Here we reveal what happened in the Crossfire ending and why the finale suggests that there won't be a season 2 of the BBC drama…
*Warning: spoilers ahead!*
Crossfire ending explained
Going into the Crossfire ending the stakes couldn't have been higher, with characters missing, gravely injured, or facing violent attacks from the gunmen who'd taken over the hotel. The final moments of episode 2 saw gunman Flavio chasing Jo and her daughter Amara up to the roof where the ex-police officer waited with a gun.
Overhead helicopters whirred as the police finally arrived on the island and later rescued those being held at gunpoint in the kitchens - including Jo's friends Abhi and Miriam. Whilst the attackers' ally, Iker, who also worked at the hotel had been allowed to flee by a gunman.
Meanwhile, Jo attempted to talk Flavio down, promising that if he put the gun down it would be alright, but when the desperate young man prepared to shoot anyway, she killed him to save herself and Amara. Jason finally came around from unconsciousness critically injured after falling during an escape attempt from his balcony and hotel manager Mateo was shown to be still alone and bleeding after being wounded.
Having not found Jo and Jason's daughter Kim or Abhi and Chinar's son Sunil, Miriam's husband Ben braved the danger to try and find them only to come face-to-face with Jo and Iker. Desperate to escape Jo, Iker tried to leave and when Ben attempted to apprehend him he was fatally stabbed in one of the most shocking moments of the finale.
Dropping her gun as police approached and took Iker away, a grief-stricken Jo stayed with Ben and broke down in sobs as he took his final breath.
Following Ben's death, the Crossfire ending switched locations back in the UK, where the characters had returned after this utterly heartbreaking experience. Jo was seen paying her respects to Chinar, Abhi's husband and Jason's old school friend. Jason himself is visited by Jo and is recovering from his injuries and allowed to come home in a few weeks.
Viewers then saw Jo's first husband (and Amara's father) Paul say that Jo is a "hero whether [she likes] it or not", only for her to exclaim, "I don't want to be one!" as she struggled with guilt over killing young Flavio. It's not the only thing she might be feeling guilt over either as Abhi asked Miriam to look through her late husband Chinar's phone and delete anything she wouldn't want to see - and this included texts between Chinar and Jo.
Amara and Jo discussed the messages after she saw Miriam deleting them and Jo explained that she and Chinar hadn't been sleeping together but they liked the attention from one another. Miriam, Jo and Abhi go on to all talk over their experiences after a confrontation about the messages and Jason returned home. Later, Jo gave a speech to East Midlands police after being awarded a commendation for her heroism.
She declared she didn't deserve the police commendation she'd received and honored her loved ones and hotel manager Mateo in her speech, revealing he'd survived.
She went on to tell Paul that she'd been invited for a meeting with the Chief Constable and later explained via narration, "There's no denying that everything's different now. There's no such thing as 'getting back to normal'. But somehow you find a way and for me that means no more excuses".
In the final moving scene of the Crossfire ending, Jo put on her police officer's uniform, ready to finally return to work as she'd wanted to for so long.
Who died in Crossfire?
By the Crossfire ending viewers have seen both attackers and beloved main characters die, with the finale episode bringing Ben's time in the story to a tragic end. In terms of the main characters who traveled out to the undisclosed island where Crossfire is set, Chinar and Ben were killed. Chinar had been at school with Jo's husband Jason and had been having a complicated flirtation with Jo before the vacation. His loss left Abhi a widow and their sons Jaypal, Gatik and Sunil fatherless.
Ben was stabbed in the Crossfire finale after he returned from safety to try and find Sunil and Kim, who'd gone missing. Instead, he found Jo and one of the attackers who he attempted to stop from escaping - a heroic effort that sadly cost him his life. Reluctant gunman Flavio was also shot in the finale by Jo after he pursued her and her daughter Amara up to a rooftop and seemed as though he was preparing to attack them. Another gunman was also killed in the kitchen by police.
What the Crossfire ending suggests about the possibility of a season 2
After being drawn in by such an emotional storyline and brilliant cast performances building to *that* tear-inducing Crossfire ending, there will no doubt be fans hoping for news about a possible season 2. Sadly, the show was originally announced simply as a "three-part BBC One and TVE drama" and Crossfire season 2 hasn't been confirmed. Of course, if the demand is there things could always change as we've seen from fellow BBC dramas with The Tourist season 2 in the works and The Responder cast set to return. Though the Crossfire ending could be seen to also suggest that a season 2 is unlikely to happen.
The finale episode of the high-octane BBC thriller brought the show's main storyline to a poignant close as the remaining characters were eventually rescued and taken to safety and the attackers' reign of terror was brought to an end. The Crossfire ending saw Abhi and Miriam trying to come to terms with being widows as they later resumed their daily lives back in the UK. Whilst Jo's husband Jason was slowly recovering from his injury after attempting to escape an oncoming gunman.
Jo also returned to work, resolving the inner conflict she felt at the start of the series when she wanted to resume her former job as a police officer but didn't know if she was good enough or how to break the news to her family.
Ultimately, although the characters' journeys to fully process and begin to heal after their terrifying experiences are likely far from over, the central tale of survival and resilience that made Crossfire what it is has been told by the Crossfire ending.
The show's creator and executive producer Louise Doughty previously described Crossfire to the BBC as a "drama about ordinary people caught up in an extraordinary situation and how they behave".
By the Crossfire ending, fans have seen Jo, Jason, Abhi, Miriam and the children get caught up in, escape and begin to process that "extraordinary situation" and have observed how each of them behaved in this nightmare.
Meanwhile, Louise also reflected that her "absolute aim" for Crossfire was to put viewers in a position where they could question how they would've reacted had they found themselves in the same traumatic situation.
"I'm really hoping that everybody sitting at home on their sofa when they watch this series will be forced to think: what choice would I make and would I be capable of choice or would I behave entirely on impulse?" she said. "My absolute aim for this is that after watching it, somebody brushing their teeth in the mirror that night will pause with the toothbrush lifted and look in the mirror and think 'What would I do if that happened to me?"
This key aim for the show also focuses upon the attack at the hotel and with that now over and the characters' choices in that devastating situation made and reflected upon by the Crossfire ending, this could again possibly hint that a Crossfire season 2 isn't likely to happen.
All episodes of Crossfire are available to watch on BBC iPlayer now.
Sign up to our free daily email for the latest royal and entertainment news, interesting opinion, expert advice on styling and beauty trends, and no-nonsense guides to the health and wellness questions you want answered.
Emma is a Royal Editor with seven years of experience working in digital publishing. Her specialist areas including literature, the British Royal Family and knowing all there is to know about the latest TV shows on the BBC, ITV, Channel 4 and every streaming service out there. When she's not writing about the next unmissable show to add to your to-watch list or delving into royal protocol, you can find Emma cooking and watching yet more crime dramas.