The English ending: Did Lady Cornelia get her revenge and will there be a season 2 of the heart-stopping BBC drama?
The English ending delivers a powerful conclusion to this intense story as Lady Cornelia and Eli Whipp face the trauma of the past...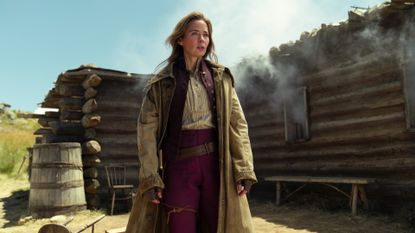 (Image credit: 2022 The English © Drama Republic/BBC/Amazon Studios)
The English ending was packed full of twists, turns and scenes to reduce you to tears as Lady Cornelia Locke and Eli Whipp's journey across America led to a shocking confrontation.
Although there's no specific The English true story that the show is based on, this hit Western was inspired by Frontier American history and follows Emily Blunt's Lady Cornelia Locke and Chaske Spencer's Eli Whipp as they team up in pursuit of revenge and to reclaim their identities. If you can't get enough of the high-stakes in Yellowstone season 5 and the historical setting of The Wonder you might've have already binge-watched through to the end of BBC/Amazon's The English TV series.
Although they're yet to all air, the episodes are available to watch on BBC iPlayer now and the finale delivered all the emotion and action we were hoping for. Here we explain The English ending, how Lady Cornelia and Eli Whipp's stories are connected and predict whether there could be a season 2...
*Warning: spoilers ahead!*
The English ending explained: How are Cornelia and Eli's stories connected?
The English ending was full of emotional moments and final goodbyes and after traveling together across Frontier America all season long, fans came to know and fully understand how Lady Cornelia Locke and Eli Whipp's two storylines were connected. It had emerged that the man Lady Cornelia had been doggedly attempting to track down was none other than David Melmont.
Described in three words by his actor Rafe Spall ahead of The English launch simply as "heart of darkness" his horrific crimes are truly worthy of this evil moniker. Melmont was complicit in the brutal slaughter of hundreds of Native American people - something Eli Whipp had witnessed.
He was also responsible for the death of Hoxem, Wyoming widow Martha Myers' husband Billy as well as Thomas Trafford when his attempt to drill for water caused a flood that claimed his fellow Englishman's life too. Ahead of the finale in episode 4 it emerged that Melmont had traveled over to Frontier America with Cornelia's one-time lover Thomas and he'd later tried to use his wiles to get cash from Cornelia saying Thomas was in trouble, only for her to work out his deception.
Melmont had assaulted Cornelia and taken the money anyway and it was this traumatic assault that led to her falling pregnant with her son. Whilst fans might've played armchair detective all season long to try and work out how the man she wanted revenge on killed her son the appalling truth soon delivers an answer many might not have been expecting.
It emerged during The English ending that Melmont's assault had also led to Cornelia developing syphilis. She confessed this to the Doctor in episode 6 and shared that her son had been born with it. He had died aged almost 14 after suffering from its effects and being "nursed" by Cornelia all his life, leaving his grief-stricken mother hell-bent on avenging him.
If there's one thing we've come to learn about Cornelia as the BBC drama built up to The English ending it's that nothing was going to distract her from achieving her goal. However, the final episode delivers a serious twist as after all she'd been through during her and Eli's long (not to mention hazardous) journey, Cornelia came face-to-face with Melmont and it looked like she was going to waver after all.
He had started to fall ill from syphilis and claimed to Cornelia (who had shown him her syphilis scars) that she can't kill him, telling her, "And do you wanna know for why? So there is a little bit of your boy walking on this earth. And you can't kill that."
Just when fans might've worried he'd manipulate his way out of danger, though, in stepped Martha who promptly shot him, whilst Eli killed Melmont's assistant. She had also suffered immensely at Melmont's hands and with this dramatic act, managed to save her son who he'd kidnapped.
Only, the villain of the piece wasn't done *quite* yet… It turned out that David wasn't actually dead though this state didn't last for long as upon discovering this fact, Eli stabbed him, putting an end to his cruelty and abuse. But whilst some viewers were likely left relieved that Melmont was no longer at large, Hoxem's Sheriff Robert Marshall is left with a difficult decision to make.
Technically, Eli had committed a crime and he should be arrested accordingly. Knowing that the townspeople would likely kill Eli for the deaths, though, Robert ultimately decides to let Eli go, but warns him and Cornelia that they should go their separate ways to ensure the deaths aren't laid at their door.
The friends bid each other an emotional farewell before The English ending took a giant leap into the future to 13 years later in 1903. Back in England, Lady Cornelia traveled to see Flathead Jacksons True Tales of The Wild West - the business set up by the Doctor she'd met.
Her ward, White Moon, was employed there and he recognized her, despite her being dressed in a long, black veil. After White Moon expressed his excitement at getting to see the world, Cornelia explained that she'd written to him many times and offered him a place to go if he wanted to leave.
It is then that White Moon revealed he plays Eli Whipp in the performance with Cornelia telling him that the sergeant would be "very proud" of him. A few minutes later he lifts her veil and ducks underneath it, leaving her face still concealed from the audience as she whispers sadly, "The shame".
White Moon comforts her by declaring, "But not for you", before kissing Lady Cornelia on the cheek. As he leaves to perform, she is left standing outside the tent in the darkness, with real footage from the time appearing on screen as The English ending reaches its emotional end. We never do see Lady Cornelia's face again before the credits - but the powerful emotion of the final scenes and Emily Blunt and Forrest Goodluck's acting couldn't be more brilliant.
Will there be The English season 2?
Sadly for those wanting to know what became of Eli Whipp and Lady Cornelia Locke following the emotional events of finale there's currently been no confirmation of a The English season 2. It's said that the BBC drama was originally conceived as a miniseries and although the show is fictional, albeit inspired by history and Westerns, meaning that it could be taken in any direction if there was demand, it's perhaps looking unlikely based on The English ending.
Ultimately, the ending tied up Cornelia and Eli's journey together and saw them finally achieve some sort of peace and acceptance after all they'd been through. Although we did see Cornelia again in the final moments of episode 6 the veil suggests that she was very ill and eager to hide the erosion of her facial area - something she told the Doctor she knew would happen one day - from sight. Her son survived almost 14 years living with syphilis and Cornelia herself admitted that the final stage for her too would be death.
It's not clear how many years are left to her by the time The English concludes, but the idea of her returning as a character for a sequel series is perhaps unlikely. The show drew her story to a natural conclusion that perfectly rounded off her journey without delving into the pain of her final days - something Cornelia fans probably wouldn't want to see.
Eli's story could potentially be taken further if there were to be a The English season 2 but his plot-line was rounded off in a meaningful way and his parting with Cornelia was a heart-warming final appearance to remember. Both he and Cornelia set off on a quest and both returned from one, and it would perhaps make more sense to leave their tales here.
Of course that doesn't mean that The English season 2 is completely off the table and if it were renewed it could even end up taking a different direction within the Western genre and expanding upon the lives of several of the other characters instead, perhaps Sheriff Robert or Martha.
Although both were initially conceived as standalones, demand meant that we will see The Tourist season 2 and will see The Responder cast back. So it could be that The English could defy our prediction and return for a second 2 as well in the future.
Until then, we'll just have to re-watch our favorite Cornelia and Eli moments including their poignant parting in The English ending and wait and see…
The English airs on Thursdays at 9pm on BBC Two, with all episodes available to watch via BBC iPlayer and Prime Video.
Sign up to our free daily email for the latest royal and entertainment news, interesting opinion, expert advice on styling and beauty trends, and no-nonsense guides to the health and wellness questions you want answered.
Emma is a Royal Editor with seven years of experience working in digital publishing. Her specialist areas including literature, the British Royal Family and knowing all there is to know about the latest TV shows on the BBC, ITV, Channel 4 and every streaming service out there. When she's not writing about the next unmissable show to add to your to-watch list or delving into royal protocol, you can find Emma cooking and watching yet more crime dramas.