Is The English based on a true story and was Emily Blunt's Lady Cornelia Locke a real person?
The English might well have fans speculating about how accurate to history it really is and whether an equally intense true story inspired it...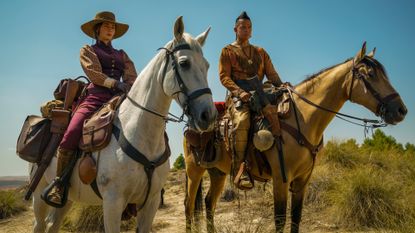 (Image credit: 2022 The English © Drama Republic/BBC/Amazon Studios)
Anyone wondering about The English true story after being immersed in this powerful tale of vengeance and identity might have speculated about how much it's based on real history.
Starring and executive produced by Emily Blunt alongside Twilight star Chaske Spencer, The English TV series is a Western like you've likely never seen before. The BBC/Amazon show takes viewers back in time to 1890 mid-America as Lady Cornelia Locke and Eli Whipp set off on a journey across the country to overcome what haunts them. So begins a tale filled with bloodshed, love and a desire for revenge. If you were captivated by the neo-Western genre and high stakes of Yellowstone season 4 and the emotional depths of Outlander you might be drawn to this intriguing series.
But as with so many historical miniseries, there will likely be many wondering if The English is based on a true story and how accurate it is to the time period. Here we reveal what you need to know and whether Lady Cornelia even existed…
*Warning: Spoilers ahead!*
Is The English based on a true story and how accurate is it?
Given its very real historical setting of mid-America in 1890 it's perhaps all-too-easy to imagine that there is an equally heart-wrenching and vivid The English true story that the BBC/Amazon show is based on. However, just like The Wonder was inspired - but not directly based - on a single historical event, The English is fictional but drew inspiration from history, as well as writer and director Hugo Blick's experience living with a family friend and making a "hunting buddy".
Asked by the BBC where he got the "kernel" of the idea for The English, Hugo explained, "He taught me how to hunt, shoot, spin a horse - a sort of Will Geer to my Jeremiah Johnson! We also cut wood commercially. Our contracts came from the government to supply those most in need. Sometimes this involved Native people's communities. We made a hunting buddy I called Chief. He wasn't a chief. He called me English. We were easy with this casual racism, but pretty soon I got to see it was a one way street - with all the heavy traffic heading his way."
The director reflected, "Back then the reservation seemed hard and isolated, particularly in winter. I had never seen such difficulties. Then one day he took off, leaving a couple of bags with us for when he came back. He didn't. Nothing to come back for. I never knew his real name, nor he mine. I regretted that. This was a kernel for The English."
Hugo also reflected upon his feelings about the Western genre and how its "epic violence" as well as "love" can speak to us on such an emotional level. It's the themes of Westerns that can be seen strongly reflected in The English's storyline with Lady Cornelia Locke (Emily Blunt) and Eli Whipp (Chaske Spencer).
"At its best the Western allows us to escape the reality of who we are and how we live today. Something about its huge landscapes, mythic heroes and villains, the epic violence and love they pursue, can speak directly to our souls," he said. "For me the most interesting Westerns tend to explore the themes of personal loss and consequent restoration of justice."
When it comes to how accurate the show is compared to The English true story of how historically things were at the cusp of the Frontier's closure, Hugo detailed how much research went into getting specialist advice.
"Once completed, I sent the scripts to Crystal Echo-Hawk, CEO of IllumiNative, the Native led racial and social justice organization," he shared. "She then introduced me to representatives of the Pawnee and Cheyenne Nations, each of whom are specialists in the cultural and military history of their respective Nations."
Hugo added, "The journey taken with IllumiNative and the Pawnee and Cheyenne advisors, has been long, detailed and hugely rewarding."
Other elements of The English could also be seen to be grounded in history, though the Western genre it falls into somewhat complicates things. As reported by The Telegraph, historian Josh Garrett-Davis - author of What is a Western? - described the genre as "almost like Arthurian legend". Although it has "some distant basis" in "historical reality" Western filmmakers and showrunners are essentially crafting "mythic stories".
As seen in The English, some members of the English aristocracy did really travel to Frontier era America and many of them (like Lady Cornelia's one-time lover Thomas Trafford in the show) did apparently get sent there by their families to oversee or look into getting into the cattle business.
According to the publication the depiction of tensions between these aristocrats and Frontier Americans is also fairly accurate, with historian Peter Pagnamenta writing in Prairie Fever, "This was a place where no one cared who your father was". Britain's class system was viewed by many as having no place in American society.
The year The English is set - 1890 - was also the year that a horrific massacre took place in South Dakota. The Wounded Knee Massacre took place in December and members of the 7th Cavalry Regiment killed around 300 men, women and children from the Lakota people.
"It's a critical event in 1890. Most historians would think of it as the last armed engagement between American troops and Native peoples of the plains," explained Andrew Graybill, a professor of history at Southern Methodist University in Dallas, Texas.
This specific massacre doesn't feature in The English TV show, though the character of David Melmont played by Rafe Spall commits an atrocity as part of a massacre where 100 people are murdered. We also see Chaske Spencer's Eli Whipp step in to prevent further slaughter after the US Cavalry executed a Cheyenne warrior.
Eli's position as scout with the US army and their attitude towards Native American people is something that is based in reality, with Josh Garrett-Davis declaring, "Pawnee often worked as scouts for the government in the northern plains. Then they got moved south in what was effectively ethnic cleansing – moving as many Native people as possible to Oklahoma, and other places in confined reservations."
This cruelty and dehumanization of Native American communities is evident in the show, giving fans a fictionalized insight into this time period inspired by history.
Was Lady Cornelia Locke a real person?
Unlike many of the characters in fellow historical dramas, The Last Kingdom and Peaky Blinders, Emily Blunt's Lady Cornelia Locke in The English is not a real person. She was created specifically for the BBC/Amazon Western series which sees the character arrive in America eager to avenge her son's death by whatever means necessary. On her journey of vengeance she ends up crossing paths with Eli Whipp, who has his own goal - to reclaim land that belongs to him following the 1862 Homestead Act.
Whilst Lady Cornelia might not be based on a specific Englishwoman, her character could be seen to represent the archetype of high-society aristocratic Brits arriving in America at this time. She, however, shows a sense of development from this and undergoes a momentous transformation from the beginning of the series, when Cornelia is described by Emily Blunt as a "fish out of water".
Describing her character to the BBC, the Hollywood star, who also executive produced The English, said, "She looks like a complete fish out of water when she first arrives. She's in this beautiful pale, lacy, pink dress. She is gussied up and looks ill-prepared for what awaits her in this dust-ridden, violent, masculine world."
Emily reflected on how the costumes are hugely symbolic of her change and the audience should be prepared to see how she becomes a woman undergoing an "awakening" of her identity.
"Her costumes, and how they go from pink to red to purple, are like the bruising of her journey that she goes on, that's symbolized in what she wears," Emily said. "Even though the journey is something that frays her physically, she emotionally grows so much, and it's like an awakening for her. It's an awakening of who she is."
She continued, "When you first meet her, you think "oh, she is never going to make it, it's over". By the end, she's had this remarkable transformation. What she discovers about herself is that she's a force to be reckoned with. It is a voyage of what she's truly capable of; the violence, the revenge, the physical duress and trauma that she can overcome."
The English airs on Thursdays at 9pm on BBC Two, with all episodes available to watch via BBC iPlayer and Prime Video.
Sign up to our free daily email for the latest royal and entertainment news, interesting opinion, expert advice on styling and beauty trends, and no-nonsense guides to the health and wellness questions you want answered.
Emma is a Royal Editor with seven years of experience working in digital publishing. Her specialist areas including literature, the British Royal Family and knowing all there is to know about the latest TV shows on the BBC, ITV, Channel 4 and every streaming service out there. When she's not writing about the next unmissable show to add to your to-watch list or delving into royal protocol, you can find Emma cooking and watching yet more crime dramas.