The Crown's Emma Corrin says calls to add a fiction 'warning' to Netflix show are 'mad'
The actress plays Princess Diana in the latest series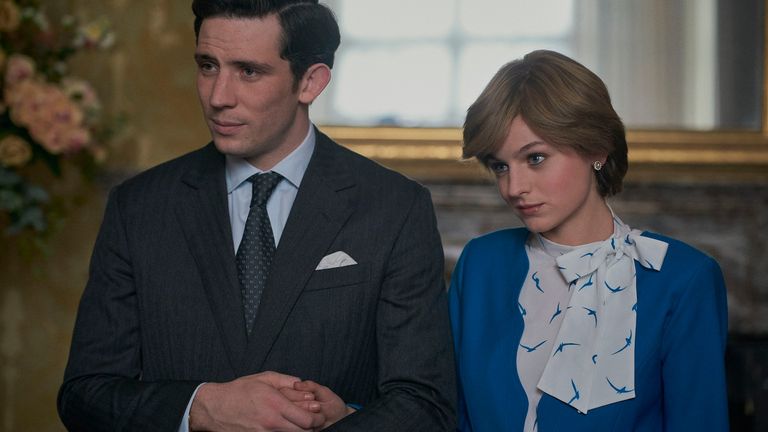 (Image credit: Des Willie/ Netflix)
By Sarah Finley
The latest series of The Crown was quite possibly the most controversial -  with some even calling for the Netflix show to add a 'fiction' warning to it.
However, Emma Corrin, the actress who plays Princess Diana in the latest series, says it's 'mad' to give it a 'fiction' label and fans should know that 'the substance is fictitious.'
Series four of The Crown depicts her relationship with Prince Charles and the controversies around it - including how Prince Charles had an affair with Camilla. In an interview with Daily Beast Emma went on to say that giving the show a warning would, 'do a disservice to creativity, imagination, screenwriting, and scriptwriting'.
The actress, who has also starred in British film Misbehaviour, told the magazine: "The Crown is accurate insofar as it's about a family over a period of time, and we have factual information about what happened to the country—and to the family."
Explaining more she said: "'So, you can write down all the facts as if it were a timeline, but all the substance is fictitious."
She went on to joke: "We can know that Diana and Camilla [Duchess of Cornwall] went to a restaurant called Menage A Trois, which is hysterically ironic, but it happened, but we obviously don't know what was said, so that is fiction. But that's how a lot of series operates.'"
In November, when the storyline about Charles and Camilla's affair in The Crown was released, fans trolled the Duchess of Cornwall. 
In a bid to quieten the trolls, Clarence House, the official Twitter for Camilla and Prince Charles, had to turn off comments for some of the couple's posts.
One troll had previously written: "I am loving this season of The Crown. I had no idea Charles's affair with Camilla was happening during their entire relationship – dating/engagement/marriage… ugh. No wonder Diana was so miserable."
Camilla and Prince Charles were friends throughout his marriage, but according to sources Camilla and the Duke of Cornwall didn't start their affair until 1986, when his and Diana's relationship had 'irretrievably broken down'.