The co-star Julia Roberts once called 'completely disgusting' revisits their 'absurd' feud
Who remembers Julia Roberts' 1993 comments about I Love Trouble co-star Nick Nolte?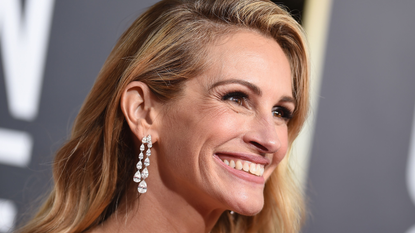 (Image credit: VALERIE MACON / Contributor)
Charles Shyer's romantic comedy I Love Trouble about two reporters working for rival newspapers assigned to cover the same train derailment did not do very well at the box office back when it was released in 1994 - but it certainly captured the public's attention given a behind-the-scenes feud between cast members that seems to have lingered until today.
The movie famously starred Nick Nolte and Julia Roberts, who most recently surprised fans by revealing that MLK paid for her birth in 1967. In the middle of filming the production, Julia actually gave an interview to The New York Times (opens in new tab) to promote her then just-released film The Pelican Brief. In the article, which was published in December of 1993, Julia famuously referred to co-star Nick as "completely disgusting" while on set.
At the time, Nick's "crude behavior" was no secret among Hollywood circles - but Julia's direct comments still did make headlines back then.
"From the moment I met him we sort of gave each other a hard time," Julia said to the paper of record nearly three decades ago, also noting the actor's ability to be "completely charming and very nice" while also being "completely disgusting."
"He's going to hate me for saying this, but he seems go out of his way to repel people," she also noted. "He's a kick."
Nick then gave an interview to the Los Angeles Times in which he reacted to the much publicized comments by turning the tables on Julia herself.
"It's not nice to call someone 'disgusting'," he said. "But she's not a nice person. Everyone knows that."
Although it's clearly been a long time since Julia made those comments - since then, she's starred in countless other films including Gaslit and Ticket to Paradise, in which she kisses George Clooney in front of wife Amal - the feud was recently brought to the surface again by Nick himself, in a new interview that the now 81-year-old actor gave to Insider (opens in new tab) while promoting his new film Rittenhouse Square, in which he plays a homeless Vietnam vetaran.
Asked directly about Julia's much publicized 30-years-old comments, Nick revealed that he never reached out to his former co-star to bury the hatchet.
"Though it's buried," he said. "I mean, it was absurd what we went through. It was partly my fault and a little bit of hers. Julia got married at the beginning of that film and it was one of those things where I just approached it all wrong."
For reference, Nick was talking about Julia's 1993 marriage to singer-songwriter Lyle Lovett, which ended in divorce nearly two years later.
The now 55-year-old celebrity, who recently became the first recipient of prestigious Icon Award, then went on to marry cinematographer Daniel Moder on July 2022. The couple had three kids since then, 17-year-old twins Hazel and Phinnaeus and 15-year-old son Henry.
As they say: all's well that ends well, and, despite the fact that we haven't really thought about the Julia-and-Nick relationship in 30 years, we're happy to note the two actors have moved on with their respective lives.
Anna Rahmanan is a New York-based writer and editor who covers culture, entertainment, food, fashion and travel news. Anna's words have appeared on Time Out New York, the Huffington Post, Fortune, Forbes, Us Weekly, Bon Appetit and Brooklyn Magazine, among other outlets.