The Capture season 2 ending explained: Was Correction exposed and why the finale suggests there could be a season 3 of the BBC drama
The Capture season 2 ending was every bit as intense as fans might've expected as Rachel's determination to expose Correction placed her in danger…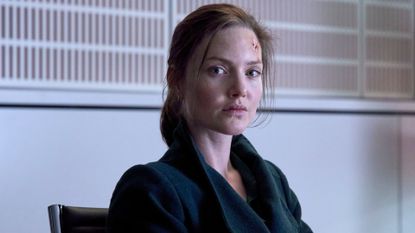 (Image credit: BBC/Heyday/NBC Universal)
The Capture season 2 ending saw Rachel Carey's attempt to expose Correction once and for all take a shocking turn as layers of plotting were uncovered.
Anyone who couldn't get enough of the constantly-raising stakes of The Undeclared War ending and the suspenseful investigation of Shetland season 7 were likely on tenterhooks to see The Capture season 2 reach its dramatic conclusion. All season long DCI Rachel Carey (Holliday Grainger) had been fighting to expose the practice of Correction all amid not only a huge scandal involving faked footage of politician Isaac Turner, but several murders. Now the BBC drama's finale has delivered some serious drama as it resolved multiple plot-threads and teased several others.
But what happened in The Capture season 2 ending and do the sinister events suggest that there could be a season 3? We reveal what we know following *that* explosive finale...
*Warning: Spoilers ahead!*
What happened in The Capture season 2 ending?
Ever since it first landed, BBC's The Capture has had viewers questioning their perception of reality as it explored the murky depths of Correction - a fictional method of real-time image manipulation. In season 1, Rachel Carey discovered this terrifying practice and the second instalment of the suspenseful show saw her newly-promoted and determined to bring Correction down from the inside. In The Capture season 2 ending, Rachel's mission to let the truth be known reached its final stages in shocking style.
Having been kidnapped by assailants at the end of episode 5, Rachel is interrogated by CIA operative Napier, who is revealed to seemingly be in league with the DCI's boss, DSU Garland. Rachel had previously teamed up with Newsnight journalist Khadija Khan and politician Isaac Turner on her journey to expose Correction after Isaac became the target of it.
However since then he had been offered an opportunity to revive his career and take it to new heights using the behavior-predicting technology developed by Truro Analytics, led by Gregory Knox. Their goal all along had been to destroy Isaac's reputation, only to use their own algorithm to turn the tide of public opinion and secure his future as Prime Minister.
Swayed by their persuasion, Isaac is on board and Napier and the CIA were involved in covering up Knox's plot in the hope that they could use Truro's technology.
But Napier's cover-up meant that a serious amount of hacking was required - of both the BBC and the UK security services, similarly to the hacking we saw earlier this year in The Undeclared War. This put him firmly on Garland's radar and after going to extreme lengths to gain his trust, she had learned of the plan and tried to twist it to benefit UK security and to keep Correction secret.
During her interrogation by Napier and Garland, Rachel is given a terrible choice after seeing a a fake video of herself seeming to be in league with Russia. The detective eventually signs a statement backing up Napier and Garland's version of events that pin the hacks on Russia. They later meet up with Khadija and ask for her assistance in suppressing Correction in return for another exposé.
Meanwhile, Garland and Napier get ready to use Isaac's scheduled interview on Newsnight for their own purposes. As some might have expected from The Capture season 2 ending, however, these two master manipulators underestimated Rachel…
The politician had been preparing to put the blame for recent events on Home Secretary Rowan Gill, but storms out after his original interviewer fails to turn up and Khadija takes over instead, speaking with a deepfake (Correction-version) of Isaac. He begins to declare that British nationals colluding with foreign powers to influence politics is treason which reveals Garland used Napier.
But it's Rachel who has the last laugh in The Capture season 2 ending as the fake Isaac goes off-script and begins to expose Correction, including what it did to the real Isaac's career and life. A furious Garland threatens to have Rachel arrested, but she counters that as they're technically on US soil in their secure location, she has no power over her.
The digitally-manipulated Isaac Turner begins to glitch, exposing Correction for all to see and as the real Turner steps out in Piccadilly Circus in London, as his deepfake version said he would, his story is shown to be true. Khadija and DI Nadia Latif are revealed to have remained loyal to Rachel and teamed up with her to put her secretly-gathered evidence to good use.
Whilst Garland and Napier thought it had been destroyed, Rachel's half-sister Abi copied Rachel's evidence against them from her laptop onto a drive she passed on to Khadija. Told by a frantic Garland that she doesn't know what she's done, Rachel angrily declares that her dead friend, DS Patrick Flynn, who died as a result of Knox's scheming, hated Correction.
"You have indeed been watching a deepfake interview. But the alarming practice of Correction described in it is very much real," Khadija tells the Newsnight audience. "Working within a team of whistle-blowers from the heart of British Intelligence, the BBC has obtained evidence that knowledge of the so-called Correction programme extends across multiple UK intelligence agencies and to senior members of the British government."
She then goes on to announce that in a "series of exclusive reports", they would be examining the revelations "in detail".
"And, finally, we will be confronting those ultimately responsible," Khadija declares as Rachel looks directly at the camera, giving us chills as the credits start to roll.
Why the ending suggests there could be a The Capture season 3
The Capture season 2 ending tied up many loose ends in its quest to bring this complex and gripping plotline to a satisfying conclusion, including the eventual exposure of Correction which fans have been waiting for since season 1. Unfortunately, for long-time fans the BBC haven't officially confirmed a The Capture season 3 to come in the future.
However, the season 2 finale left things in such a way that there's certainly scope to take The Capture further if the showrunners and writers wanted to. For a start, that rather ominous-sounding statement from Khadija has no doubt got Garland seriously worried.
And whilst the US weren't mentioned by the deepfake Isaac, Napier was involved in covering up for Knox, who was himself indirectly involved in the death of Rachel's friend DS Patrick Flynn. The score has yet to be settled with Napier and any potential The Capture season 3 could possibly seek to explore this further.
Meanwhile, Rachel's own career has been left in doubt because of her whistle-blowing as she had been working for Garland. Not to mention we don't know for sure that her former boss might not decide to try and exact some kind of revenge or attempt at damage control using Correction on Rachel.
And there's still the matter of Shaun Emery who was implicated by Correction in the kidnap and murder of his lawyer Hannah Roberts in season 1 and was later coerced into a confession and sent to prison. Rachel knew of his innocence and it was this that spurned her on to try and reveal and stop Correction.
With so many avenues left to be explored, fans will just have to be patient and hope that there will be an announcement of a third season. Until then, with so much to take in from that The Capture season 2 ending there's plenty of time to re-watch all your favorite moments and see what you might've missed...
Sign up to our free daily email for the latest royal and entertainment news, interesting opinion, expert advice on styling and beauty trends, and no-nonsense guides to the health and wellness questions you want answered.
Emma is a Royal Editor with seven years of experience working in digital publishing. Her specialist areas including literature, the British Royal Family and knowing all there is to know about the latest TV shows on the BBC, ITV, Channel 4 and every streaming service out there. When she's not writing about the next unmissable show to add to your to-watch list or delving into royal protocol, you can find Emma cooking and watching yet more crime dramas.