Susanna Reid Makes An Awkward On-Air Mistake - But Handles It Brilliantly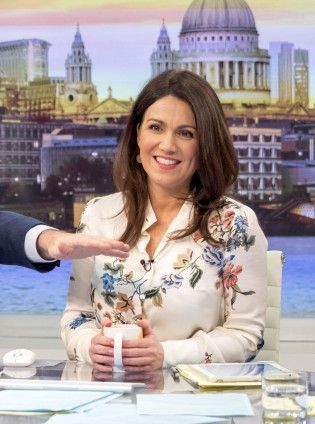 By Amy Hunt
The GMB presenter was left a little red-faced this morning...
Every day live on Good Morning Britain, Susanna Reid is the epitome of professional broadcaster. Cool, calm and collected, she's understandably one of the UK's top on-screen journalists.
But of course every pro has their slip-ups, and even Susanna Reid made an awkward mistake live on Tuesday's episode of GMB.
Susanna and co-star Piers Morgan were in the midst of paying tribute to the Suffragette Movement - with Piers deciding to deliver an impassioned speech on the topic.
However, Piers' speech came to an abrupt halt, when the pair noticed that Susanna's phone was going off.
Noticing the ringtone, Piers angrily asked, "Is that your phone? In the middle of my Suffragette speech?"
MORE: Where Susanna Reid buys her GMB dresses on the high street
Understandably, Susanna was left feeling slightly awkward, and said, "I know - that's terrible, isn't it?"
However, Susanna quickly took control of the situation, handing her phone to a member of the behind-the-scenes crew to ensure the blunder didn't happen again.
Piers commented, tounge-in-cheek, "Yes, if you wouldn't mind removing Susanna's phone - it's very unprofessional."
Susanna defended her slip-up by revealing that she'd just got a new phone, and wasn't yet sure how to work it.
Of course, Piers hit back with a remark, stating that he was keen to continue with his interrupted speech, "It's pretty obvious how to work it. Now I'll go back to my Suffragette speech!".
This awkward on-screen moment didn't go unnoticed by Good Morning Britain viewers either, many of whom took to Twitter to defend Susanna's easily-done mistake.
One, identifying with Susanna's error, said, 'We've all been there Susanna! Phone goes off when you are sure you put it on silent! @susannareid100 #GMB'
While another commented 'It's not unprofessional when a phone goes off, these things are easiley done. It's not your fault your phone went off Susanna. Your a wonderful lady.'
And a third cheekily wrote, 'Lol @susannareid100 please keep your phone on set love upsetting @piersmorgan as he loves the sound of his own voice @GMB