Why James Martin won't discuss his private life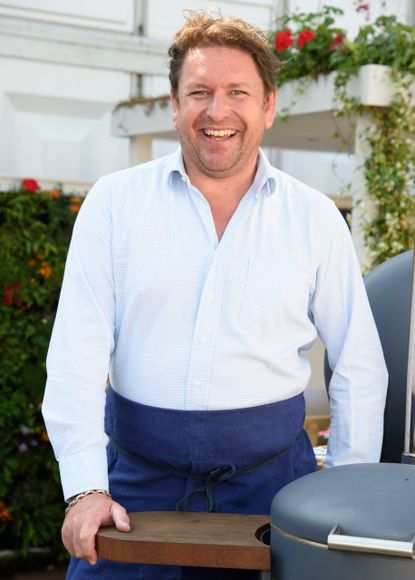 The real reason why TV superchef James Martin will never talk about his private life
TV superchef James Martin has revealed he will never talk about his private life in public because a "very high-profile person" has warned him not to.
In an interview with The Daily Mirror, the former Saturday Kitchen host, 45, told how "mega-famous people" warned him of the dangers of giving too much personal information away.
When asked "Why not put your feet up James? Relax at home with your lovely TV producer girlfriend Louise Davies... any plan to tie the knot, by the way?"
The superchef apparently stiffened 'like a well whisked egg white'.
"Don't answer those questions," he said.
"They all try – but you'll get nothing. I always keep my public and private life separate."
"I've met some mega-famous people who've told me, 'If you open that up, you've no where to go.
"One very high-profile person said, 'Build big gates at home for peace of mind' and I did, so when I go back home that's my time."
"Why does your private life have to be part of your career?"
But one of the women in his life that James will talk about is his mum, Sue, and his late grandmother, Marjorie.
"Mum is my biggest critic, biggest fan," he told The Mirror. "If I could be 10% what my mum is I'd be a 100% better person. My granny, who passed away 15 years ago, was very special too.
"When she first saw me on TV on Ready, Steady, Cook she said: 'I'm not eating that fancy stuff, if you can't buy it north of Watford, don't do it'.
It's a great leveller for a chef who has become so renowned he's been invited to a private lunch with The Queen. James was expecting it to be a huge 300-seater affair. Instead it was just himself, Her Majesty,the Duke of Edinburgh and three guests.
After dinner he was ushered into a private room with HRH where he had a one-to-one hour-long chat about dogs and the countryside.
He may not talk about his private life, but fans of the Saturday Morning host can get a glimpse into his private home, as the star has recently put his seven bedroom country mansion near Winchester on the market.
The renovated dairy was bought by the TV chef nine years ago and has been 'extensively redesigned' inside, featuring seven bedrooms, a huge kitchen and a triple garage. Decorated with Ralph Lauren wallpaper and Farrow & Ball paint, the house also has wine coolers,a deep fat fryer, a barbecue terrace and a wood-fired pizza oven.
The property, set in a hamlet, is believed to be on offer for around £3.75million, but has no fixed asking price
James's US road-trip series, James Martin's American Adventure, starts on ITV next Friday.
Written by Nic Hopkirk
Save