Serena Williams announces impending retirement and a surprising fashion secret in new all-encompassing interview
Citing the importance of family life and new business ventures, tennis pro Serena Williams shocked fans by announcing her upcoming retirement from the sport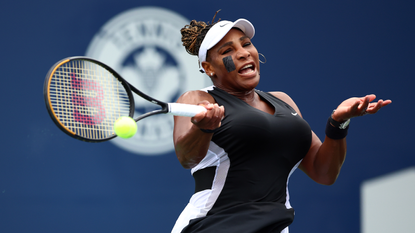 (Image credit: Vaughn Ridley / Stringer)
Although still scheduled to play at this month's U.S. Open tennis tournament in New York, athlete Serena Williams announced her intentions to retire from the sport in a new all-encompassing interview published earlier this week.
In a column written for Vogue, Serena, who just last year quit a press conference in tears after losing Australian Open semi-finals and facing questions of retirement, addressed the subject by saying, "I'm here to tell you that I'm evolving away from tennis, toward other things that are important to me. A few years ago I quietly started Serena Ventures, a venture capital firm. Soon after that, I started a family. I want to grow that family."
The tennis champion specifically noted that she "never liked the word retirement" and has been thinking of her current situation as a time of transition.
"But I've been reluctant to admit to myself or anyone else that I have to move on from playing tennis," Serena wrote in her essay. "Alexis, my husband, and I have hardly talked about it; it's like a taboo topic. I can't even have this conversation with my mom and dad. It's like it's not real until you say it out loud. It comes up, I get an uncomfortable lump in my throat, and I start to cry. The only person I've really gone there with is my therapist! One thing I'm not going to do is sugarcoat this."
She went on to mention two other tennis greats, Australian player Ashleigh Barty and Danish star Caroline Wozniacki, who, according to Serena, were excited to move away from the sport.
"Praise to these people, but I'm going to be honest. There is no happiness in this topic for me. I know it's not the usual thing to say, but I feel a great deal of pain," she wrote. "It's the hardest thing that I could ever imagine. I hate it. I hate that I have to be at this crossroads. I keep saying to myself, I wish it could be easy for me, but it's not. I'm torn: I don't want it to be over, but at the same time I'm ready for what's next."
In her piece, Serena also acknowledged one of the major differences between female and male pros and the realities involved in aging within the sports industry.
"If I were a guy, I wouldn't be writing this because I'd be out there playing and winning while my wife was doing the physical labor of expanding our family," she wrote. "I love being a woman, and I loved every second of being pregnant with Olympia. I was one of those annoying women who adored being pregnant and was working until the day I had to report to the hospital—although things got super complicated on the other side. And I almost did do the impossible: A lot of people don't realize that I was two months pregnant when I won the Australian Open in 2017. But I'm turning 41 this month, and something's got to give."
The 40-year-old tennis legend, who was coached by father Richard Williams alongside sister Venues from when they were babies, also sat down for one of Vogue's "Life in Looks" videos to accompany her revelatory essay.
In the clip, Serena surprised fans once more when revealing that Donatella Versace shortened her much-talked about 2022 Critics Choice gown into a strapless minidress the night before the Vanity Fair Oscar Party.
"This dress was never meant to be. I actually wore this dress two weeks prior to the Critics Choice Awards, so this was actually a very long Versace gown," Serena explained in the video. "For the Oscars, I had two options: one didn't work so, the night before, I called Donatella [Versace] and said, 'I don't know what to do, my dress doesn't fit, I have nothing to wear to Vanity Fair.'"
At that point, explained Serena, Donatella suggested taking the silver gown, cutting it and making a "fresh" dress.
"They literally chopped it and took off the straps and, voila!," remembered the tennis pro. "It was a whole new dress. I did learn a lesson from that: always have backups!"
Serena's fashion choices, both on and off the court, have always garnered praise and criticism in equal measure. Most recently, Serena and daughter Olympia have been twinning, reminding fans everywhere that there is something unbelievably cute about introducing children to the concept of fashion at an early age… especially when donning adorable, matching outfits.
Sign up to our free daily email for the latest royal and entertainment news, interesting opinion, expert advice on styling and beauty trends, and no-nonsense guides to the health and wellness questions you want answered.
Anna Rahmanan is a New York-based writer and editor who covers culture, entertainment, food, fashion and travel news. Anna's words have appeared on Time Out New York, the Huffington Post, Fortune, Forbes, Us Weekly, Bon Appetit and Brooklyn Magazine, among other outlets.