Sarah Jessica Parker's gray hair doesn't make her brave, 'please, please applaud someone else's courage'
Sarah Jessica Parker is tired of being called brave for letting herself age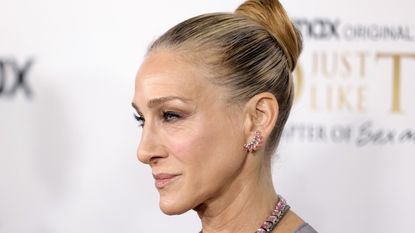 (Image credit: Jamie McCarthy/WireImage/Getty)
Sarah Jessica Parker doesn't want to be called brave. Not for choosing to let herself age, anyway.
Transitioning to gray hair is an opportunity for women to embrace a new look or mix up their style after years of highlights, coloring and more.
While it might be a difficult decision for some to ditch the dye at first, Sarah Jessica Parker doesn't fall into that category.
---
In an interview with Allure, the iconic Sex and the City actress hit back at the constant conversation around her changing looks.
SJP opened up about what aging means to her, saying "It became months and months of conversation about how brave I am for having gray hair."
"I was like, please, please applaud someone else's courage on something!"
For Sarah Jessica, owning her gray hair is not some bold statement or revolutionary act. She's much more pragmatic than that.
She told the magazine, "I can't spend time getting base color every two weeks. Can't do it. Nope. Too much."
Aging was a big theme through And Just Like That…, the Sex and the City reboot series which brought back beloved characters including SJP's Carrie Bradshaw.
In one episode, the character of Carrie is given the option of plastic surgery. The doctor tells her he could wipe the last 15 years off her face, but Carrie ultimately decides she wants to remember those 15 years that are written over her face.
And it's something Sarah Jessica agrees with in her real life.
"What's the point?" she said to the magazine, "I just… don't care enough."
For her, as long as she feels good "according to her standards" that's what matters the most.
"I'm not without vanity, I guess I just don't care enough about everybody else's opinion," she summed up.
Instead, she wants more people to embrace wrinkles.
"We spend so much time talking about the accumulation of time spent adding up in wrinkles, and it's the weirdest thing that we don't say it adds up to being better at your job, better as a friend, better as a daughter, better as a partner, better as a caregiver, better as a sister."
This isn't the first time Sarah Jessica has taken a stance on a woman's right to age, having previously hit out at misogynistic double standards.
Chatting with Vogue before the premiere of And Just Like That…, Sarah Jessica notes that male actors don't necessarily elicit the same sorts of response that middle-aged female actresses do.
"There's so much misogynist chatter in response to us that would never. Happen. About. A. Man."
"It almost feels as if people don't want us to be perfectly okay with where we are, as if they almost enjoy us being pained by who we are today, whether we choose to age naturally and not look perfect, or whether you do something if that makes you feel better."
"I know what I look like. I have no choice. What am I going to do about it? Stop aging? Disappear?"
So when And Just Like That season 2 drops, let's not focus on what color Carrie's hair is.
Jack Slater is not the Last Action Hero, but that's what comes up first when you Google him. Preferring a much more sedentary life, Jack gets his thrills by covering news, entertainment, celebrity, film and culture for woman&home, and other digital publications.
Having written for various print and online publications—ranging from national syndicates to niche magazines—Jack has written about nearly everything there is to write about, covering LGBTQ+ news, celebrity features, TV and film scoops, reviewing the latest theatre shows lighting up London's West End and the most pressing of SEO based stories.