The reason why Ruth Langsford and Eamonn Holmes decided not to go on a family holiday abroad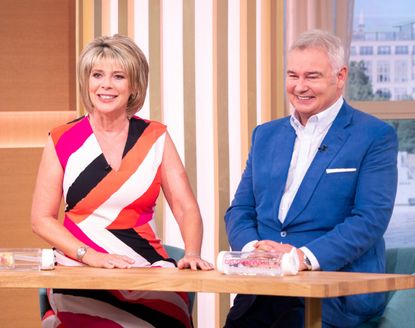 Ruth Langsford and Eamonn Holmes enjoyed a much-deserved break two weeks ago, before beginning their jam-packed summer schedule at This Morning.
But far from heading off on a lavish summer holiday abroad with their son Jack, perhaps in the sunnier climes of Europe or America, the couple opted to stay at home in Surrey for their two-week break.
For most of us, this would perhaps be an odd decision. But now, Eamonn has explained why he and Ruth opted for a staycation this year.
On Twitter, the TV host responded to a follower who was replying to Eamonn about the current heatwave in the UK.
She said, 'It's great, love the sun, love the warm evenings. It's like being on holiday but much better - no godawful travelling, own bed, proper telly I can understand xx'
And far from disagreeing, Eamonn replied back to share that it was for many of those reasons that he and Ruth decided to stay at home.
He said, 'These are some of the reasons @RuthieeL and I stayed at Home this year for our holiday.'
Fans of the 58-year-old appeared to agree with him, sharing their own stories of happy holidays in the UK.
One commented on the social media post, 'we did the same! Took a few day trips to ballycastle ❤ Newcastle etc the weather was fab!! x'.
While another agreed, 'You really can't beat a staycation. I do it every first 2 weeks of August.'
It's likely as well that the pair enjoyed relaxing at home on their time off, given that they currently call a £3.5 million mansion home.
Ruth and Eamonn are thought to live in the exclusive private St. George's Hill estate in Weybridge, Surrey, which even has a private golf club and spa. Sounds like a holiday to us!
Ruth Langsford has also discussed hers and Eamonn's decision to stay at home for their summer holiday over on her social media accounts.
On the last day of their break, she told her followers "This weather has been unbelievable, we went for a staycation this year and I'm very glad we did, it's been gorgeous'.