Bake Off star Prue Leith opens up about turning 80
She turned 80 in February...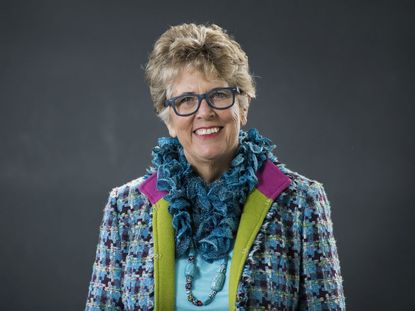 Back in February, the Great British Bake Off Judge says she admitted she had 'mixed feelings' about turning 80.
Famous chef Prue Leith says, 'It's not going to depress me too much, but I don't like the thought.
'The long and short of it is I'm having a lovely life and I'd like a bit more of it please.'
While Prue has no plans to ease her workload, she admits, 'I'd much rather be turning 70 or 60.
'Everybody says age is just a number and, obviously, it's true in a sense that you are only as old as you feel.
'But there is also an inevitability about it… every year that passes.'
Bucket list
One thing that does worry Prue is that she won't have time to tick off everything on her bucket list.
'At the moment, I have a slight feeling of panic that I won't be able to do all the things I want to do,' she says.
'In fact, I know I won't. I don't like that very much.
'However, it's not enough to depress me. I don't feel sad.'
On the contrary, Prue is a glass-half-full kind of person - something she credits to helping her feel young.
'I have a much more positive, forward-looking attitude than a lot of people,' she says.
'I think that's just luck. That and the energy that comes from being fairly healthy.
'If you've got a lot of aches and pains, of course you want to sit down all the time.'
She adds, 'If I'm ever ill, I just stop. I'm not being brave about anything.
'If I'm not feeling well, then I don't do anything.'
Birthday celebrations
Thanks to the dreadful English weather in February, Prue admitted she'd wait a while before properly celebrating her milestone birthday.
She said, 'In the summer, I'm going on holiday for a week in the Highlands on a little coal-fired puffer boat.
'Ten really close friends are going to do that. Then I'm going to go for a week to a salmon river in the north of Scotland.'
Sounds lovely!
Robyn is a celebrity and entertainment journalist and editor with over eight years experience in the industry. As well as contributing regular to woman&home, she also often writes for Woman, Woman's Own, Woman's Weekly and The Sun.