Pentagon turns down Donald Trump's request for military-style farewell parade
There will be no military-style parade for Donald Trump as he vacates office on Wednesday 20 January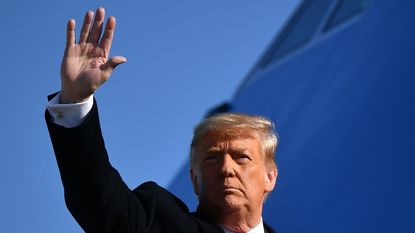 (Image credit: Getty / MANDEL NGAN )
A military-style send off for Donald Trump has been deemed out of the question by officials at The Pentagon, according to CNN.
After weeks of unrest surrounding the Capitol and Michelle Obama calling for social media to permanently ban Trump (opens in new tab), it looks like his firm grip on American democracy is finally coming to an end.
The soon to be ex-president has maintained a consistent role in the news for his outlandish outbursts and circus-like charades so it makes sense that Trump has requested a grand scale farewell for his final day in office.
Speaking to CNN, a source revealed Trump requested a 'military-style send off and a crowd of supporters'.
The Pentagon has officially declined his request.
Military-style farewell parades date back to 1989 when president Ronald Reagan famously thanked the military for their work on behalf of all American people. Therefore, each commander-in-chief has been awarded a similar tribute as they leave the office.
Breaking tradition, President Donald Trump will receive no honour with his term ending this week.
The US defence and national security website officially states there will be no grand military spectacle for the current president, meaning viewers will miss the 21-gun salute for the US's 45th president. The House of Representatives has broken tradition and impeached the current president for the second time as he is accused of inciting violence within the Capitol (opens in new tab).
The attack by pro-Trump supporters has fuelled tension within America as Trump still insists Democrats stole the election.
Congresswoman Jackson Lee and several colleagues released a letter to senior Pentagon officials on January 16th, stating their "strong objection" that any resources be diverted towards "a disruptive departure ceremony".
Trump's term will officially end on January 20th at midday and as he's refused to attend the inauguration of Joe Biden spectators are eager to see where he will be spending the time.
Kudzai previously wrote for woman&home as a trainee news writer.
She covered fashion, entertainment, and beauty.

She is a fully qualified Journalism and Media graduate from De Mont Fort University, having graduated in the summer of 2020. Previously Kudzai worked as a freelance fashion wardrobe stylist.