Neil Diamond spontaneously led a Sweet Caroline singalong in public and it was phenomenal
Although he retired from touring in 2018, the iconic Neil Diamond led an epic singalong at Fenway Park in Boston this past weekend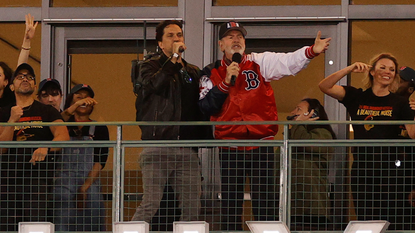 (Image credit: Sarah Stier / Staff)
Did you know that Neil Diamond's instantly recognizable hit Sweet Caroline is played during the eighth inning of all Red Sox home games in Boston's Fenway Park?
This past weekend, baseball fans were treated to an extra special rendition of the song as Neil himself was at the game and led the crowd in a singalong that was, to put it simply, pretty damn epic.
The event was made even more special by the fact that the 81-year-old singer-songwriter retired from touring back in January of 2018 following a Parkinson's disease diagnosis, a progressive illness of the nervous system that leads to tremors, slow movements and muscular rigidity, among other symptoms.
"It is with great reluctance and disappointment that I announce my retirement from concert touring," Neil said in an official statement back then, when he had to cancel the third leg of his 50 Year Anniversary World Tour. "My sincerest apologies to everyone who purchased tickets and were planning to come to the upcoming shows. I plan to remain active in writing, recording and other projects for a long time to come. My thanks goes out to my loyal and devoted audiences around the world. You will always have my appreciation for your support and encouragement. This ride has been 'so good, so good, so good' thanks to you."
Neil Diamond singing "Sweet Caroline" at Fenway Park is incredible 🎤 🙌 pic.twitter.com/P1yRDJR5hoJune 19, 2022
See more
In the video of his impromptu performance in Boston this past Saturday, Neil looks great. Wearing a Boston Red Sox jacket and hat, the legendary singer led the massive audience belting out the lyrics alongside Broadway actor Will Swenson.
Although the Red Sox eventually lost 11-2 to the St. Louis Cardinals, the team's fans are sure to remember the game as a one-of-a-kind special concert as well. A lot of them even took to social media to comment on the momentous happening.
---
"I can't believe I was there for it. My first game at Fenway, too!," one user wrote.
"He is the best! My younger years were enhanced by his songs and was played at my wedding, the best!," another commented.
"So touching," someone else noted matter-of-factly.
Fun fact: this isn't Neil's first time singing the tune at Fenway. In 2010, he took to the mic to kick off the team's season opener and, in 2013, just a few days after the disastrous Boston Marathon bombings, he performed at the stadium during a game again.
Leave it up to Neil to always find a way to cheer us up, despite his current health situation.
Anna Rahmanan is a New York-based writer and editor who covers culture, entertainment, food, fashion and travel news. Anna's words have appeared on Time Out New York, the Huffington Post, Fortune, Forbes, Us Weekly, Bon Appetit and Brooklyn Magazine, among other outlets.